A little over a year ago, Bianca and Abel Cervantes were out for a meal at a Chinese buffet, but something wasn't right. There was nothing wrong with the food, per se; the restaurant had an array of well-prepared dishes typical of what you'd find at any Chinese-American restaurant. However, the husband and wife could not help but feel something was missing. Discussing it over dinner, they realized the problem: There were no tortillas.
The couple did not expect to find traditional Mexican items on a Chinese buffet, but that did not mitigate their desire for them. As they began talking, they realized how delicious a soft taco stuffed with Chinese-style fried rice and covered in Mexican hot sauce would be. The idea was like a light bulb going off in their minds. They were so inspired that Abel began to experiment with Chinese and Mexican fusion dishes at home. After some encouragement from his brother, Marcos, Abel got serious about turning his experimentation into a restaurant. And so, after about a year of menu development, the brothers and their wives opened the doors to Wok O Taco.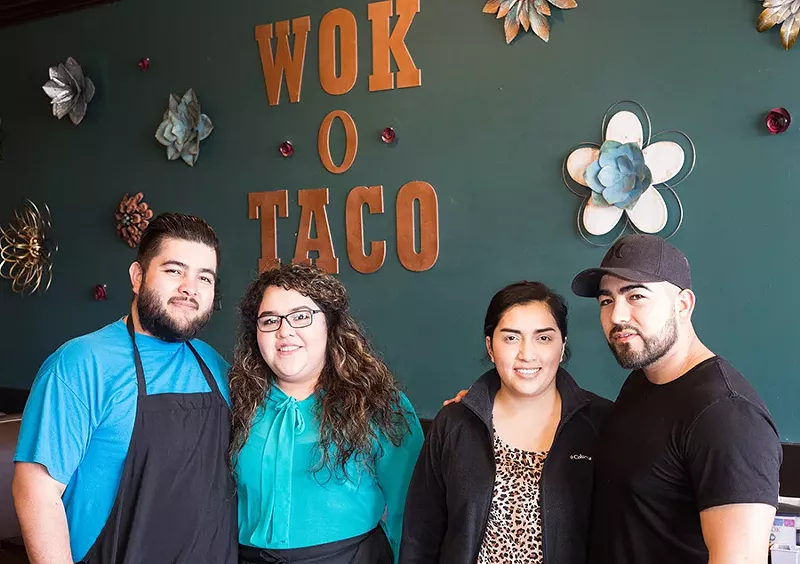 MABEL SUEN
Co-owners Abel Cervantes, Bianca Cervantes, Brenda Cervantes and Marcos Cervantes.
It's hard to imagine two people better prepared to open such a restaurant than the Cervantes brothers. The two were born in Mexico and were steeped in its culinary traditions before moving to St. Louis as teenagers. In need of work, they got jobs cooking in local Chinese restaurants, becoming even more proficient in preparing General Tso's chicken and shrimp-fried rice than the cuisine of their homeland.
They used that proficiency, together with their Mexican heritage, as the basis for Wok O Taco, which opened last December on Page Boulevard in unincorporated St. Louis County, about a block east of Warson Road. The restaurant may be a new concept to that part of town, but it follows in the spirit of such Asian-Mexican fusion spots as David Choi's Seoul Taco juggernaut and Sue Shackelford's Cherokee Street restaurant Kalbi Taco Shack, which have demonstrated a hunger for such genre-mixing.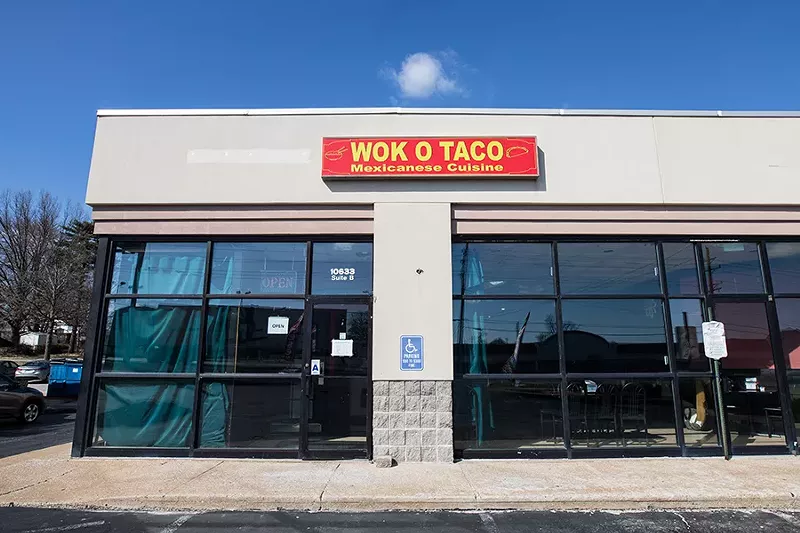 MABEL SUEN
Wok O Taco is located in St. Louis County.
The restaurant occupies a small storefront that has been home to three different Indian concepts over the past few years — Gokul, Peshwa and Spice of India. The Cervanteses have done away with the old décor in favor of both Mexican and Chinese design elements. The touches are subtle, however, and the vibrant red, yellow and green walls and yellow-painted tin ceiling are the most eye-catching details. About seven tables and six booths fill the small, minimally appointed room. Though the restaurant is full service, takeout is equally accessible from the small counter at the front of the room.
If you come in expecting a Mexican-inspired riff on good old Midwestern-style Chinese, you can surrender to such simple pleasures as crab Rangoon, which wraps cream cheese — subtly sweet, flecked with chives and imitation crab — in delicate wonton wrappers. The wonton is light and crisp, the mouthwatering filling oozing out with the first bite.
"Choriqueso" offers the sort of easy pleasure you get from a Velveeta-based Rotel dip at a Super Bowl party. Luxuriously smooth cheese — a little thicker and decidedly tangier than the kind that tops ballpark nachos — is spiked with medium-spiced chorizo and a dash of pico de gallo for garnish. It's comforting bar food that begs to be washed down with a light Mexican beer. Unfortunately, Wok O Taco does not yet have its liquor license, so you'll have to settle for Mexican soda for the time being.
Chicken wings are an outstanding appetizer, with meaty drummies and wing portions covered in a thick, sweet and spicy glaze. You can see a liberal smattering of red chiles in the sauce, a visual warning that the wings will be fiery hot. However, the sweet, sticky glaze tempers the heat, leaving you with a beautifully balanced dish that is one of Wok O Taco's best offerings.
MABEL SUEN
Chorizo-fried rice is studded with pea pods and broccoli.
The other is its chorizo-fried rice, a match-made-in-heaven combination that makes you wonder why more people haven't paired the items. Warmly spiced, cinnamon-scented chorizo covers a platter of soy-kissed fried rice and vegetables. The drippings from the Mexican sausage mingle with the rice, melding with the soy like a beautiful, salty perfume. It's dazzling.
Though Wok O Taco bills itself as a fusion restaurant, most of its dishes are either Mexican or Chinese. Beef with broccoli is a fine rendition of the Americanized Chinese classic, its meat shockingly tender, almost like pot roast. The savory gravy-like sauce that coats the dish's components is powerful, yet lighter in texture than what is typical. Sweet-and- spicy chicken, a riff on hot braised and General Tso's chicken, features tender chunks of white meat coated in the same sweet and spicy sauce as the wings, plus a generous amount of black pepper. Like the beef, it proves a well-executed version of the classic takeout-style comfort food.
Wok O Taco's biggest miss was its fish tacos. This was disappointing, because everything about them was on point aside from the main component. Soft flour tortillas were stuffed with crispy cabbage, bright pico de gallo and smoky chipotle mayonnaise. The fish was even cooked well, and I appreciated its flaky breading. However, it tasted muddy, like cheap, poorly trimmed tilapia. I kept hoping I'd get past the bad bites, but the dirt-like flavor permeated the entire piece of fish.
Teriyaki chicken tacos were better, but they were lacking in flavor. The teriyaki sauce was not powerful enough to make an impact. Instead, these just tasted like mildly sweet chicken tacos. Conceptually, this is a thoughtful fusion dish, but the flavor or garnish needs to be amped up to make it work. I was also less than enthusiastic about the "pollo loco," which features cheese-covered chicken over a bed of fried rice. Again, the idea is good, but the diced chicken proved bland and chewy.
MABEL SUEN
Chipotle chicken noodles are served in a coconut-chipotle sauce.
The chipotle chicken noodles show what the restaurant is capable of doing when all the pieces come together. Thick, linguini-like noodles serve as the base for a wonderfully smoky coconut chipotle sauce reminiscent of Thai cooking. The sauce is creamy, but not overwhelmingly rich, and blankets the noodles, bell peppers and chicken in its delicious perfume.
If the noodles demonstrate Wok O Taco's potential, the "Wonton Empanadas" further the argument. Cream cheese, scented with Mexican vanilla, is wrapped into triangle-shaped wontons and then deep-fried. Once out of the fryer, the fritters are garnished with whipped cream and fresh strawberries, whose tanginess cuts through the richness. Like a sweet pastry version of crab Rangoon, this dessert is warm, satisfying perfection that shows what is possible when you mix these two styles of food.
MABEL SUEN
Wonton empanadas are a sweet treat, with Mexican vanilla cream cheese and strawberries.
I want more of this from Wok O Taco. The Cervantes family gives glimmers here and there of what they're capable of doing. When dishes shine, they do so brightly.
However, I get the sense that the owners haven't fully committed to mixing genres as they originally intended. It's one thing to cook decent Mexican and Chinese food, but it will take melding them into something greater than the sum of their parts — something like, say, the bulgolgi burrito at Seoul Taco, or the beef short-rib quesadilla at Kalbi Taco Shack — to make Wok O Taco truly unique.
The Cervantes family has the foundation to do this, but they need to go all in. When they do, I suspect, they will realize that the missing pieces were there all along.