Photo provided by the band
As the Vigilettes, a south city-based quartet that references the pep and aggression of 1990s alternative rock, prep the release of its first album, guitarist and singer Catlin O'Toole pauses to consider the moving parts that make up this foursome.

O'Toole and her bandmates — drummer Melanie Meyer, bassist Jessee Halbower and singer Sara Lapusan — all contribute liberally to the construction of the ten songs on the debut album 4,3,2,1! Each member contributes lead vocals and all but Halbower wrote lyrics, making it a little hard to figure out where these musical personalities intersect and diverge.
"We definitely all have different styles, which is pretty apparent," says O'Toole. "But I think that it's interesting and different. We all have our own style of writing and singing. We're really close friends, so that helps in being able to let go of your ego when you are playing someone else's song. We are focused on doing the music justice for that song."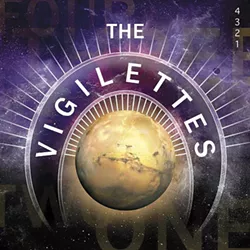 That sense of justice — not just serving the song, but doing so with a crusader's righteousness — helped inform the band's name. The feminizing of the word "vigilante" lends the band a superhero-squad sensibility, one that the Vigilettes have played up in promo photos and the album's ready-for-liftoff title. But according to O'Toole, that same sense of justice — musical, if not criminal — also informs the band's approach.
"It took forever for us to decide on a name — nothing was fitting what we wanted," O'Toole says. "Sara actually came up with it; we wanted to do justice to the music and not necessarily focus on our gender, since we're an all-girl band."
Halbower, Meyer and O'Toole began playing together in another local band before splitting off and starting the new project. "We don't want to be a novelty act since we're all girls," O'Toole says. "Whenever Jessee, Mel and I started playing together, we didn't want to play up that schtick — we wanted to do something different."
That "something different" is informed in large part by alternative rock from the mid- to late-'90s. O'Toole lists bands such as the Breeders, the Pixies, the Cranberries and the Pretenders as personal favorites, though the influence of those acts is often more subtle than overt. "It wasn't necessarily what I had in mind, it just evolved that way," O'Toole says of the sonics deployed on 4,3,2,1! Opening track "86 on the Fly" — written by Meyer and sung by Halbower — kicks off with a rat-a-tat drum beat and the thudding thwack of overdriven guitar. Like the best kiss-off songs, it delivers a whip-smart chorus that is equal parts honey and vinegar.
The songs here are rarely overstuffed — and a few feel a little underdone — but the Vigilettes take some creative liberties with the guitar-forward style. Lapusan provides the band's biggest outlier in the form of the flute, which can act as a dreamy or prog-like counterpoint to a few songs here. Her flute helps punctuate the shifting dynamics and loud-quiet-loud construction of "Humanity/Machinery," one of O'Toole's contributions. At nearly seven minutes, it's the longest song here by some distance.
"I wrote it about technology and this love/hate relationship that people have with it, especially myself," O'Toole says of the song, which ruminates on our dependency on digital devices and 24/7 connectivity. "There are a lot of different parts to that song; some of it sounds pretty — that's when you're happy with your cell phone. Then it turns into the complete opposite because technology is also kind of evil.
"Some songs we've written and then we bring it to the band," O'Toole says of the process. "There are several songs where a couple of us have been in the room and we wrote it all together. For 'One Less,' Mel and I wrote that together, and then she ran off into the other room and started furiously writing lyrics. 'Nothing Is Yours' is one of the first songs we all wrote together. I played it acoustic and I had a poem that I wrote and a guitar part I wrote, and I brought it to Sara, thinking it could go together somehow."
"Nothing Is Yours" sprung from O'Toole's pen, but it's Lapusan who gives the song wings with the album's most powerful performance. The song rides on a slow build of O'Toole's lightly chorused guitar and Halbower's simple and assertive bass notes. Lapusan remains in control of that crescendo, selling the song's emotional weight with both stridency and vulnerability. It's a good example of what the band can do with three chords and enough passion to fill in the cracks.