Shakespeare put the damper on any possible Hamlet sequels by killing off all the main characters before the curtain fell, thereby saving us from the horrors of Hamlet II: Back for Elsi-more, or something worse. But there's nothing to stop an enterprising playwright from writing a Hamlet prequel. David Davalos is just such a playwright, and his Wittenberg shows us what Hamlet was like back at his happy college days, before his mommy issues kicked in. Being an enterprising sort of playwright, Davalos throws in Johann Faustus and the entirely non-fictional Martin Luther as well. What sort of shenanigans happen when a great Dane, a demonologist and a renowned theologian are thrown together during one wild semester at Wittenberg University?
Despite the possibilities in the premise, Davalos' Wittenberg, currently being produced by Upstream Theater, disappoints. Not even the game cast and the sure hand of director Philip Boehm can overcome the fact that Faust and Hamlet as written are only an endless string of call-backs to their better-known plays, while Martin Luther is similarly confined by his actual historical actions.
Even more damaging is that one of the characters is a textbook Mary Sue — a fictional character who can do it all, has no flaws and renders all other characters pointless with her sheer awesomeness. There are a few original laughs to be found within Wittenberg, but too much of the script is borrowed from other plays and stitched together as framework for Faustus, our Mary Sue, to look great and make things happen. As a result, Wittenberg sits uncomfortably between the episode of Gilligan's Island where the gang puts on a production of Hamlet and the worst excesses of fan fiction.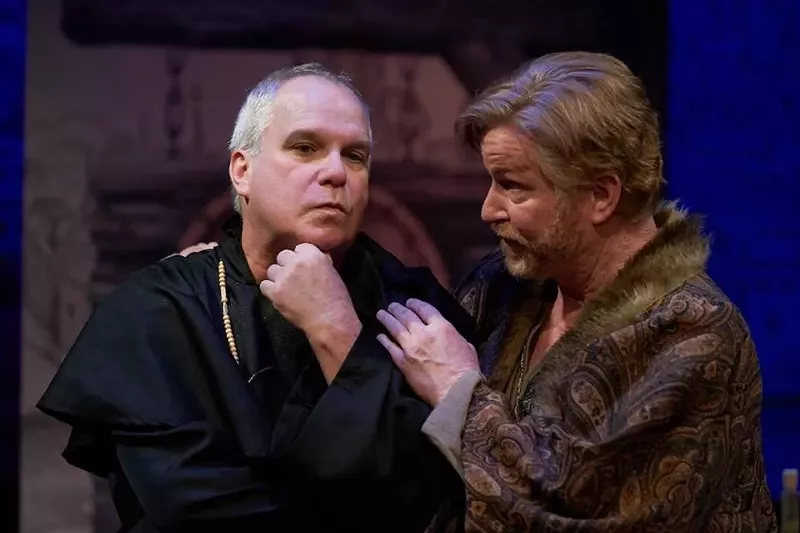 PROPHOTOSTL.COM
Martin Luther (Alan Knoll) complains to his frenemy Faustus (Steve Isom) about those damned indulgences.
Hamlet here is an upper-class twit, the star pupil of both his philosophy professor Faustus and his theology professor, Martin Luther. Casey Boland wrings everything he can out of this dithering, indecisive Hamlet, who speaks in sentences overlarded with alliteration and consonance rather than the beautiful iambic pentameter of his post-college life. Currently suffering from terrible dreams and inner turmoil, Hamlet looks to his mentors for help.
Steve Isom's Faustus displays the swaggering confidence common to the hippest professor on campuses worldwide. He has the best drugs, he challenges the status quo with every bon mot he drops and he even has a regular gig at the tavern playing rock & roll on his lute. Do the tavern wenches throw themselves at him? C'mon, of course they do. Caitlin Mickey gets to be the wench in question, as well as a courtesan and a vision of Mary, mother of Jesus, thereby completing this game of virgin-whore bingo. (This one-dimensional tripartite character list is billed in the program as the "Eternal Feminine," which is a damnably stunted definition of both words. Mickey, and all actresses, deserve better.)
Much of Hamlet and Faustus' dialogue is a walk down 'Member Berry Lane, which stops being entertaining the third or fourth time Hamlet asks Dr. Faustus some variation of a "to blank or not to blank" question and Faustus corrects him with a smirking, "To be or not to be." Then Faustus gives Hamlet a baggie of something good and sends him out into the world with a paraphrase of Timothy Leary's "turn on, tune in, drop out" advice.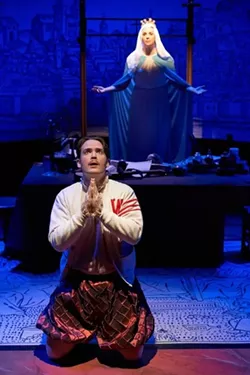 PROPHOTOSTL.COM
Hamlet (Casey Boland, kneeling) receives a vision of Mary (Caitlin Mickey).
Martin Luther (Alan Knoll) is devout in his faith and tells Hamlet the answers he seeks can only be found in the Bible. Of all the characters in the play, Luther feels most original. Is that because he's free from the constraints of a more famous play that defines him, or is it because of Knoll's performance? Luther is is bedeviled by the Church's sale of indulgences, which absolve people from their sins and free them from attending services, and Knoll's Luther reflects that pain in every snappish line and sleepless night. His frenemy Faustus urges him to write down his doubts about indulgences as points in a debate, thereby stealing Luther's own courage of conviction to be yet one more feather in Faustus' cap. We get it already: Faustus is the Fonzie of the sixteenth century.
There's nothing new here, only borrowed characters bumping around a university, clearing their throats until their better-known dramas can start. Strip away all the references to other plays and what's left? Just Faustus being relentlessly rad in everyone's face. One can only imagine the horrors to be found in Wittenberg II: Faust Rider. Rumor has it Faustus gets a demonically powered motorcycle and jumps a shark to win a bet with the three Weird Sisters from Macbeth.