Page 3 of 3
CHET GORDON
Backing into Tri-Valley Beverage in Westmoreland, New York, to have beer products unloaded on February 6. The load originated from the Anheuser-Busch Brewery in Newark, New Jersey.
In late May, George Floyd was killed by police in Minneapolis, setting off massive protests. Chet was driving through Minnesota at the time but was routed on a loop a couple hours north of the Twin Cities. Since then, demonstrations have sprung up in every major city in the U.S. and, in some cases, internationally. Seven or eight years ago, Chet would have been in the streets, viewing the uprisings through the lens of his Nikon DSLR's. Every once in a while, he still feels the pang of missing the big news stories. But he's consciously begun redirecting his mind away from his old identity as a news photographer, and into his new career.
"I missed the daily stuff for a long, long time," he says. "But as this takes over your time and your brain, this has become my profession."
He still reads the major newspapers online, but his mind soon fills with maps, safety checks and trip paperwork. He usually reverse engineers his trips, working backward from the time he has to arrive so that he can determine the miles to cover each day and allow for the endless variables: traffic, bad weather, road conditions, crazy drivers and on and on. There are a million things to think about when you're pulling close to 80,000 pounds down the road at highway speeds.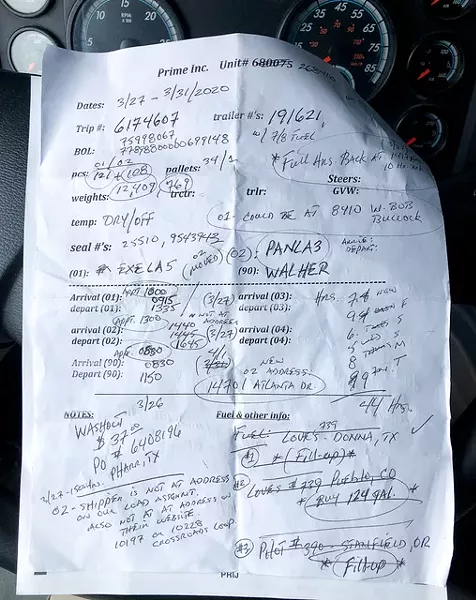 CHET GORDON
Handwritten trip notes on the truck I use on a load from Laredo, Texas, to Hermiston, Oregon. Reverting back to my journalism career and prior military experience at times for this mindset, which helps to be sort of a CYA method for each trip. Particularly if there were any significant events or expenses on a load. I sometimes keep these handwritten trip notes pages filed with each load's official paperwork like Bills of Lading, fuel receipts, scale receipts, equipment purchases, etc.
But even as he digs deeper and deeper into the life of trucking, he still has the urge to make pictures. A dashcam rigged up in the cab gives a driver's-eye view of the horizon ahead. Out of the truck, he makes stunning use of an iPhone8, GoPro and a pocket-size Canon G15. And should he need them, he's still got two Nikons onboard and a laptop for editing.
He hasn't lost the eye. It's just his vantage point that has changed.
"I'm not in the world as a journalist anymore," he says. "I'm not dealing with mayors and governors and police chiefs and celebrities and athletes and, you know, socialites and country-club morons with the khakis and the golf shirts. I would actually rather be with the labor-force people, the workers. Always have, always will want to be, because these are the people that will give it to you straight."
The best times come when he has a two- or three-day run stretched out in front of him. There's no boss to be apprised of his every move (onboard sensors send off all the information they need to monitor his progress), and no office to visit. All he has to do is wake up and drive.
"I tell people all the time, 'You want to know what it's like, you've got to come ride with me,'" he says. "I can't tell you what it's like. I can't explain it."
CHET GORDON
Chet Gordon of Greenwood Lake, New York, after cleaning out a trailer in Georgetown, Indiana, on October 15, 2019. Gordon, who previously was a newspaper photographer, photo editor and former US Marine, has been a long-haul truck driver with Prime Inc. of Springfield, Missouri, since December 2016.
Here's how to contact Chet Gordon or follow along on his cross-country adventures:
FaceBook: chetgordon.pkr64
Twitter: @chetgordon
Instagram: @pkr64