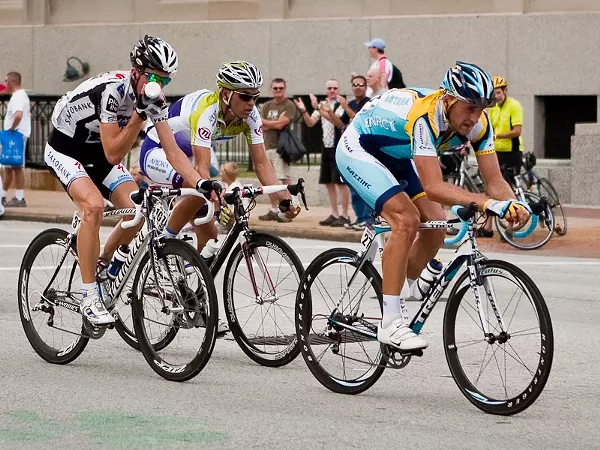 By lap three, a small group had broken off the front. Tomas Vaitkus (left) led the group, followed by Moises Aldape Chavez (center) and Chris Anker Sorensen (left) down Market Street between the Municipal and Federal Courthouses downtown.
"Im about to become Mary Poppins." The Liquigas girls had to fight the occasional gust of wind from up-ending their umbrellas.
The peloton approaches the start/finish line on the first lap of the St. Louis stage. Riders had to negotiate a 7.5-mile course that took them south, through Soulard and around the Anheuser-Busch InBev brewery, then back up into downtown a total of ten times.
Some people wear jerseys to support favorite teams, others dye their hair.
A small rider from the seven and eight-year riding class gives it all he's got in one of the Tour Of Missouri kids' race.
By the second lap, the peloton had elongated into a line that spanned about two city blocks.
The start/finish of the course offered riders and spectators a beautiful view of the Old Court House and the Arch.
Two riders of the Tour of Missouri women's race discuss their performance after the finish.
After the Gateway Cup, many riders hung around to see the international teams that would be participating in the Tour of Missouri.
The nine and ten-year old class had few entrants but all finished strong.
With a field of 118 riders, negotiating the first turn onto Broadway from Market Street was no easy task.
Support crews such as Mavic were on hand to offer assistance to any rider who might need a wheel, or even a whole bike.
Bikes are more practical than horses, but some people have trouble letting go.
Spectators dressed up to support their favorite teams.
Young riders make their way to the staging area for the seven and eight-year old age class during the kids races.