Tommy Ramone at Off Broadway, 10/29/09
Thomas Erdelyi, aka Tommy Ramone, performed at Off Broadway last night with Claudia Tienan, as their musical duo Uncle Monk. Photos by
Nick Schnelle
.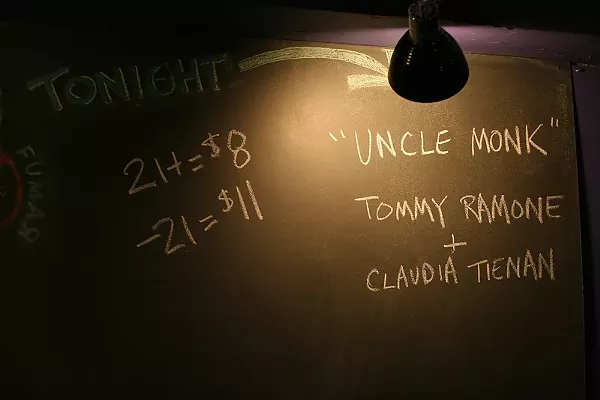 Uncle Monk's complete set list was marked with two set lists and intermission for the hour and a half they played.
These two from Illinois were the first ones to the show.
Uncle Monk's Tommy Ramone and Claudia Tienan pose for a photo before going on stage.
Uncle Monk CD's lay on stage during the show.
Before the song Tommy says, "We're gonna be doing a lot of tuning tonight. We tune because we care."
Before playing "Mean To Me," Tommy says, "Now we're gonna do a bluegrass doo-wop ballad and it's dedicated to all the people who were mean to me."
"Alright, fasten your seat belts, we're coming round the bend."
Uncle Monk plays a song Tommy wrote with the Ramones called "I Wanna Be Your Boyfriend," released by the band in 1976.
"Know we're gonna play a song you all may be familiar with," Tommy says before they played "I Fought the Law," originally recorded by Sonny Curtis and The Crickets, but again made popular by the Clash in 1976 and 1977.
"Here's a little tear-jerker for ya, called 'Don't Break My Heart.'"
During the intermission, Tommy Ramone talks with a fan at the bar.
Tommy Ramone takes a break at the bar during the intermission.
The view of the crowd from Uncle Monk's point of view on stage.
Tommy and Claudia sign a fan's CD during the intermission.
A fan opts for a signature from Tommy Ramone on his arm.
Tommy Ramone sits on stage after the show signing a CD for a fan.
Euclid Media Group, LLC
Read Our Sister Publications