Page 2 of 4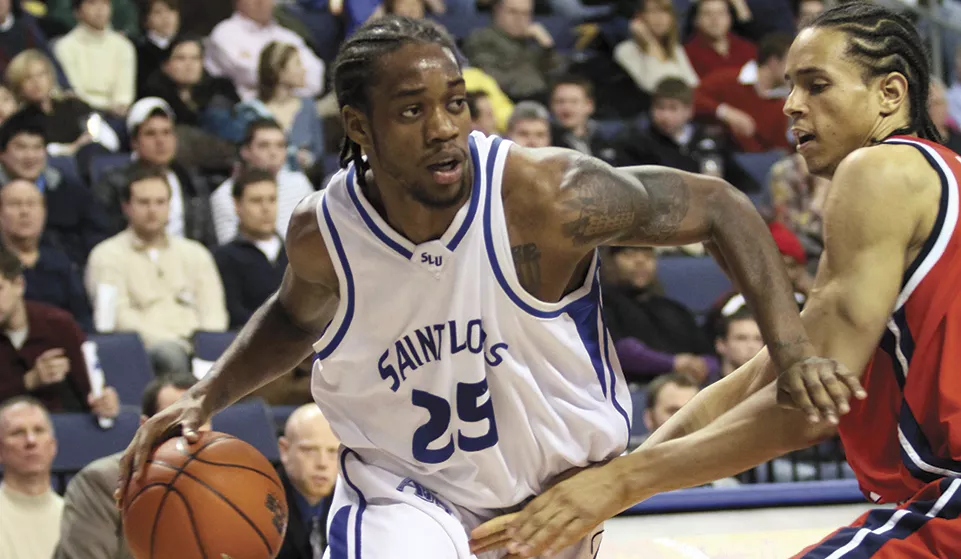 BILL BARRETT
Liddell was a standout at SLU.
Angres Thorpe can recall the names of hundreds of players whom he recruited over the years, though some carved a deeper hold than others into his memories. Now the associate head coach at the University of Missouri-Kansas City, Thorpe has a well-padded résumé, with stints at several Midwestern Division I basketball programs. Serving under head coach Brad Soderberg, Thorpe was Liddell's lead recruiter during his time at East St. Louis Senior High.
In a lot of cases, it's assistant coaches who develop deeper, longer-lasting relationships with their recruits. Thorpe's obvious goodwill for Liddell comes through today.
"I started knowing Tommie, really, between his sophomore and junior years at East St. Louis," Thorpe recalls. "When we started recruiting him, we were really focusing in on him and trying to build a strong relationship."
Closing a sale requires patience on the part of both coach and player: an understanding of how the rest of a recruiting class is shaping up, a bit of luck and non-stop input from the players' family, friends and coaches. Liddell, despite some academic concerns that were evident early on, was a big get for SLU.
"Tommie was a local kid who would give our program some pop," Thorpe says. "He had great recognition in the area, an affiliation with the St. Louis Eagles AAU program and a name that was getting tossed around in the media. It was a win-win to get a young man like Tommie."
But landing Liddell meant helping him find a bridge year between East St. Louis High and the Jesuit university. It was Thorpe who suggested Hargrave Military Academy in Virginia, where he had contacts.
"We explained everything to Tommie," Thorpe recalls. "He knew what his commitment was going to be and what it would take to get into SLU. He agreed with it."
Janet Oberle, SLU's senior associate director of athletics, explains, "Hargrave gave him the opportunity to improve some grades in his core classes but also gave him a chance to do ACT/SAT prep and take the test every time it was offered that year, which he did. He hadn't been involved in any preparation for the tests when we got really involved, so Hargrave really made that impact more so than anything else. It also provided structure and enabled Tommie to live away from home for the first time, which I believe was difficult for him, but was a positive overall in helping him be ready to come to SLU."
Liddell played the 2004-05 season with Hargrave, living under conditions that were new to the former resident of East St. Louis' Samuel Gompers Homes.
As Liddell told St. Louis Magazine in a 2005 interview, "We had to be in our rooms, with our doors open, and a monitor would constantly walk up and down our halls to make sure we were doing work. Our daily routine was waking up before the sun was up — 6, 6:15. Then breakfast. Formation at 7:15. Classes about 7:30. Lunch at 12. After practice, study hall. At 9:30, lights off. If they caught you with a cell phone, they'd send it back home."
After a school year under that regimen, Liddell earned the test scores he needed, shunned further recruitment by other schools and headed home. Finally at SLU, he would form a dynamic, three-headed guard alignment with Vashon's Dwayne Polk and fellow freshman Kevin Lisch, a Belleville native from Althoff Catholic. The two East Side recruits came from wildly different backgrounds but gelled as players and people.
Lisch remembers watching Liddell play in high school. "When we both committed to SLU, I remember having him over for a pickup game to get to know him better," he emails from his longtime home in Australia. "Tommie was a very smooth player and made things look effortless at times. He was a big guard, so a tough matchup. He was mostly a quiet, soft-spoken person, which I really respected about him.
"We were both two very different players out on the court, but I think we both possessed an unselfishness and understanding of the game which really helped us to play off each other," Lisch adds. "We had a great relationship on and off the court that was probably built upon a mutual respect for one another. Tommie was like a Swiss Army knife; he could be used in so many different positions both offensively and defensively. Once again, some of his greatest attributes were his unselfishness and high basketball IQ and feel for the game."
BILL BARRETT
Kevin Lisch, left, and Tommie Liddell III.
For two years, the pair played in Soderberg's system, but the coach was dispatched after a near-breakthrough, yet ultimately uneven, twenty-win season in 2007. He was replaced by the late Rick Majerus, an eccentric genius who had been coaxed out of his own on/off retirement.
Though inheriting a solid roster, Majerus' immediate impulse was to dispatch several recruits and bit players, while changing up roles for the returning cast. It was a culture shock to say the least, with not only a change in playing style but an adjustment in basic human relations. Soderberg was a youngish family man, the son of a coach and generally conservative. Majerus was quirky by any comparison — vocal in his liberalism, single, his home a high-end hotel suite. Detailing his unusual personal characteristics would extend this piece to twice its length, but the short version is that his demanding, tart, unfiltered feedback wore on his returning players. Some more than others.
"I think initially it was a very difficult situation for all of us," Lisch explains. "Brad had just done a wonderful job and we had won twenty games that year. Tommie and I probably had our best seasons in college that sophomore year, as well. Rick coming in definitely changed things up, and I think Tommie, especially, felt lost and confined. I feel like Tommie lost a bit of the joy for the game. Majerus had a difficult situation, as well. He was trying to make huge changes and strides forward within the basketball program, but we weren't his 'guys' he recruited either."
He adds, "At the end of the day, I learned so much from Majerus. I maybe just didn't see it all at the time."
If Lisch, a longtime pro in Australia's top professional league, is diplomatic about that relationship, Liddell is a tad more direct.
"Oh, no, we didn't get along," Liddell says of Majerus, without anger. "On the court, we didn't get along. Off the court, he'd give you great advice; probably some of the best advice I've gotten. But on the court, the things he wanted me to do just didn't suit my game. I made a lot of sacrifices during my junior and senior years, just to get along. I think the thing about Majerus is you don't expect people to be that honest. You'd get the truth from him. Well, it might not be the truth, but he's going to say whatever he wants to say, whenever he wants to say it.
"You don't always come across someone like that," Liddell continues. "We didn't agree on a lot of things, but you could take some of it and apply it to your everyday life. The things he said to me I knew were genuine, right? He ain't going to tell you lies. Sometimes you took it and said, 'Eh, OK, it's Rick.'"