Page 3 of 3
A LIFE OF FREEDOM
COURTESY OF TRISHA BARNES
Trisha Barnes and her husband Bruce have been traveling the country in a camper since 2010.
Trisha Barnes knew she was a camper since she was a young girl in Boonville, Missouri. She just didn't know that it would become her primary way of life, thanks to a lot of faith and a little bit of luck.
"I truly believe that when you have a desire — and a strong desire, a dream that you just won't let go of — the universe puts things in motion to deliver what you need," Barnes muses.
Barnes, 61, and her husband Bruce have been living their dream of being house-free and traveling the country in a truck with a camper since 2010. But long before Bruce entered the picture, Barnes was laughing with her siblings and cousins in a massive homemade camper during the summers of her youth or camping with her parents at hotspots in southern Missouri.
"Mom and dad slept in the pop-up camper, but we slept outside on Army cots," Barnes says. "I remember that it was so special and fun to be outside like that, to sleep under the stars. So there have always been a lot of seeds planted."
Those seeds sprouted into a happy life of wanderlust once Bruce walked into her life. Along with enjoying married time together in a duplex, the couple shared a dream of one day experiencing the RV lifestyle. They had no idea when they might buy such a vehicle — "When the time's right," they said to everyone who asked — but they believed that everything would line up eventually. In the meantime, the couple packed up their Mustang convertible and went camping every weekend, enjoying the tent-side view of nature.
When the lease for their duplex was up, Bruce suggested that they move full-time into their tent.
"I was still working in a corporate job where I wore skirts, heels, make-up and all that stuff. And I was just thinking, 'How in the heck do you think I'm going to go to work from a tent?'" Barnes laughs. "But then we found this little campground in Columbia. It sat right on the Missouri River, and they had a shower house, electricity in the shower house, a washer and dryer, and I started thinking, 'I think we can do this. I think I'd be OK.'"
After a successful summer in the tent, the couple moved back into an efficiency for the winter, but before long, Barnes' favorite campground called to ask if they wanted to come back to the campsite as hosts in return for camping space. There was just one condition: They needed to have a camper, not a tent. With limited funds and no loan backing, they were ready to pass when one of Barnes' co-workers mentioned that he had a camper for sale at a price they couldn't refuse.
"He sold us a pick-up with a camper on it and financed it himself with zero interest on it!" Barnes marveled. The couple's monthly payment: $100 less than what they'd been paying for their apartment.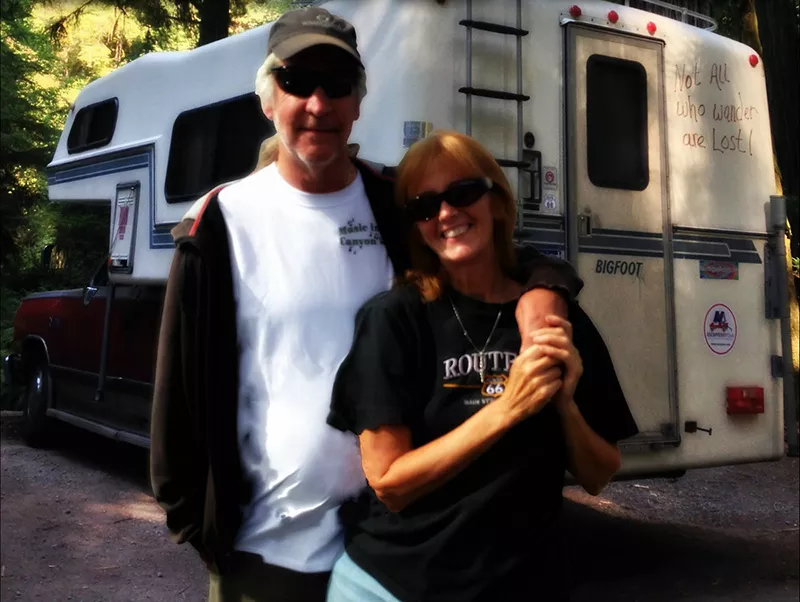 COURTESY OF TRISHA BARNES
Trisha Barnes and her husband are looking to downsize to a conversion van.
Barnes and her husband moved to the campsite in their new-to-them Dodge Ram/Bigfoot Camper combo, welcoming nature lovers and drawing crowds to their weekly Naked Hippies barbecue and blues events (fully clothed, despite the name). After a few years, they were ready for the next step in their cross-country dream. Barnes look another leap of faith, finally quit her corporate job and let coin tosses guide their routes.
"People think they need to have all this money saved up and everything lined up perfectly. We just go. We had enough gas money to make it to our friends' home in Arkansas," Barnes remembers.
And despite a few bumps in the road, they haven't stopped traveling. With income from odd jobs, their online marketing business and blog at nakedhippiesroadtrip.us as well as royalties from Barnes' 2016 Amazon bestseller RV Living: The Naked Hippies Way, the couple makes enough to finance their nomadic lifestyle while inspiring others to realize their own dreams of freedom. For Barnes, that's enough.
"I had been interviewed about our lifestyle, and the lady asked, 'Trisha, how will you know that you finally did it?' And I said, 'When I stand in the redwood forest,'" Barnes says. "It gives me goosebumps right now. You see the pictures and imagine how beautiful it is, but until you stand there on that ground, you don't really know."
Barnes knows now, though; the couple finally made it to California's Redwood National and State Parks a few years ago, and it was everything Barnes had imagined.
"I stood there and cried and just took it all in because it was so amazing," she says. "I was going, 'This is like in the movies!' I was like a little kid, just screaming and excited."
But there's still more to see and do, Barnes says. For their next adventure, the couple plans to downsize yet again, trading in their truck and camper for an even smaller vehicle — a conversion van, just like the one John and Jayme Serbell are taking on the road this month.
"It's even more simple living than what we have in our camper, because in our camper, we have a stove, a refrigerator, a freezer — all of the amenities," Barnes says.
"And when you ask me when we're getting it, it's the same answer as when those people asked when we would be getting an RV," she says, laughing. "'When it shows up.'"
Email Allison Babka at allison.babka@gmail.com or follow her on Twitter @AMBabka