Page 3 of 4
St. Louis' oldest cultural institutions are but shadows of the 1904 World's Fair. The lush expanse of Forest Park, the edifice of the Saint Louis Art Museum, even Washington University's soaring Brookings Hall — all began their lives amid the fair's palaces and showpieces, the exhibition representing more than 50 countries and 40 states, each attempting to outdo the other in ambition and scale.
In the end, most of the fair's 1,500 buildings were never intended to last. All but a few were torn down, sold for scrap or simply thrown away. Though widely reported at the time as the fair's most popular exhibit, the Philippine Village quickly disappeared, the tribal members sent back to the Philippines or taken on tour to be degraded for the amusement of crowds in other U.S. cities.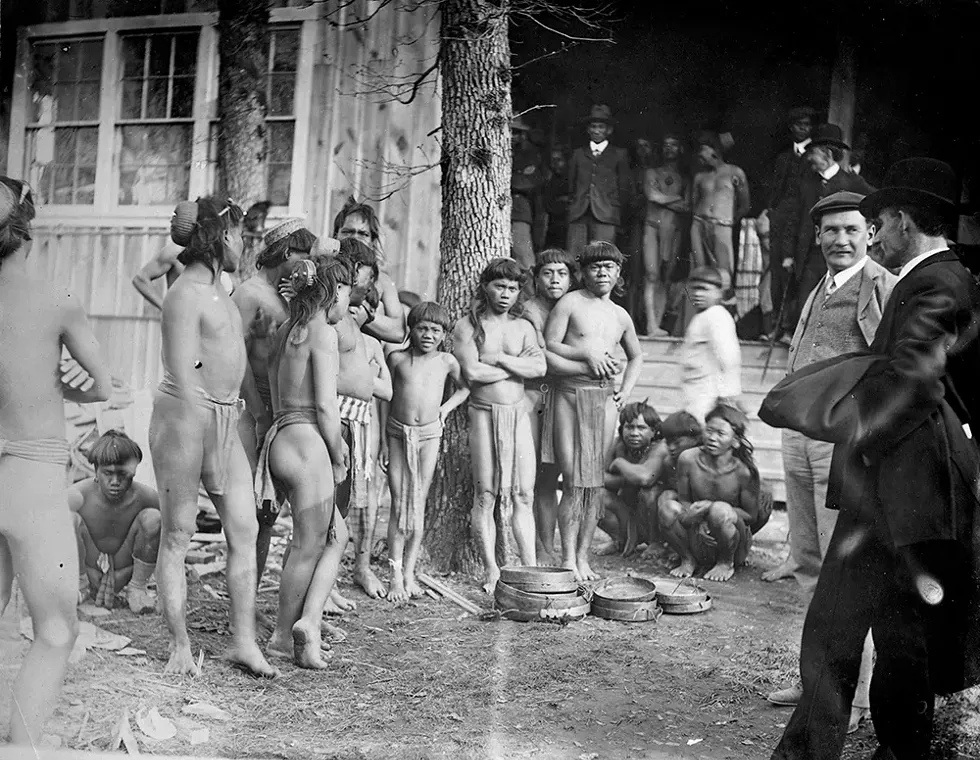 MISSOURI HISTORY MUSEUM COLLECTIONS
Igorot tribal members were on display for white patrons taking in the show.
Today, the 47-acre area is mostly occupied by a private neighborhood in Clayton, its gated streets lined with million-dollar homes. Although there is no official recognition or memorial to go along with it, Langholz argues that this is a historical site — and that she is its caretaker.
Since she began her research in April, Langholz has taken to offering guided tours through the area. Starting at a Kaldi's Coffee, she leads a reporter through streets that once bustled with villagers, vendors and fairgoers.
During the tour, Langholz carries a metal sign that she designed several years ago as part of a previous art exhibit. Its black background is stenciled with gold lettering: PHILIPPINE VILLAGE HISTORICAL SITE.
Without a permanent memorial, the sign travels with her. We pass unremarkable corners where thousands of visitors had once crowded around bamboo huts to leer at the daily performances of tribal rituals. Later, Langholz points out a quiet street as the former location of the ornate bridge over Arrowhead Lake that led to the "Walled City" of Manila.
But even with so much documentation of the fair's geographic footprint, it's difficult, she admits, to identify a single appropriate place for a formal "historical site." The former village is now segmented between two Clayton neighborhoods and Concordia Seminary, a private religious institution.
"I would like to have a permanent sign somewhere, so I'm not always having to carry this thing around," she says, pausing to adjust the metal sign into a more comfortable position under her arm. She acknowledges that it's not the way most historical sites are marked, with one person walking around with a sign they designed and produced by ordering it through a website.
"I just kind of wanted to make it official," she explains. "I live near here, I'm already doing these tours, I might as well get a sign. When I'm walking around with people, they want to see a landmark, they want to see something. And there's no visual, like, evidence of that being here."
In a city that has done almost nothing to preserve the history and people who came here in 1904, it would be easy to let the past be the past. But Langholz can't look away from the names and faces, the images of the Philippine Village residents preserved in newspaper archives and the stories they left behind. Despite the exploitation, the tribal members and Filipinos did their best to make their lives here. They fell in love, had children and mourned their loved ones before they departed.
"Can you imagine," Langholz poses, "being asked to go to another country, to represent your people, and it sounds like this great thing? No one had expected that they would be treated this way."
Even with digitized newspaper accounts available at the click of a button, "There's just so little known about them," she says. "How do you find descendants? Who has the right to memorialize this space?"