Press photo provided by the band
Middle Class Fashion
The span of three years is hardly an eternity, but for a band or artist, such a gap between albums can feel vast. (Album-hungry Frank Ocean acolytes will get no sympathy from D'Angelo fans, for appreciation of scale.)

There was a time when Jenn Malzone seemed to have more songs than she knew what to do with; as the creative force behind Middle Class Fashion, she helmed two fine, diverse albums of sweetly sour pop songs that made it hard to tell the difference between a zinging riposte and a lover's promise. Released in 2013, Jungle pushed the band away from the piano/bass/drums arrangements that marked Girl Talk as a bouncy debut; the addition of synthesist Katie Lindhorst gave depth and darkness to Malzone's songs, which increasingly emphasized beats over ballads.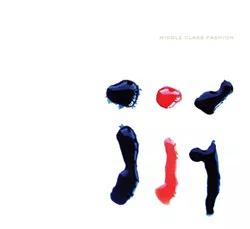 Now, with the just-released iii, Middle Class Fashion continues its embrace of danceable, darkly tinted pop songs. Recordings began at David Beeman's Native Sound studio — the lush analog synths heard on celestial closing track "Lift the Law" come from his arsenal — but a partnership with Tom Burns, who is more accustomed to writing beats for hip-hop acts at Phat Buddha Studios, led to a new approach in these songs' creation.
Malzone and drummer Brad Vaughn talked about how the long gestation period between albums helped solidify their stylistic choices.
"The way we approached it in the studio was whoever had the best idea and the best tone, we would record that," says Malzone. "Usually, we would record in the studio and replicate what we do live — 'everybody take your turn and do your parts.' For this we did the opposite; Katie was writing bass parts, I was thinking of drum parts, Brad was doing synth. It was just whatever anybody had. I loved it; I don't think I could go back to just piano anymore."
The band's shift in sound was accompanied by another line-up change as well. Founding bassist Brian McClelland departed during recording, in part to focus on his power-pop band Whoa Thunder, which has successfully moved from bedroom recording project to full-fledged live act. His contributions on iii are unmistakable — the punchy, bristling low end on "Don't Stop It" is partnered with his clarion backing vocals.
"What we were wanting to do was kind of wasting his talents, because he's one of the best bass players I've ever known or seen," says Vaughn of McClelland. "He can write these amazing melodic parts, but we were just getting away from that."
On songs like "Runway" and "Schoolboy," Middle Class Fashion amps up the BPM and turns out slinky and pulsating pop tracks. But these songs seem to call to attention questions of gender, sexuality and identity, topics that Malzone's beguilingly opaque style have touched on over the years, but rarely this directly.
"We've really made a conscious decision to embrace that a bit more as a band," Malzone says, referencing what she calls the group's "gender-bending" image. "I always would avoid it because I like to keep my personal life pretty private on social media and stuff, and I figure it doesn't really matter in a pop song. I changed my mind about that and I felt like it made for more interesting material; I felt like I could expand a lot as a songwriter. It's made me really happy — even with our image, changing up our style and trying to make sure that everything we do feels really comfortable and genuine and honest. That's been really good for us."
To premiere the video for "Don't Stop It," Middle Class Fashion partnered with music blog Queermusic.tv. That was the most overt the band had been to date about issues of sexuality, but Malzone says those themes have been at the root of many of her songs.
"Girl Talk was basically about being infatuated and obsessed and in love with a girl that I couldn't be with, but obviously that wasn't clear or anything," says Malzone of the band's debut. "It never felt like I was writing in a closeted way, but it never seemed important and I would leave it neutral.
"I never wanted to be perceived either way, in either box, because I'm not in either box," she continues. "I didn't want our songs to be put in some clear category, like 'lesbian singer-songwriter' or 'straight singer-songwriter' or anything like that. I was just really protective over them."
With iii, Malzone and Middle Class Fashion have crafted a tightly constructed album of modest anthems and personal triumphs. The sound and songwriting process may have changed, but it has left the band emboldened in its new direction.
"We're never gonna wait three years again," laughs Malzone. "I wanna put something out in six months."

Watch the video for "Don't Stop It" below:


Middle Class Fashion Record Release Show
8 p.m. Friday, May 20. Off Broadway, 3509 Lemp Avenue. Free. 314-498-6989.