Page 3 of 4
At its core, there is nothing inherently radical about birth. World-changing in a million ways, yes, but there is no process more fundamental in human history. It is the trappings around it that cause controversy.
Kellman says the mainstream model in the United States, a model that defaults to hospital births, has led generations of mothers away from an essentially natural process — and the results have been disastrous for Black women.
"Our bodies are treated as a machine, and birth is being treated as pathological," she says.
Instead, she advocates for a "risk-appropriate" model that is already dominant in other countries. The idea is to change the default to a model of low-intervention births and only scale up the medical care when necessary. If expectant mothers are high-risk, a hospital setting and the intervention of obstetricians makes sense. But Kellman believes many women are pushed into unnecessary procedures and treatments. That is especially true of Black women, who are more likely to be miscategorized and have their wishes ignored by the mainstream medical community.
"One of the things [doctors and nurses] are most likely to miss is the humanity, that these people are individuals," she says. "They get so wrapped up in evidence-based protocols, and then they don't realize that this evidence-based medicine is rooted in racism. So they see a plus-size Black woman come in for care, and automatically they pin her with, 'Oh, you're more than likely going to be high-risk. You're more than likely going to have gestational diabetes. You're more than likely going to have hypertension.' So from the gate, they automatically categorize them where they're throwing all these extra interventions at them."
Part of the work Jamaa does is offering cultural awareness training to medical professionals to help them individualize their care. She says they often skip asking basic questions to determine their patients' needs.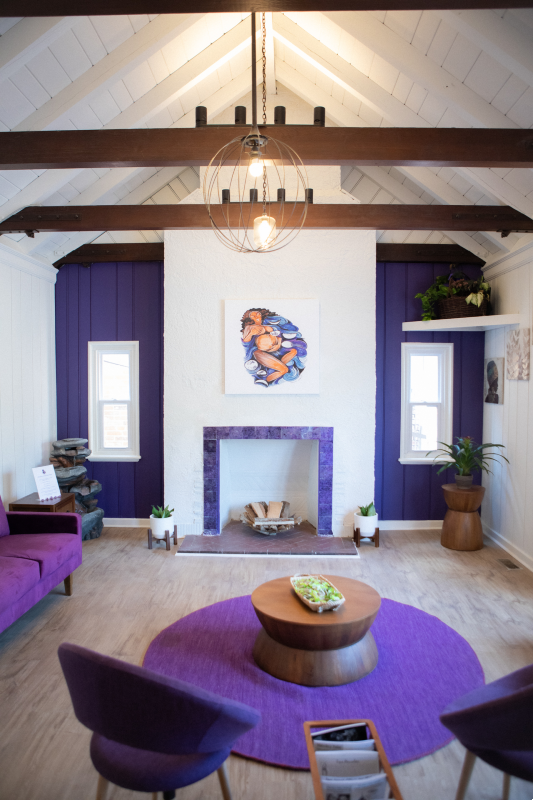 CHRIS RYAN, COURTESY THESTL.COM
The new home of Jamaa Birth Village offers a welcoming space to expectant mothers.
"They're not saying, 'How are you? What's going on in your life? How are you eating? Are you having any type of intentional movement?'" she says. "You'll find out that plus-size people are healthy. A lot of people are conscious of what they're eating and what they're putting in their body. Just because they don't meet the typical white BMI schedule does not mean they are high-risk. ... They miss the mark there."
For Verneda "Vee" Davis, 36, of Florissant, it wasn't only that doctors did not ask her questions; it was that they dismissed the ones she asked. Davis, who studied journalism for her undergraduate degree, says it is her nature to research and ask questions.
"I have to know," she says. "I have to know things."
That's especially true when it comes to her health and the health of her baby, but she says the doctors and nurses she encountered through four pregnancies seemed to have little time or interest in her concerns.
"They make some Black women not speak up, because they feel, 'OK, I'm not going to be heard anyway,'" she says.
When she was preparing to have her fifth child, she sought out a midwife and found Jamaa.
Instead of rushed, ten-minute visits with an obstetrician, Davis and Kellman would meet for an hour at a time to work through her questions and discuss options.
"She was truly concerned about me," says Davis, who is now pursuing a master's degree in education.
As they neared the end of Davis' pregnancy and her due date came and went, Kellman recommended a stress test and a second ultrasound at a hospital. Davis says her amniotic fluid levels were high, and she and Kellman decided the risks were significant enough to forego plans for a homebirth. It was part of what Kellman describes as moving along the scale of the risk-appropriate model, matching the level of care to the need.
On an evening in late October, Davis and Kellman met at Missouri Baptist Medical Center where Davis was to be induced. The setting had changed, but they were able to incorporate aspects of the plan they had worked out in advance. Davis wasn't hooked to an IV, and she was able to walk around — two things that were important to her. Instead of laboring in a bathtub in her home, she moved to the shower in her hospital room. They were little changes, but Davis says they made a huge difference in her experience with this delivery when compared to her previous four without a midwife.
"[Kellman] was still with me," she says. "I don't know how I would have handled it if she wasn't."
On October 24, Davis gave birth to a healthy baby boy. She named him Preston Asante — choosing a Swahili word that means "thank you."