Maybe you have seen this video by now: A Black doctor named Susan Moore lies in the bed of an Indiana hospital, reaching out to whoever might be watching her Facebook stream as she describes trying and failing to convince a white doctor of the severity of her condition. The white doctor, Moore says, dismissed her concerns and told her he wouldn't "feel comfortable giving [her] any more narcotics," despite excruciating pain in her neck.
"I was crushed," Moore says, tears welling in her eyes. The 52-year-old was admitted to the hospital in December after testing positive for COVID-19. In the video, she has an oxygen tube in her nose, and her voice is raspy. "He made me feel like I was a drug addict — and he knew I was a physician."
The white doctor did not see her as a peer, Moore insists, and she has no doubt why.
"I put forth and I maintain," she says, "[that] if I was white, I wouldn't have to go through that."
Nurses and a patient advocate treated her with disrespect, and the white doctor recommended sending her home in the middle of the night, Moore says. It was only after a scan showed troubling substances in her neck and problems with her lymph nodes that they recognized she might be right.
"This is how Black people get killed," Moore says in the video, "when you send them home, and they don't know how to fight for themselves. I had to talk to somebody, maybe the media, somebody, to let them know how I'm being treated up in this place."
SCREENSHOT
Dr. Susan Moore, shown in a still from her video, described being dismissed by a white doctor.
Sixteen days after recording her message, Moore died of complications of the coronavirus.
The video of her lying in that bed, hurt and angry, spread across the world. And if it outraged viewers in general, it resonated in particular with Black women. It wasn't just that listening to Moore's anguish was wrenching; it was that it was familiar.
For Brittany "Tru" Kellman, owner of Jamaa Birth Village in Ferguson, the disregard for Moore's suffering was an example of the bias that courses through the health-care system. Black women have for years reported being overlooked by doctors and medical staff who dismiss their concerns, even as study after study shows wide disparities in care and the resulting death rates.
Kellman says she experienced it as a pregnant fourteen-year-old. Her obstetrician had her induced, because she didn't want the Black teen's delivery to interfere with an upcoming vacation. Kellman ended up suffering complications and had a cesarean delivery.
Throughout the process, Kellman got the impression her doctor considered her to be little more than an inconvenience. It was traumatizing.
In Moore's video, Kellman recognized that same agony and frustration.
"Here she is, a prominent, educated person — I'm assuming middle class," Kellman says. "And the same thing happened to her."
It was Kellman's experiences being overlooked and talked down to by doctors that inspired her to open Jamaa. The center offers midwifery and doula services while also including some unexpected offerings, such as yoga and an apothecary garden, as part of a holistic approach to caring for mothers. Kellman and her team consider their clients' lifestyles and needs, extending well into the postpartum period.
The mission is to guide expectant mothers and their families through a healthy childbirth process. But Jamaa is also designed as a corrective to a health-care system where Black women are overlooked and suffer damaging, even deadly consequences. The crisis is especially bleak when it comes to childbirth. In 2019, the Centers for Disease Control and Prevention released a report that showed Black women die from complications of childbirth at a rate more than three times higher than that of whites. That gap widens to a mortality rate between four and five times greater than white women for mothers older than 30. The CDC looked at where the women lived and at the women's level of income, and they found the pregnancy-related mortality ratio for Black women was consistently and drastically worse.
The problem isn't with the women, Kellman says.
"Black women aren't dying during childbirth because they're Black — like their being Black is a disease," she says. "They're dying because of racism."
There were no Black midwives in Missouri before Kellman came along.
In October 2015, she signed the papers with the state to launch what would become Jamaa Birth Village in Ferguson. She was already a doula at the time and had just begun training to become a certified midwife through the Midwives College of Utah. People confuse the two professions, but a doula supports the mother and looks out for her well-being throughout the birthing process. A midwife has medical training and delivers babies, while providing support before and after pregnancy.
Kellman saw a critical shortage of both Black doulas and midwives to serve Black color, especially women who weren't wealthy. It was little more than a year after Michael Brown was killed by a Ferguson police officer when she opened Jamaa, and a new incarnation of a civil rights movement that ignited in response to his death was still evolving. Kellman says she had at first resisted the idea of being an activist. And on its surface, opening a center that drew on age-old traditions to help bring babies into the world may not seem controversial.
But there was an undeniable social justice aspect in what Kellman wanted to do through Jamaa. She hoped to right a wrong and offer opportunities to women of color who had been ignored and mistreated by powerful forces in society. There was also an element of revolution in bucking the mainstream maternal health system.
"Me doing this is going to be radical first," Kellman remembers thinking back then. "And then it's going to be hard."
Tru Kellman, center, in front of Jamaa's first home with (from left) Yvonne Smith, Noni Rogers Boyd, Haley Manning and Madyson Winn.
One of the early obstacles was mundane but no less daunting — money. Kellman knew what kind of operation she wanted to build, but getting it started was an act of faith, not finances. Her fledgling nonprofit began with an all-volunteer crew, and they found a starter home in a Ferguson storefront. In 2018, a space that previously held an SSM Health clinic opened up on North Florissant Road. Kellman appealed to the charitable nature of the building's owner and persuaded him to sell it to Jamaa for just $50,000 — a $150,000 discount from asking price.
A frenzied capital campaign followed with a goal of raising $60,000 in 60 days. Fifty-nine days in, it had raised just $12,000. But Kellman was unbowed.
"I'm not one bit disheartened," she told the RFT's Sarah Fenske in 2018. "I will ride forth until midnight tomorrow — and keep going until the end of the month."
Her confidence was rewarded almost instantly with an influx of donations. They included a surprise gift of $45,000 from a donor representing a private foundation, giving Jamaa enough to close on the building and begin renovations.
Not long after, Kellman graduated from the Midwives College of Utah and became the first Black certified midwife in Missouri. There was still plenty of work to be done in building Jamaa, but more of the pieces were falling into place.
At its core, there is nothing inherently radical about birth. World-changing in a million ways, yes, but there is no process more fundamental in human history. It is the trappings around it that cause controversy.
Kellman says the mainstream model in the United States, a model that defaults to hospital births, has led generations of mothers away from an essentially natural process — and the results have been disastrous for Black women.
"Our bodies are treated as a machine, and birth is being treated as pathological," she says.
Instead, she advocates for a "risk-appropriate" model that is already dominant in other countries. The idea is to change the default to a model of low-intervention births and only scale up the medical care when necessary. If expectant mothers are high-risk, a hospital setting and the intervention of obstetricians makes sense. But Kellman believes many women are pushed into unnecessary procedures and treatments. That is especially true of Black women, who are more likely to be miscategorized and have their wishes ignored by the mainstream medical community.
"One of the things [doctors and nurses] are most likely to miss is the humanity, that these people are individuals," she says. "They get so wrapped up in evidence-based protocols, and then they don't realize that this evidence-based medicine is rooted in racism. So they see a plus-size Black woman come in for care, and automatically they pin her with, 'Oh, you're more than likely going to be high-risk. You're more than likely going to have gestational diabetes. You're more than likely going to have hypertension.' So from the gate, they automatically categorize them where they're throwing all these extra interventions at them."
Part of the work Jamaa does is offering cultural awareness training to medical professionals to help them individualize their care. She says they often skip asking basic questions to determine their patients' needs.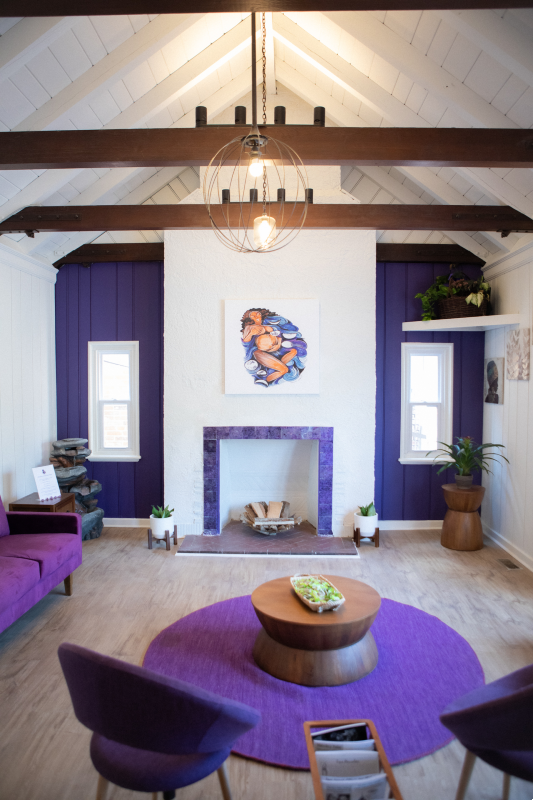 CHRIS RYAN, COURTESY THESTL.COM
The new home of Jamaa Birth Village offers a welcoming space to expectant mothers.
"They're not saying, 'How are you? What's going on in your life? How are you eating? Are you having any type of intentional movement?'" she says. "You'll find out that plus-size people are healthy. A lot of people are conscious of what they're eating and what they're putting in their body. Just because they don't meet the typical white BMI schedule does not mean they are high-risk. ... They miss the mark there."
For Verneda "Vee" Davis, 36, of Florissant, it wasn't only that doctors did not ask her questions; it was that they dismissed the ones she asked. Davis, who studied journalism for her undergraduate degree, says it is her nature to research and ask questions.
"I have to know," she says. "I have to know things."
That's especially true when it comes to her health and the health of her baby, but she says the doctors and nurses she encountered through four pregnancies seemed to have little time or interest in her concerns.
"They make some Black women not speak up, because they feel, 'OK, I'm not going to be heard anyway,'" she says.
When she was preparing to have her fifth child, she sought out a midwife and found Jamaa.
Instead of rushed, ten-minute visits with an obstetrician, Davis and Kellman would meet for an hour at a time to work through her questions and discuss options.
"She was truly concerned about me," says Davis, who is now pursuing a master's degree in education.
As they neared the end of Davis' pregnancy and her due date came and went, Kellman recommended a stress test and a second ultrasound at a hospital. Davis says her amniotic fluid levels were high, and she and Kellman decided the risks were significant enough to forego plans for a homebirth. It was part of what Kellman describes as moving along the scale of the risk-appropriate model, matching the level of care to the need.
On an evening in late October, Davis and Kellman met at Missouri Baptist Medical Center where Davis was to be induced. The setting had changed, but they were able to incorporate aspects of the plan they had worked out in advance. Davis wasn't hooked to an IV, and she was able to walk around — two things that were important to her. Instead of laboring in a bathtub in her home, she moved to the shower in her hospital room. They were little changes, but Davis says they made a huge difference in her experience with this delivery when compared to her previous four without a midwife.
"[Kellman] was still with me," she says. "I don't know how I would have handled it if she wasn't."
On October 24, Davis gave birth to a healthy baby boy. She named him Preston Asante — choosing a Swahili word that means "thank you."
Kellman focuses her work on three tiers.
At the individual level is the care for clients such as Davis, whom she continues to meet with during postpartum home visits. But she also hopes to build a model that spreads across the country.
"We are working on changing the entire landscape of maternal health in St. Louis outside of our village," she says.
At times, that has meant dragging large health-care systems toward more cultural awareness and changing practices that have silenced Black voices. In 2019, she fiercely battled Mercy Health when the provider, after working with Jamaa, revealed plans to open its own clinic with midwifery services in Ferguson. Kellman says they violated an oral agreement not to copy her operation, and she calls the move "colonization 101." Mercy retreated, issuing a public apology and altering its plans so as not to compete with Jamaa. The two organizations continue to meet on a regular basis, and Kellman says she is pressing them to undergo cultural awareness training.
Ultimately, she knows it will take more than Jamaa to shift societal norms and improve conditions for Black mothers and their families. To that end, she is training a new generation of doulas. So far, nearly 150 have passed through the program. Jamaa had its largest graduating class yet in November when about 40 people completed the training.
Eboni Hooper-Boateng was among a small group who joined in person while others participated online. They met in a hotel conference room in order to spread out and maintain social distance.
"It was wonderful," says Hooper-Boateng, 30, of Ferguson. "It really was life-changing, and that may sound exaggerated, but it really was."
She expected to learn the ins and outs of being a doula, but she says the training also included lessons in the nation's racist history of experimenting on Black people and the gynecological horrors endured by Black women. Kellman traced the biases to inequities of the modern health-care system. The idea was to recognize the ways those long-running biases have been baked into the system so that they can be combated.
COURTESY EBONI HOOPER-BOATENG
Eboni Hooper-Boateng says the doula training at Jamaa was "life-changing."
In her day job, Hooper-Boateng does outreach to underserved communities for the St. Louis County Department of Public Health. She had previously worked for an HIV/AIDS awareness organization where health was always part of the discussion.
"We often hear about people giving their consent" in regard to medical decisions, Hooper-Boateng says. "If you're not really sure what all your options are so that you can really make an informed decision, then what is that consent that you just gave?"
Now that she's been through Jamaa's training, she sees the job of a doula as empowering people with enough information and support to make the best decisions they can for themselves and their families. At the same time, she says, the training has empowered her as well.
She has begun her own business, registering the name as Birthing You Doula Services, and hopes she will eventually make it her full-time job. She sees it as part of a larger shift.
"Birthwork is a movement," Hooper-Boateng says, and it's the first step toward building a more just world.
"If, from birth, there is injustice," she asks, "what is there to say about the rest of life?"
We welcome tips and feedback. Email the author at doyle.murphy@riverfronttimes.com or follow on Twitter at @DoyleMurphy.