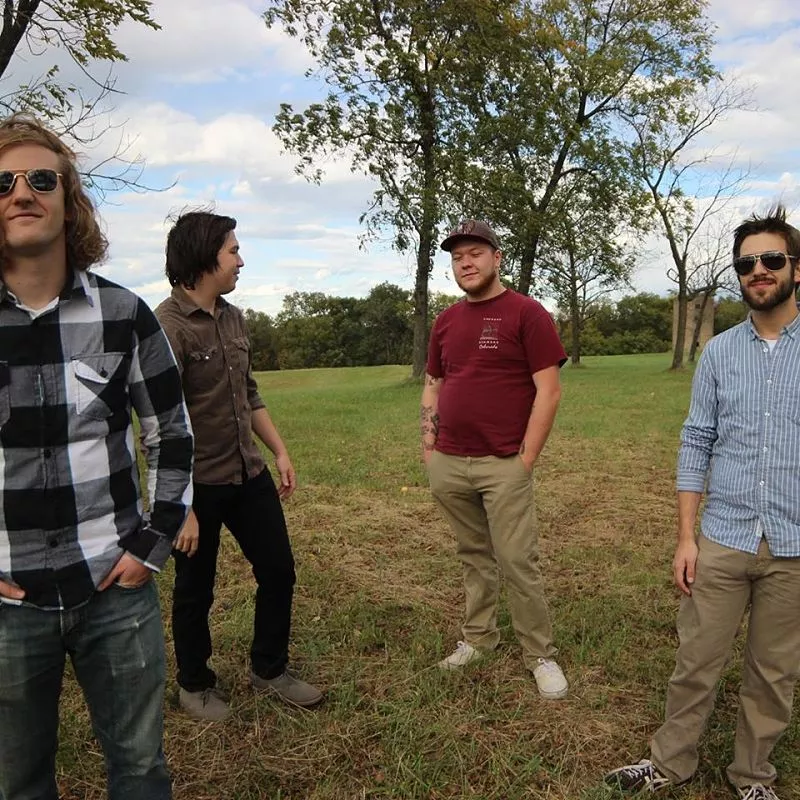 Photo courtesy of the band
Festus, Missouri is not all that far from the blast radius of St. Louis proper; the city in Jefferson County is a pretty easy drive down I-55 with its own claim to the St. Louis musical tapestry, most notably in the form of the mighty Bottle Rockets. But for the Langaleers, a hard-charging quartet with an ear for garage rock rawness and crunchy, slow-burn vibes, being removed from the south St. Louis center of the area's rock & roll universe offers its own challenges and rewards.

"I've had this conversation with [Maness Brothers' drummer] Jake Maness before about the different difficulties of having a band not constantly in St. Louis," says guitarist and lead singer Kory Meyer. "That's definitely a thing that's difficult for bands that aren't submerged in the culture."
Despite the relative distance, the group has been making inroads on local stages in the six years of its existence. A 2014 self-titled album was recorded at Suburban Pro Studios with Matthew Sawicki, an experience Meyer recalls with fondness while acknowledging the Langaleers' relative greenness in the studio: "The first album we did track by track — that turned out great, but there is a difference to doing it live."
For the five-song Creepyeepy, to be released this weekend, the band worked at Native Sound with Ben Majchrzak. Songs were cut live in the room, save for vocals and a few guitar solos, which goes a long way to translating the band's bash-'em-out live sets.
"Nothing was really smoothed out; it had a rough sound we were looking for," Meyer says of the recording. "It was all very loose. We've been playing the songs long enough, so we just went through 'em and did a couple of takes."
That live energy translates immediately on the new EP. Opening track "Green Lightning" seemingly picks up in the middle of a drum roll, as if the listener is dropping into a perennial summery, good-time jam. Lead guitarist Dylan Clubb dials in a lead tone that plays well against the plucky upticks of Meyer's chugging rhythm. A grainy organ — part of the gear locker at Native Sounds — provides a warm ballast for Meyer's spirited, slightly weathered vocals.
Garage rock doesn't often leave much room for the rhythm section to move around, but the wheels can fall off a song pretty much immediately if the bass and drums aren't locked in. Drummer Sean Kennedy and bass player Cory Pruneau are unfussy players and remain nimble enough to cut a path for the guitarists, especially on a song like "Where Does It End," which features Clubb's most ambitious solo.
"On that song we were just trying to make it not too identical to other stuff on the album," he says. "The way the intro comes in is a throwback to our earlier stuff, but I was really trying to go for a Lou Reed-type strumming pattern, kind of a driving thing.
"Whenever the solo came up, we had it going, but it wasn't doing what we want," Meyer continues. "We wanted a more psychedelic thing. I went to where Dylan was recording and started turning on guitar pedals to make a really big tone."
Meyer's reference to Lou Reed and the Velvet Underground is one of several overt influences on these tracks. The slightly atonal twin guitars and a push/pull drum pattern recall golden era Strokes, while Meyer credits the unpredictable garage/punk quartet the Black Lips for inspiring "Living Dead," a track with the most swagger on this collection, though he is quick to namecheck Dylan sideman Mike Bloomfield for inspiring the guitar sound on other tracks. "We were really going for that Highway 61 Revisited sound — really basic blues progressions," Meyer says of the track "Worrying the Night Away."
The Langaleers likewise take inspiration from their friends, fellow Festus natives and frequent show-mates Tok in releasing this EP instead of another full-length, and Meyer says the band hopes to continue putting out shorter spurts of music to represent the band's continual evolution. Creepyeepy also finds the band more sure of its footing on local stages while remaining true to its Festus roots.
To that end, the band is planning an October music festival at Festus' Main & Mill Brewery featuring a handful of live bands that regularly share the stage — and share the same guitar-rock aesthetics — as the Langaleers.
"It does create an uphill battle," Meyer says of being from outside of the immediate St. Louis metro area, "but it does make us that much better. We have to try harder to make an impact."