Picture yourself in a truck in a rainstorm.
That's where Paul McCartney — who had just finished a Beatles show in Cincinnati, and was en route to the plane that would take the group to its only St. Louis concert — finally agreed with his bandmates that it was time to stop touring.
"After the gig I remember us getting in a big, empty steel-lined wagon," McCartney recalls in The Beatles Anthology book. "At that moment, everyone said, 'Oh, this bloody touring lark — I've had it up to here, man.' I finally agreed." Eight days and four shows later, the band would retire from touring permanently.
RFT Archives/Bob Bonis/Courtesy of eBay/Edelman Public Relations
John Lennon: Bigger than Jesus, but still stuck in St. Louis.
But if they sounded weary, who could blame them? So far this tour, they'd been taken hostage in Manila, endured death threats in Memphis, and had their records burned in effigy thanks to a comment John Lennon made several months earlier that his band was "more popular than Jesus now." Who needed the hassle when they could just record at Abbey Road, where they were on the creative roll of the decade with Revolver, "Paperback Writer" and "Rain?"
Such was the band's mood as its members undertook their third and final North American tour. Beginning on August 12, 1966, the outing was scheduled to hit nineteen American and Canadian cities — one of which, local music fans were thrilled to hear, was St. Louis. On the prior two U.S. tours, the band had played no closer than Kansas City.
According to Sara Schmidt, an Alton-based writer/teacher who recently wrote a book, Happiness is Seeing The Beatles: Beatlemania in St. Louis, Regal Sports' Everett and Claude Agnew did the deal. By 1966, the Agnews were veteran promoters, having brought jazz, soul and rock acts to St. Louis for three decades. With some help from KXOK DJ Nick Charles, who secured support from local retailer Stix, Baer & Fuller and then-local soda brand Seven-Up, they raised the $135,000 necessary to bring the Beatles to town. Tickets went on sale that May.
"The concert was not a sell-out," says Schmidt, whose book recounts the concert preparations in great detail. "Only 23,000 tickets were sold. To sell out, they would have sold about 46,000 seats. They were on their way to that number before John's Jesus statement." According to her research, the show broke even.
By the time the Beatles came to St. Louis Lennon had apologized, and the controversy had begun to fade. There was a local "Beatle burning" — albeit a miniature one, involving about a dozen girls. A Post-Dispatch article summarized the event: "Only about four albums and three singles were set afire, along with a few of their pictures. But the group had 'Ban the Beatles' and 'We Don't Need Them' signs to add to the Beatles' demise." One of the attendees declared herself done with the Beatles; she now preferred Paul Revere & the Raiders and Gary Lewis & the Playboys.
Members of local churches did hand out tracts about the Beatles and Jesus in front of Busch Stadium before the show. In Happiness Is Seeing The Beatles, Schmidt reprinted one of the tracts: "'We're more popular than Jesus now.' But what about tomorrow, or a hundred or thousand years from now? Popularity is a fickle thing. Who will be popular in the future?"
For the opening acts on its tour, the Beatles had chosen the Cyrkle, whose "Red Rubber Ball" remains an oldies-radio staple; Bobby Hebb, who sang "Sunny;" the Ronettes (minus Ronnie Spector, who stayed back in L.A. with husband/producer Phil); and the Remains, a Boston four-piece just beginning to make a name for itself outside of New England. Led by Barry Tashian, the Remains combined garage-rock energy with Zombies-like subtlety and sophistication.
Speaking from his home in Nashville, Tashian remembers the moment he and his band got the news. "[Our agent] turned to us and said, 'You guys want to go on the Beatles tour?' After we finally came to, we said yes," he explains. "That's when we were told that we would also have to back up a couple other of the opening acts. We backed up Bobby Hebb and the Ronettes. I was onstage for 75 minutes a show: Twenty minutes of our own, then a break while the Cyrkle came on, than back for the Ronettes and Bobby Hebb. Then the Beatles played for 35 minutes or so."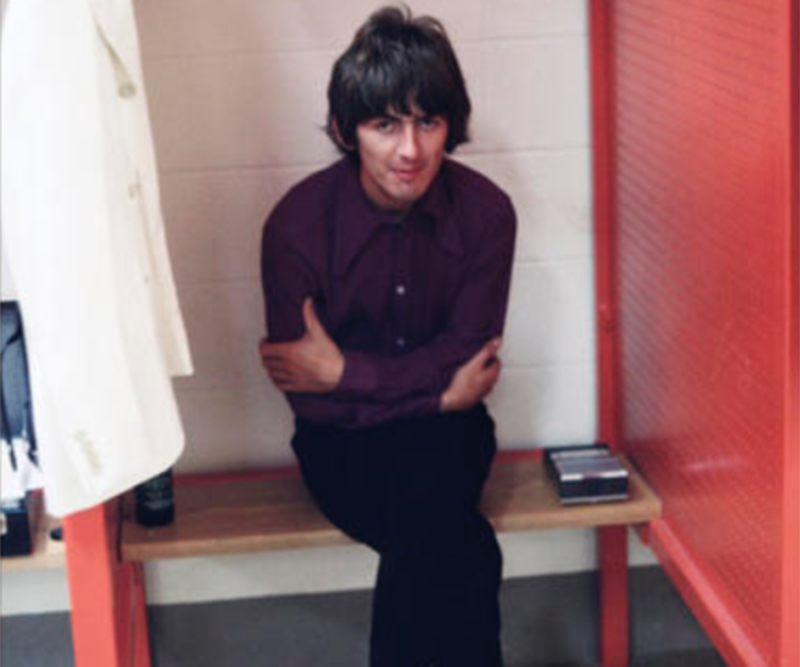 RFT Archives/Bob Bonis/Courtesy of eBay/Edelman Public Relations
George Harrison, down and out at Busch Stadium.
"Two of the most stressful concerts of the tour directly preceded the one in St. Louis," says Richie Unterberger, author of The Unreleased Beatles: Music and Film. "On August 19 in Memphis, they played their southernmost concert of the tour, which brought out worries that someone would try to harm John Lennon — and maybe all of the Beatles — because of John's Jesus remark. A firecracker exploded at their Memphis concert, and for a moment there was fear that someone had shot at them. The next day at Cincinnati, they canceled their show due to rain, which meant they had to do a noon makeup show the next day and play the same night in St. Louis."
And so the touring bands began August 21, 1966, in Cincinnati. At noon, they played a still-wet Crosley Field.
"Then we went straight to the plane, flew to St. Louis, and went to the show," Tashian recalls.
At 8 p.m., the Del-Rays opened the Busch Stadium show. Managed by Nick Charles, the Del-Rays hailed from Mascoutah, Illinois. They were frequent performers on the St. Louis and Metro East concert circuits. The Del-Rays recorded a seven-inch single for Stax, and had a young Michael McDonald sing lead on their second single, "Always Something There to Remind Me."
The rain resumed as the Del-Rays finished. This meant that there would be a change in the lineup. The Beatles would now go on after the Remains and Hebb, but before the Cyrkle and Ronettes.
"We used the park PA system, the same one used for baseball games," Tashian says of the Remains' twenty-minute set. "It had a monstrous delay. We were singing on stage behind second base, and the sound was coming out in the stands 150 feet away two or three seconds later. There were no monitors onstage, and it was impossible to sing in time with the music. All I could do was close my ears and plow through the songs."
As the rain continued, the Beatles kicked off an eleven-song set with Chuck Berry's "Rock and Roll Music." (Despite the local angle, this was the band's standard opener.) From Yesterday and Today, they played "Nowhere Man," "Yesterday," "If I Needed Someone" and "Day Tripper." From Beatles '65, they played "She's a Woman," "I Feel Fine" and "Baby's in Black." They reached back to Meet the Beatles for "I Wanna Be Your Man." They played "Paperback Writer," their most recent single, but not "Rain," despite the weather. They ended with "Long Tall Sally." They played nothing from the American versions of Rubber Soul or Revolver.
Here's what Tashian wrote about the St. Louis show in his own book, Ticket to Ride: The Extraordinary Diary of The Beatles' Last Tour:
...The stage was covered by a canopy but everything was soggy. Our roadie, Ed Freeman, was stationed at the main connection to the stage to watch the performers and unplug the whole stage if anyone showed signs of electrocution. It was pouring down rain. Ed, who was pretty drenched himself, had some towels wrapped around the extension cord connection, and had a tight grip on them. He was ready to take the cords apart before anyone was electrocuted.
"They put bits of corrugated iron over the stage, so it felt like the worst little gig we'd ever played at even before we'd started as a band," McCartney says in The Beatles Anthology. "We were having to worry about the rain getting in the amps and this took us right back to the Cavern days — it was worse than those early days. And I don't even think the house was full."
Schmidt takes a more positive view.
"A lot of fans were worried that the rain would cancel the concert. And after they realized that the show would go on, they were worried for the Beatles' safety," Schmidt says. "But overall, the biggest statement that I would hear over and over again was that it was a night that they would never forget. They knew at the time that they were experiencing something special. Many of them said that it changed their life."
Roger Heath, then fourteen years old, attended with his parents and sister. "Mom was born in England, so British bands were all good in her book," Heath says. "We sat in the upper deck facing the stage on second base. The audio was piped via the stadium PA, which was weird because you could hear the reverberation from the drums. But because the sound took a bit to reach us, it was just a tenth of a beat off. I still have the $4.50 ticket stub."
Viki Noe was also fourteen in 1966. "My dad took me, my sister and our girlfriend Terrie," she says. "I remember wishing everyone would stop screaming so I could hear the Beatles. My dad was actually a fan of the Beatles, so he didn't mind being there, despite getting wet. Afterwards, somehow, outside the stadium a girl was yelling that she touched Paul. Terrie touched her and said, 'I touched the girl who touched Paul McCartney!'"
Roger Jones traveled from Lawrenceville, Illinois, to be there. He and his friends managed a brief contact with the band as they entered the stadium.
"We got the idea to find the entrance to the stadium and wait there for the Beatles to hopefully drive by us as they arrived that afternoon," he says. "We found the ramp leading from the street down into the stadium, and waited there along with two or three other fans. After awhile we heard sirens coming from around the corner. Suddenly we saw a police escort leading three black Cadillac limos toward the ramp. One of my friends had his camera ready and my other friend shouted, 'John!' as they passed in the second limo. We watched as the boys got out of their limo and gave us all a quick wave. Then they were gone." They also caught a glimpse of the band as they exited the venue later that night.
The show broke even, with only 23,000 of 46,000 tickets old.
"My seat was near third base, so I was looking across the stage," Jones adds. "My best memory of the night was when they did 'If I Needed Someone.' George used Paul's mic, so I had a good view of him. I remember the sound of the Rickenbacker twelve-string and how the harmonies during the lead break were done slightly differently than the record. Paul held his high note longer instead of following the others as the chords change from A to G, and back to A. The screaming was not as bad as it was in 1965."
After the Beatles played, the Cyrkle was left to play exit music for much of the Busch Stadium audience. "I remember the poor Cyrkle having to go on after the Beatles left," Noe says.
Finally, the Remains returned to back the Ronettes. "We joked that the Beatles opened for us and we got a standing ovation — only everyone's back was turned," Tashian laughs.
Concert from hell finally finished, the bands scrambled back to the plane and headed to New York City, where they were due to play Shea Stadium. Tashian recalls getting into New York around 2 a.m.
After New York, they finished the tour with three West Coast stadium dates: Seattle Center Coliseum, Dodger Stadium and San Francisco's Candlestick Park. And that was that. The Beatles would never play another concert for a paying audience.
"The Beatles were tiring of playing the same songs for audiences screaming so much that they found it hard to hear each other, and of the constant hysteria surrounding them on tour, which made it hard for them to do things besides get on planes and stay in hotel rooms," Unterberger says. "They were much more interested in exploring new directions in their songwriting and studio recordings, where technology was rapidly opening up new possibilities, than in performing. They were also finding it hard to impossible to play some of their recent material onstage."
For Tashian, who broke with his own band after the tour, this wasn't completely unexpected news. "There was no indication, verbally, that this was the Beatles' last tour," he says. "But I wasn't surprised when I heard they decided not to tour anymore. Their demeanor was generally that they'd been here and done this, and enough already. They were looking forward to going home."
As for Paul McCartney — the one Beatle who made a serious, ongoing commitment to live performance after the breakup — he returned to Busch Stadium in 1993 on his New World Tour. At the concert, he declared himself glad to be back in St. Louis, shouted out Chuck Berry and dedicated about half the set to Beatle hits — this time with the benefit of monitors and better amplification.
It also rained for most of the day. Which only means one thing: When McCartney plays the modern-day Busch Stadium this August 13, we'd all be wise to check the weather forecast and plan ahead.
Paul McCartney will take the stage at Busch Stadium on Saturday, August 13. The show, of course, is sold out.
Editor's note: A previous version of this story contained inaccurate information about the station where Nick Charles DJed. It was KXOK, not KNOX. We regret the error.