We're honoring the 40 restaurants we love in 2017 as part of the RFT's 40th anniversary celebration. These restaurants were chosen by food critic Cheryl Baehr, who notes, "It's not a litany of the best, and there is no rank order to the selections. Rather, it's a nod to the spots that make the St. Louis restaurant scene what it is today, places that we believe will help define the next 40 years and shape what things will look like in St. Louis come 2057." For more on her methodology, see her introduction to the issue here.
But wait, there's more! Check out our readers' favorites in 40 categories, as well as even more places we adore. To sample many of these favorite spots, join us tonight at Iron Fork.
PHOTO BY MABEL SUEN
Randolfi's: one of 40 restaurants we love in 2017.
Randolfi's
6665 Delmar Boulevard, University City; 314-899-9221
As the first restaurateur to bring Neapolitan-style pizza to town, Mike Randolph caught much flack when he decided to shutter his beloved pizzeria the Good Pie. When he announced he'd be converting the spot into an old-fashioned mom-and-pop Italian joint, folks hit the roof. "That's just what St. Louis needs — another Italian restaurant," many complained, worried that Randolph's plan was not only to take away their pizza, but to replace it with a tired trope. Fast-forward two years and Randolfi's success has taught us all two things: First, that we should never doubt him, and second, that there will never be anything tired coming out of his kitchen. Though on its surface Randolfi's has the feel of those 1970s-era Italian spots decked out in white checkered tablecloths and straw-covered chianti bottles, a peek at the menu reveals that the acclaimed chef's true intention is to pay tribute to the genre — not recreate it literally. You'll find bolognese, but in place of the traditional red sauce, Randolph's is white and enlivened by pancetta, pork and liver. Lamb and pork meatballs crown a plate of spaghetti, and even a simple Caesar salad is made transcendent with fresh anchovies and kale. Randolph indeed nods to the tried and true staples of Italian cuisine, but he uses them as a jumping off-point for his thoughtful, modern cuisine. He pushes us out of our comfort zone while wrapping us in it at the same time — a delicate balancing act that proves time and again that he's one of the city's best.
PHOTO BY JENNIFER SILVERBERG
Cafe Natasha: one of 40 restaurants we love in 2017.
Café Natasha
3200 South Grand Boulevard, 314-771-3411
Three decades ago, husband and wife Behshid and Hamishe Bahrami had few options other than opening a restaurant. Immigrants to St. Louis, neither was a cook or restaurateur — in their native Iran, Behshid was a geologist and Hamishe a nurse. However, when Behshid got laid off from his surveying gig during the Iran hostage crisis and was unable to find other employment, he and Hamishe opened a tiny café in a downtown office building to make ends meet. That restaurant, the Little Kitchen, blossomed into the venerable South Grand mainstay Café Natasha, where Behshid's superlative palate and commitment to nothing short of excellence created a menu of delectable Persian fare and attracted an army of regulars who come in so often they have become family to the Bahramis. Who can blame them for developing such a habit? Café Natasha's beef shish kebabs are unlike anything else in town: tender hunks of perfectly grilled meat marinated in Café Natasha's heavenly nectar, which Behshid painstakingly developed as a way to get around the gaminess he found in American lamb. As for that lamb, the restaurant's legendary grilled chops put Café Natasha on the map. Much has changed since the early days — the restaurant has moved, its patriarch has passed away, and his daughter, the restaurant's namesake, has converted half the space into one of the country's premier gin destinations. What hasn't changed, though, is the Bahramis' commitment to excellence in everything they do and the impeccable cuisine that comes out of their kitchen. The restaurant business may not have been their chosen path, but clearly, it was their destiny.
PHOTO COURTESY OF MABEL SUEN
Beast Craft BBQ: one of the 40 restaurants we love in 2017.
Beast Craft BBQ
20 South Belt West, Belleville, Illinois; 618-257-9000
Over the last several years, the St. Louis barbecue scene has exploded with such force you can practically see the smoke cloud in the review mirror as you cross the Poplar on your way to Beast Craft BBQ. With so many excellent in-town options, you might wonder why you're driving 30 minutes east to Belleville, but one bite of David Sandusky's killer 'cue answers that question emphatically. This low-key Metro East smokehouse is easily one of the — if not the — best in the area, anchored by Sandusky's obsessive commitment to sourcing best-of-the-best meats and then getting out of their way. Sweet kielbasa, succulent chicken and luscious brisket are slow-cooked over hickory, white oak and cherry wood, each one reason enough to make a visit. Sandusky got his culinary start in fine dining, and he shows his chops on elevated side dishes like the signature Brussels sprouts with pork belly or the ridiculously cheesy smoked mac and cheese. Before you binge on a plate of either, though, make sure you've saved room for Beast's show-stopping pork steak, a slab of meat so perfect you'll never again look at a backyard version in the same way. And don't even think about asking for a knife to cut it. The meat is so tender it falls apart with only the slightest prodding — and if you doubt it, your server won't let you live it down.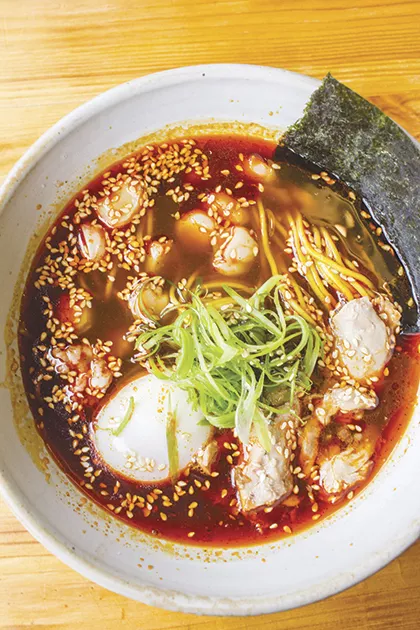 PHOTO BY MABEL SUEN
Vista Ramen: one of the 40 restaurants we love in 2017.
Vista Ramen
2609 Cherokee Street, 314-797-8250
When the much-ballyhooed chef Chris Bork announced he was going to open a ramen restaurant with Jeremy and Casey Miller, owners of the Mud House, people scratched their heads. Why would Bork, an up-and-comer who had gained a reputation for preparing elegant, modern cuisine at the members-only hotspot Blood & Sand, chuck it all to do a trendy noodle spot deep in south city? Considering the breadth of Bork's culinary repertoire, the move seemed to limit his capabilities. As it turns out, we should never have doubted. Instead of allowing the genre to confine him, Bork has taken ramen as a jumping-off point for exploring Asian-inflected cuisine, in the process creating unexpected dishes and flavor profiles that show the full range of his talent. Despite the name, he's made clear that he does not intend to make Vista a literal ramen shop, nor would you mistake it for such. Granted, you'll find a handful of ramen-inspired bowls, but purists will recognize them as being evocative of the classic Japanese noodle dish, not a literal interpretation. And if Bork spreads his wings on riffs like the pozole ramen, he positively soars on his small plates. Beef tartare with fermented garlic, carrots with duck confit and his glorious pork ribs with crab caramel show that, despite its name, ramen is only part of Vista's story.
PHOTO BY MABEL SUEN
Olive + Oak: one of 40 restaurants we love in 2017.
Olive + Oak
102 West Lockwood Avenue, Webster Groves; 314-736-1370
Mark Hinkle could not have received a clearer sign when he went to have a look at the building at 102 West Lockwood Avenue. There on the doorstep were a handful of oak leaves, blown by the wind into what looked like the shape of a heart. Right then, he knew he'd found the perfect location for Olive + Oak, the restaurant he was preparing to open with his business partner Greg Ortyl. The two men came together over shared tragedy: They met through the Children's Heart Foundation after their sons both passed away from congenital heart defects. They pledged to honor the boys' memories in the form of a restaurant, and in doing so, created what's become one of St. Louis' premier dining spots. Though not even one year old, Olive + Oak is already an institution, buoyed by the approachable yet elegant food of executive chef Jesse Mendica. Mendica came up by way of Annie Gunn's, so it's no wonder Olive + Oak's meat dishes shine. However, she shows just as much prowess with seafood and veggie-centric dishes, and her ability to elevate simple sandwiches, such as the roasted leg of lamb and the already classic "O+O Burger," make you question whether you should ever order anything else. Beyond the food, the real joy of Olive + Oak is that everyone who works there seems genuinely invested in the restaurant. There's a feeling of being in the presence of family when you dine there. That heart may have been on the doorstep before the restaurant opened, but now, it's in the spirit of everyone who works there — and that's what makes the place so special.
PHOTO BY MABEL SUEN
Union Loafers: one of 40 restaurants we love in 2017.
Union Loafers
1629 Tower Grove Avenue, 314-833-6111
Flour, water, yeast, salt. It sounds so simple, as if anyone with access to a handful of ingredients could make great bread. But just as Michelangelo could take a slab of marble and chisel it into the Pietà, Union Loafers' Ted Wilson shows what is possible when raw materials are manipulated by the hand of a master. Wilson learned the art of bread-making at the acclaimed Sullivan Street Bakery in New York, where he fell in love with the process of natural fermentation. After returning to his native St. Louis, he translated his talent into pizza, helping Mike Randolph realize his vision of true Neapolitan pizza at the Good Pie. That history explains why Union Loafers is currently putting out some of the city's best pizza, but that is only part of the story. The impeccable café fare is brought forth by executive chef Brian Lagerstrom, whose previous gig was at the venerable (and now-closed) Niche, and he's brought his fine dining eye to such simple, yet perfect, dishes as roasted pork on ciabatta and a little gem salad. The excellent food might make you forget the real reason you're at Union Loafers — but only for a second. One whiff of the fresh bread coming out of Wilson's ovens makes it hard to think of anything else.
PHOTO BY MABEL SUEN
Publico: one of 40 restaurants we love in 2017.
Público
6679 Delmar Boulevard, University City; 314-833-5780
There's nothing chef Mike Randolph can't do. He's opened a pizzeria, done the upscale breakfast thing, offered a ground-breaking tasting menu concept and opened an evocative Italian spot. It's a parade of successes, but the gem of his empire has to be Público, a restaurant that takes Latin-American cuisine as a jumping-off point for culinary exploration, pushing us to think about what is possible in the genre. Randolph has been playing around with this style of cooking for a while now, ever since his short-lived concept MEDIANoche, and his dishes read like the work of someone with a well-developed vision. However, this vision is not myopic. Público encompasses a variety of cuisines, hinting at Colombia, Brazil, Venezuela and even the Mediterranean, which is what makes it so exciting. One minute, you'll be eating a guacamole-covered arepa so authentic you'd think you were in the kitchen of your abuela. The next moment, you're feasting on pinto beans enriched with lamb drippings and fresh mint that tastes straight out of a Greek taverna. Cooking is done exclusively on a wood-burning hearth, adding not just a rustic element to the dishes, but the feeling of being at the world's coolest gothic beach party. Perhaps that's just the cocktails talking, though; Público's drink offerings are dangerously outstanding and as creative as the food, making this restaurant the total package.
PHOTO BY JENNIFER SILVERBERG
Fork & Stix: one of the 40 restaurants we love in 2017,
Fork & Stix
549 Rosedale Avenue, 314-863-5572
Tucked in a small storefront off a side street on the eastern edge of the Loop, Fork & Stix is the unassuming, under-the-radar spot you just happen to stumble into only to discover that it's quietly serving some of the city's most flavorful cuisine. This is not your standard Thai restaurant. Instead, Fork & Stix focuses on food from the country's northern "second city," Chiang Mai. That includes the fiery nam prik num, a chile dip served with vegetables and rice, and the lovely, lemongrass-perfumed pork sausages called sai oua. Every last dish is prepared with the same care you'd find in the area's top fine-dining restaurants, but if one thing stands above the rest, it's the khao soi, a yellow curry egg noodle soup so revelatory it's haunting. It's no wonder Fork & Stix has developed a cult following of diehards who speak about it in reverent tones. But it's not just us mortals who are under its spell. If you follow any of St. Louis' top chefs on social media, you will see them frequently make mention of their love for Fork & Stix, too. That this is the place the culinary intelligentsia go when they get a hankering for good food speaks volumes about its genius, even if it does reside in an unexpected space.
PHOTO BY MABEL SUEN
Sardella: one of 40 restaurants we love in 2017.
Sardella
7734 Forsyth Boulevard, Clayton; 314-773-7755
Ten years ago, you could go to Gerard Craft's swanky Niche and get a quote-unquote reuben, but the corned pig tongue and rye gnocchi on your plate was unrecognizable as a sandwich. These days, you can eat a burger at the acclaimed chef's latest venture, Sardella, and you'll get just that: a literal burger. At first it seems shocking that such approachable food is being served in a once-hallowed dining room. When Craft announced last June that he would be closing his flagship restaurant and opening the more accessible Sardella in its place, diners not only lamented his decision, but also wondered how anything could measure up to the temple of local gastronomy he'd painstakingly created. But that was exactly his point. Craft wanted Sardella to feel free from the obligation that had come to define Niche. He made it a point to make his new venture as light as possible, even while maintaining the incredibly high standards he's set for himself and his crew. Italy is his inspiration, although that's less for a rigid reproduction of its food and more for the feelings it evokes. Sardella's menu of Mediterranean-inflected dishes are as thoughtful as what was served at the space's predecessor, yet they are also filled with ease. The restaurant is the culinary equivalent of quitting your hated, yet well-paying, job and following your passion — a risk, but one that pays off in pure bliss.
PHOTO BY CARMEN TROESSER
Stone Soup Cottage: one of the 40 restaurants we love in 2017.
Stone Soup Cottage
5809 Highway N, Cottleville; 636-244-2233
Dining at Stone Soup Cottage is a true production. It's only open three days a week, and on each of those nights there's just one seating. Because the restaurant can only accommodate 40 guests at a time, it books up so far in advance that you have to schedule several months out to even think about getting a table. Then there's the location — unless you have a 636 area code, Cottleville isn't exactly close. And considering dinner is a multi-course affair, complete with wine pairings, the 40-minute drive to St. Charles County is daunting. The second you walk through the door and are greeted warmly in the hearth-like receiving area, however, one thing becomes apparent: Whatever effort you've put into getting to Stone Soup is dwarfed by the amount of effort the McConnell family has put forth to make sure you'll have the meal of your life. Dinner at Stone Soup is exquisite. From the James Beard-nominated service to the elegant platings, Stone Soup Cottage demonstrates what it's like to be in the presence of professionals at the pinnacle of their game. Chef Carl McConnell is so masterful, you can bite into something as simple as roasted chicken and feel as if you are tasting it for the first time. It's a dreamlike meal, as if you enter into enchantment the minute you pull off the main road and head up the gravel drive to the entrance. It's a reverie that lasts the entire ride home — no matter how long it may be.
Turn the page for more restaurants we love in 2017, including one recently recognized by the James Beard Foundation.