Page 2 of 4
MABEL SUEN
Avocado smoothie at VietNam Style.
Best Use of Avocado
Avocado Smoothie at Vietnam Style
6100 Delmar Boulevard, 314-405-8438
As a child in Ho Chi Minh City, VietNam Style's Thao Truong worked in her mother's restaurant, where she was tasked with gathering items for the day's menu. Her mom was a perfectionist, and if something wasn't up to her impossibly high standards (which was most of the time), Truong was sent back to the market until she got it right. That experience made the young restaurateur an expert not only at selecting the best avocados around; it also instilled in her a drive to strive for perfection. Both traits come in handy in the making of her avocado smoothie. At VietNam Style, Truong shows off her skills for making the rich, creamy treat, beginning with avocados at the peak of their ripeness. She blends them with sweetened condensed milk and just a hint of vanilla, which combine with the green fruit to form a sweet, but not too sweet, concoction that has the texture of plush velvet. A dollop of whipped cream and some fresh mint sprigs cap off this celebration of the sweet side of what is all too often considered a savory fruit. Sure, guacamole is great, but a smoothie just might be the avocado's ideal form.
Best Veggie Pizza
White Pizza with Spinach and Artichokes at Pizza Head
3196 South Grand Boulevard, 314-266-5400
At Pizzeoli, Scott Sandler proved he is the master of white-sauced Neapolitan-style pizza with his simple yet glorious "Bianca." At his punk-rock, New York-style joint Pizza Head, he may have improved upon that perfection. The crust at Sandler's South Grand fast-casual pizzeria could bring a tear to a Manhattanite's eye — thin in the middle, spongy on the outside and cut into meal-sized triangles that are best enjoyed folded lengthwise, it's a terrific representation of the form. That crust serves as an excellent base for his "white" pie, which subs out tomato sauce for a creamy ricotta and olive oil concoction that's infused with what tastes like an entire clove of garlic. You can stop there, but when you add fresh spinach and artichokes to the party, the result is a genius hybrid of pizza and spinach artichoke dip that will make you wonder why the world decided that tortilla chips were the way to go. The bad news about this masterpiece is that, unlike Pizza Head's red-sauced offerings, the white pizza is only available as a whole twenty-inch pie that is so large you'll be enjoying the leftovers for days. The good news is that it's only available as a twenty-inch pie. Wait, was that supposed to be bad news?
Best Noodles
Singapore Mei Fun at Bek Hee
10200 Page Avenue, Overland; 314-426-4773
Driving down this nondescript section of Page Avenue, you might assume that Bek Hee is just one more of the numerous Americanized chop suey joints that populate the area. You'd be right ... sort of. At this humble north-county shack, you can indeed get everything from sweet and sour chicken to a St. Paul sandwich, but what you might never suspect is that the restaurant is an unexpected gem, a secret hot bed of delicious cuisine from the owners' native Sha County in China. When the Lin family took over Bek Hee in 2015, they knew they would have to keep the American dishes to pay the bills, but their passion for the traditional food of their culture prompted them to pepper the menu with specialties from their homeland as well. One of these is the Singapore mei fun, a super-sized platter of thin rice noodles that glisten with a fiery yellow curry. The Lins throw everything into this delicious concoction — chicken, shrimp, beef, pork, onions, bok choy — resulting in a family-sized feast that will leave you convinced you are in the presence of culinary greatness in spite of the humble digs. And what's even better, the Lins give you such a large portion, you can work your biceps as you haul the takeout box back to feed the entire family. It's a win-win.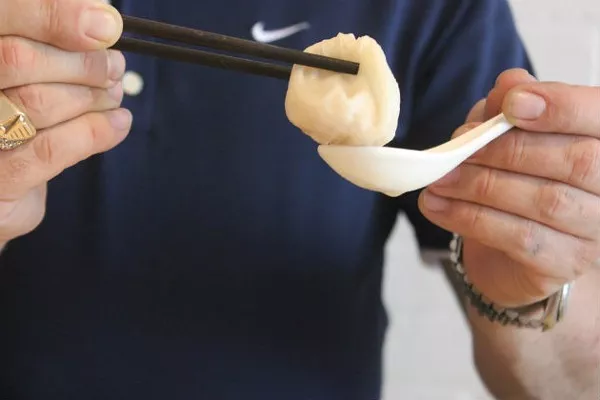 PHOTO BY CHERYL BAEHR
Soup dumplings made by Private Kitchen's Lawrence Chen.
Best Dumplings
Soup Dumplings at Private Kitchen
8106 Olive Boulevard, University City; 314-989-0283
You know a dish has to be good when demand for it necessitates its own restaurant — and that is exactly what's happened with Private Kitchen's soup dumplings. The restaurant, a celebration of just how elegant authentic Chinese cuisine can be, is a parade of one delicious dish after another, and so the very fact that the soup dumplings stand out is no small feat. A bite into one of these plump beauties reveals why, though you'll want to make sure it's a very small, careful bite: When pierced, the dumplings spill out a rich, pork-laden broth. It's so delectable, you might want to consider asking for a straw to suck up every last drop. Tender steamed pork takes up the remainder of the dumpling's real estate. Until this point, the only thing that has kept these dumplings from flying off the shelves is just how difficult it can be to dine at Private Kitchen. The upscale, reservations-only concept is not the sort of place you can just drop into and order a massive to-go order. But owner Lawrence Chen is about to take away the only barrier that's saved us from ourselves. He recently took over the storefront adjacent to Private Kitchen and is converting it into a casual, grab-and-go spot called St. Louis Soup Dumplings, where he will be offering several varieties of his beloved dish. Great. Now there's nothing to hold us back.
Best Use of Lobster
Maine-Style Lobster Roll at Peacemaker Lobster & Crab
1831 Sidney Street, 314-772-8858
Who would have thought that, miles from the coast in the middle of the Midwest, we'd be blessed with an outstanding example of what can be done with fresh seafood? Then again, considering that the offering in question comes from James Beard award-winning chef Kevin Nashan, we should not be surprised. At his breezy Benton Park restaurant Peacemaker Lobster & Crab, Nashan has managed to prepare lobster rolls so fresh and delicious you'll think you're at a seaside shack in Maine. Large hunks of meat can be dressed one of two ways: either as a cold, mayonnaise-based Maine version brightened by lemon zest or as a warm Connecticut-style treat dripping with butter. No matter which version you choose, the lobster will come tucked into a roll that reads like a cross between brioche and Texas toast. Nashan spent months developing the bread with the bakers at Companion. He also spent a good deal of time in Maine, not only researching the art of the lobster roll but also developing relationships with local fishermen, whose photos hang on the walls of the restaurant. His lobster roll is proof that his efforts were well spent.
Best Use of Curry
Khao Soi at Fork & Stix
549 Rosedale Avenue, 314-863-5572
If you ask any of the city's top chefs where they choose to dine on their days off, Fork & Stix is almost always at the top of the list. It's no wonder the under-the-radar northern Thai spot is the go-to for people who dedicate their lives to food: Every last dish is a symphony of color, fragrance and flavor that makes you feel like you are dining in color after eating in black and white your entire life. Nothing exemplifies that feeling better than the restaurant's signature dish, the khao soi, a yellow curry-based soup that's so flavorful, it's haunting. The warmly spiced broth teems with ribbons of tender egg noodles and large hunks of chicken (tofu is available as well), evoking the sort of chicken noodle soup your worldly grandmother would make after being inspired by a sojourn to Chiang Mai. Red onion and pickled mustard greens add a bite that cuts through the rich liquid, and crispy egg noodles give the sort of crunch you get from adding crackers to chili — an apt comparison, since there is nothing you'd rather warm yourself with on a crisp, fall evening. Take it from the experts.
MABEL SUEN
Sardella, our winner for Best Bread Service.
Best Bread Service
Dinner Rolls at Sardella
7734 Forsyth Boulevard, Clayton; 314-773-7755
When Gerard Craft opened Sardella last year, he did so with the intention of creating the sort of warm, inviting space where you could sink into a banquette and bask in elegant comfort — a counter to the hallowed dining room of his now-shuttered Niche, where you felt the need to sit up straight. Nothing embodies this new zeitgeist better than the restaurant's already legendary bread service: a serving of warm dinner rolls. These pillowy poufs are so light and airy they're almost beignets. However, for all of their delicateness, the rolls have an intense yeasty flavor that's brought out by a dusting of sea salt flakes. The rolls are always accompanied by butter, typically infused with black garlic or flavored with miso, which adds to the enjoyment. Not that you need much more of anything to be completely enraptured. No, they're not gratis, but they're worth every penny.
Best Way to Eat Guacamole
Arepas at Público
6679 Delmar Boulevard, University City; 314-833-5780
Last year, Mike Randolph's Público was a semi-finalist for the James Beard award for the best new restaurant in the country. The nod let the rest of the nation in on what has been apparent to the rest of us ever since biting into one of his guacamole-covered arepas: Público is a work of pure genius. Instead of serving guacamole with a side of tortilla chips as you might expect, Randolph places his guac on top of a delectable housemade arepa that is a cross between cast-iron cornbread and a traditional tortilla. It's like a griddled corn pancake, good enough to eat on its own but even better covered in mashed avocados that are enlivened with lime and cilantro. It's hard to decide which is the canvas for which: Does the arepa exist to showcase the pleasure that arises from simple, well-executed guacamole? Or does the guacamole act as a garnish to an arepa so authentic you'd think it was crafted in the home of someone's abuela? It's a good thing we don't have to concern ourselves with such matters and can instead simply dig in and enjoy a signature dish at one of the city's most acclaimed restaurants.
Best Way to Eat an Onion
Onion Rings at Twisted Tree
10701 Watson Road, Sunset Hills; 314-394-3366
For more than two decades, the Pear Tree Restaurant was a must-stop for big-city businessmen passing through the tiny town of Bevier, Missouri, on their way to the area's hunting grounds. Though it was known for its steaks, battered lobster tails and five-star service, the restaurant's signature appetizer, the onion rings, was the one dish you'd find on every table. When a fire destroyed the Pear Tree in 2012, devotees assumed the golden rings were lost forever. Today, however, they live on, together with most of the Pear Tree's menu at Twisted Tree, a celebration of all that was beloved about the lost restaurant. It's clear why the onion rings are at the top of that list. The thick rounds of sweet onions are coated in a light and flaky batter that has just a whisper of peppery heat; the onion slices are cut on the thicker side so that when they soften, they have the texture of silken flower petals. The rings come to the table so hot, the steam from the fryer still rises from the plate, cautioning you to wait to dive in even as they tempt you to risk a mouth burn all at the same time. At this Sunset Hills restaurant, Pear Tree's legacy lives on with food as good as ever — and we no longer have to drive all the way to northeast Missouri for a taste.
Best '70s Throwback
"Fondue Midwest" at the Libertine
7927 Forsyth Boulevard, Clayton; 314-862-2999
While chef Samantha Mitchell was making a name for herself as the queen of refined farm-to-table cuisine with her food truck Farmtruk, restaurateur Nick Luedde was busy solidifying his reputation for decadent, over-the-top fare. Now that Mitchell is executive chef at Luedde's the Libertine, those styles have married in a most enjoyable dish: the "Fondue Midwest." Taking as a jumping-off point the European molten cheese dish that starred in many 1970s parties, the Libertine gives it a downhome flair, subbing out hoity-toity Swiss for creamy pimento. This not only gives the dish a decidedly Southern inflection, but also a piquant pop of flavor that cuts through the creaminess. Griddled housemade bread, roasted seasonal vegetables, grilled apples and mild andouille sausage are served for dipping, though really, you might just cut to the chase and ask for a spoon to scoop it up straight from the cast-iron crock. You may not be able to get away with such behavior at a traditional Swiss fondue party, but at the Libertine, anything goes.