The 11 Halloween Treats You Don't Want to Get
You've spent hours roaming neighborhood after neighborhood to amass fifty pounds of Halloween candy. Tainting the sanctity of your loot (and your childhood) are these terribly tricky treats.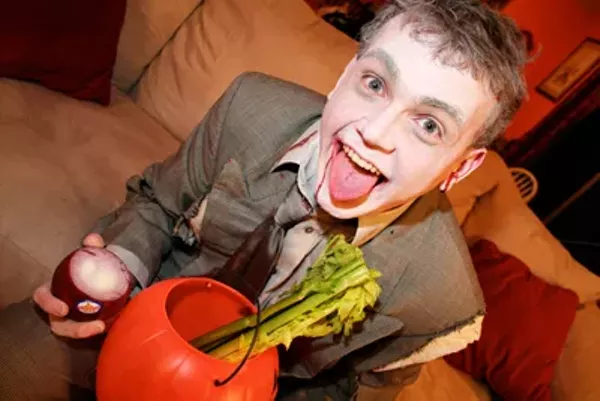 Jonathan McNamara
Veggies, fruits or healthy snacks: Talk about a trick. You wanted something filled with sugar and preferably neon but instead you got stuck with celery sticks. Save the rabbit food for the Easter Bunny.
Jonathan McNamara
Diabetic candy: Diabetic candy is Halloween's decaf coffee. There's no sugar, it's usually filled with coconut and it's likely been wedged between a make-up case and a cell phone n your grandmother's purse.
Jonathan McNamara
Plastic shit: What the hell am I supposed to do with a bat ring?
Jonathan McNamara
Bibles and any other religious scripture: The power of Satan compels you to get some damn candy!
Jonathan McNamara
"Fun size" candy: There's nothing fun about less candy.
Jonathan McNamara
School supplies: Oh great! Just what I wanted on Halloween, a reminder that after I take this costume off I still have to study for that multiplication quiz. Thanks for the dose of harsh reality.
Jonathan McNamara
Wax bottles: When you finally get these suckers open you'll discover they're filled with high-fructose corn syrup and "red." But before you get to that you'll have to eat wax!
Jonathan McNamara
Peppermints: If you're so cheap that you'll toss us the mints that came with your take-out instead of buying real candy, you deserve the bag of dog shit I'll be setting on fire and leaving on your porch later.
Jonathan McNamara
Pennies: These are especially bad if accompanied by advice to "save them for a rainy day."
Jonathan McNamara
Smarties: What's that? You like Smarties. I do too. It's just too bad that every giant bag of mixed candy has 100 packages of these tiny, chalky disks. When I started trick-or-treating, ending the night with ten pounds of Smarties is not what I had in mind.
Jonathan McNamara
Someone else's hand: Stay out of my damn candy!