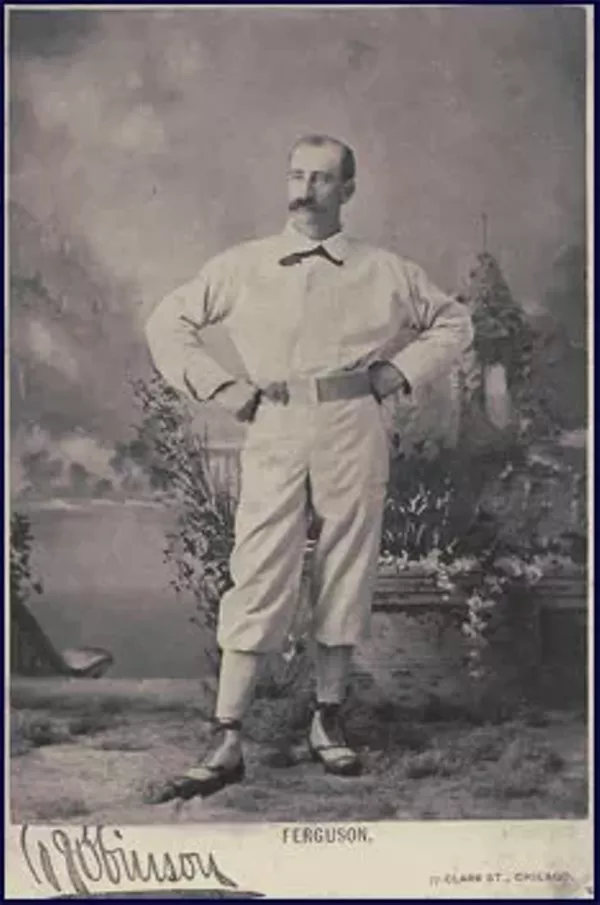 10. Bob Ferguson

The 1880's were the first golden age of the mustache in baseball. Unfortunately, photos from that era are few and far between, and trying to choose just a lucky few from the heavenly thickets of facial hair that were so common in those years is a task King Solomon would ask to be taken from him. Thus, I shall let the glorious mustache of Bob Ferguson stand for all those in the formative days of the game, those titans of the nineteenth century who sported such wonderful facial coiffage.

Look at it. The word elegant simply isn't enough to describe the grace, the beauty. The shape of Ferguson's mustache exactly mirrors that of the tie on his uniform. That, we may be assured, is no accident.
9. Carney Lansford
Honestly, you look at this picture, and you have to admire what Carney's got going on here. He may have played in the big leagues for fifteen years, but the look is tee-ball coach, all the way.
8. Jason Giambi
I know what you're thinking. You're thinking to yourself, "That's one of the worst mustaches I've ever seen!"

You're absolutely right. And therein, my short-sighted friends, lays the beauty of this 'stache.

You know why this is a great mustache? Because Jason Giambi did that to himself on purpose. Give that a second to sink in. See, something like that doesn't just happen by accident. You have to try, and try hard, to produce a mustache that shitty. So no, it isn't some sort of awful mistake that Jason ended up looking like an extra from the Beastie Boys' "Sabotage" video. He meant that shit. If you can't handle it, that's your problem, pal.
7. Luis Tiant
This one is so good that I just had to show it to you twice. Once, so that you can appreciate how good the 'stache is on its own. And twice, so you can see that the mustache isn't just skin deep. Look at him. Look at that medallion. Just drink it all in. That is a man who's got the mustache on the inside, too.
6. Dan Quisenberry
When you see lists of baseball players with mustaches, you always see Goose Gossage on the list. Now, I appreciate and respect what Mr. Gossage did, but I myself have always had a special place in my heart for one of his contemporaries, a fellow closer, a man by the name of Quisenberry.

See, Gossage always had a wild, untamed mustache, sort of like a less ridiculous (and thus less awesome), version of Al Hrabosky's. But Quisenberry, my god, just look at him. One can imagine him as a gentleman gunfighter in the Old West. A gentleman gunfighter, perhaps, who always shot his gun from the side, a man of culture and elegance, more Doc Holliday than Buffalo Bill. And somewhere, perhaps just over that ridge in the next town (or ballpark), waits a barmaid with a heart of gold who wishes the Quiz would settle down, but knows that to do so would be the end of him. Such a man, nay, such a 'stache, is not meant to be tied down.
5. Ozzie Smith
Now that is something special. The near joining of the muttonchops and the mustache, often referred to as a Van Buren, after one of our more distinguished presidential mustaches. You have to wonder, looking at this picture of Ozzie, did he perhaps have a premonition that he would one day play in the Camaro capital of the world? I think that maybe, just maybe, he did.
4. Rod Beck
All that you need to know about Rod Beck, his life, his philosophy, the sort of man that he was, can be told to you by only two words. Scratch that. Rod Beck doesn't need two whole words. He only needs one word and one letter.

The word is fuckin'. The letter is A.
3. Al Hrabosky
They didn't call him the Mad Hungarian for nothing, you know. One look at the facial hair of Hrabosky was enough to unman even the hardiest of hitters; the Mad One didn't need his whole little psych out act.

He may be a giant nightly pain in the ass now, but once upon a time, Al Hrabosky was The Man. The mustache giveth, and the mustache taketh away.
2. Keith Hernandez
It's tough to look back at the mustache of Keith Hernandez and understand just how magnificent it was. Keith's mustache is the Beatles of the 'stache world; it's impossible now to get proper perspective on how the world was pre-Hernandez.

When it was shaved, the world darkened. When it returned, so did the light. Dye only makes it more powerful. It is the mustache of Keith Hernandez, the alpha and the omega, the light and the way. Look upon it, ye cursed, ye bereft of 'stache, and weep.
1. Rollie Fingers

The mustache is most often the providence of the closer, and thus it is fitting that the greatest 'stache of all belonged to a man who made finishing games his business.

There is really nothing I can say about Rollie Fingers and his handlebar that hasn't been said already, a thousand times before. Both are legends. That's all that you need to know.