Tea Party at the Gateway Arch, 2/27/09
Conservatives Gone Wild: Republicans protest stimulus bill in variety of ways, with variety of props, at the St. Louis Tea Party Protest.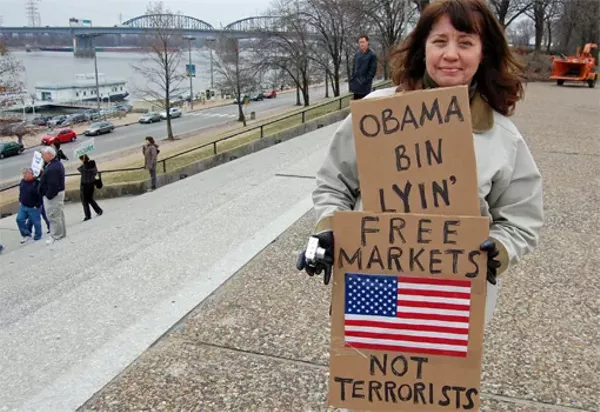 The subtle Bin Laden reference.
Washington University students Stephen Seddio, 24, and Luke Olsen, 27, with their homemade signs and T-shirts.
Conservative commentator and blogger Dana Loesch fires up the crowd of a few hundred people.
No homemade sign for this guy.
This man, unlike his many of his fellow protesters, was very, very specific on his placard.
Protesters signed up by the dozens for the 11 a.m. rally.
"I know conservatives don't go around making a lot of noise, but you're messing with the fundamentals," says Dwight Johnson of St. Louis.
Bill Myers of O'Fallon, Missouri sports his tri-cornered Saint Louis Zoo hat, complete with dangling tea bags.
That Nancy Pelosi is the wicked witch of the west, according to this young woman.
There were plenty of hammers and sickles to go 'round, political red meat for the party's hearty base.