Page 2 of 3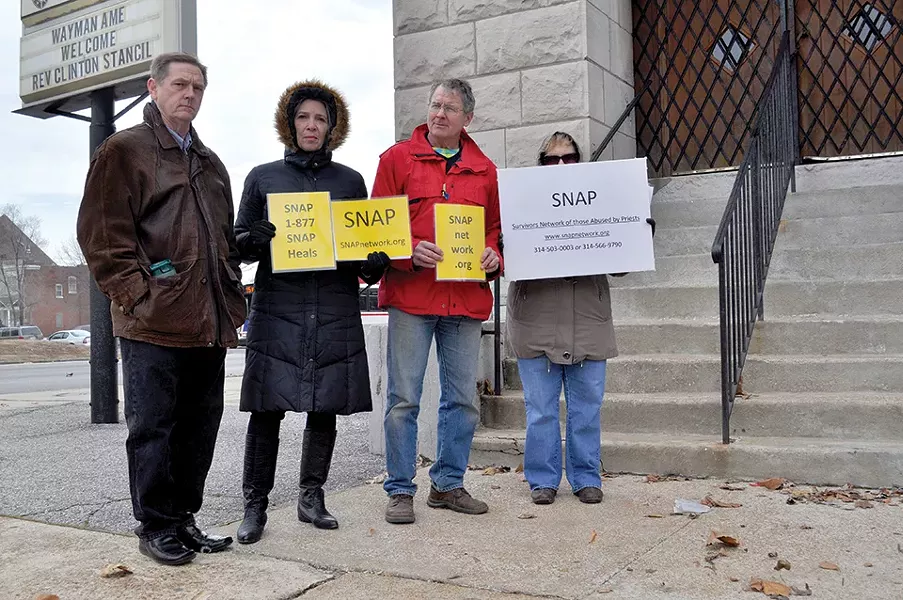 DANNY WICENTOWSKI
Over the years, Clohessy and SNAP staged hundreds of protests in front of churches where priests were accused of abuse.
David Clohessy was born in 1956 to a devout Catholic family in Moberly, a small farming town about 35 miles north of Columbia. The second of six children, he grew up in the embrace of the church, which was just down the block.
He was an altar boy and a precocious student: According to a 1969 story in the Moberly Monitor-Index, he'd participated in that year's annual St. Pius Civic Oration Contest — a competition in which the then-seventh-grade Clohessy had placed runner-up for his speech on the given subject, "Family Unity in Our Changing Times."
That year, Father John Whiteley came into his life.
"He basically became my dad's best friend," Clohessy recalls. "He came over to the house all the time. And he charmed the socks off of all of us."
The charm soon became something else. Clohessy's parents were delighted a priest was taking a personal interest in their son, and they readily signed off on trips between the priest and middle schooler. They traveled the country, camping, skiing, canoeing and hiking. At night, they slept in motels, tents or Whiteley's RV.
"First time I saw the ocean. First time I saw the mountains. First time I saw a big city besides St. Louis. Everything was with him," he says. "It was always the same pattern, every night, every time it happened. I would be asleep, I'd wake up, and I'd find him on top of me."
When it started, Clohessy was twelve years old.
"Eventually, he'd stop, and he'd roll off me and he'd fall asleep. I'd lay there, just dazed and paralyzed. Eventually, I'd fall asleep."
But something happened between the moment Clohessy fell asleep and the moment he opened his eyes the next day.
"I'd wake up," he says, "with absolutely no memory of it whatsoever."
It would be decades before the memories came back to him, jarred loose in 1988 during an innocuous viewing of the film Nuts, whose main character is revealed to have been abused as a child. Suddenly, the memories of those nights, of Whiteley on top of him, became a bomb going off in his mind. Clohessy broke down and started going to therapy. Soon after, he found a support group for survivors of clergy abuse based in Chicago. It was called SNAP.
Clohessy decided to take action. He wanted Whiteley to answer for what he'd done. But he'd never considered the possibility that he might not be the only victim.
"It didn't even cross my mind that he might have molested someone else in my family," he continues. "Until I started making phone calls to my siblings."
The reality was worse than even the one buried in his memories. While Whiteley had focused most of his attention on young David, the priest had made similar advances on multiple Clohessy children, including David's older brother Brian — who had placed first in the same 1969 essay contest on family unity — and younger brothers Patrick and Kevin.
David Clohessy's call to Kevin would prove significant for another reason. By then, Kevin was an ordained Catholic priest serving the Jefferson City diocese, the same diocese which Clohessy aimed to sue for its failure to protect him from Father Whiteley.
Clohessy assumed this might create a complication for Kevin; he worried that naming his brother's diocese as a defendant could drag him into the case.
At the time, though, Clohessy couldn't have known just how complicated it really was.
"I told Kevin about Father Whiteley, and he said, 'It happened to me too.'" Clohessy recalls. "And then he said something that at the time sounded reasonable and now sounds chilling."
According to Clohessy, Kevin ended the conversation with, "We should probably not talk anymore."
That summer of 1991, Clohessy filed his lawsuit against Whiteley and Jefferson City diocese. By then, the aging priest had already passed through a dozen assignments across Missouri. (He would soon after leave the priesthood.) During a press conference, Clohessy was flanked by his attorney Jeff Anderson, one of the first lawyers to specialize in priest abuse cases in the country.
Anderson is a former public defender based in St. Paul, Minnesota, and he was already famous for bringing cases against the church — he had just filed the first-ever lawsuit directly against a Catholic bishop — but Whiteley's alleged crime was more than twenty years old, far beyond Missouri's statute of limitations. Though Anderson would fight the case all the way to the Missouri Supreme Court, the lawsuit was ultimately doomed.
Clohessy's case was far from the only one Anderson had seen tossed to the wayside because of the legal system's broken understanding about childhood sex abuse, which failed to acknowledge that survivors might need more time to file their cases.
"The trial court hid behind the statute of limitations," Anderson says, "just like trial courts across the country did."
In any case, the litigation took years — and Anderson started seeing his client's name in the newspaper. Clohessy had become the public face of SNAP, and in the process, became "without question the most influential and eloquent survivor voice in the media."
"I saw David emerge," Anderson says. "David became what I would call a 'clearinghouse' for messaging around child protection and the priorities that survivors have."
With Clohessy as its face, SNAP was reaching more survivors and building a network of support groups in dozens of cities — which, naturally, led to more litigation brought by survivors. The lawsuits created a steady drumbeat of headlines and settlements.
And usually, the drum beating the loudest belonged to Clohessy.
But rather than activism, Clohessy says that it was SNAP's primary role as a support group that first drew him in. For the first time in his life, he met survivors who had gone through similar traumas in parishes all over the country. At some weekend gatherings, he says, he basically never stopped crying.
The process was slow, but he put his life back together. That was good enough. There was no bigger picture — yet.
"We weren't trying to piece anything together," he recalls, noting that the trauma of childhood sex abuse had followed many survivors into adulthood in the form of depression, drug abuse and suicide.
There were other, more telling similarities in the damaged ranks that showed up to the support groups. Clohessy brings up a memory of one of his first SNAP group meetings, a day when he'd listened as a room full of survivors described their attempts to talk to church officials at their schools and parishes.
Clohessy remembers looking at SNAP founder Barbara Blaine, who herself had been sexually abused as a child by a parish priest in Toledo, Ohio.
"After the last person talked, she was shaking her head, and she started laughing."
Clohessy had been shocked but remembers Blaine telling the group she'd noticed something in their talks. "Did you just hear what we all said? Every one of us said the same version of this sentence" — here Clohessy launches into an imitation of Blaine, dragging and emphasizing her response in a singsong pantomime of naivete.
"Well, I talked to myyyyyy bishop, and myyyyyy pastor, and they said I was the first person to ever report aaaanything like this in our diocese."
Clohessy remembers it as a moment of revelation. They couldn't all be exceptions, right? They couldn't all be "first-time" victims — after all, some priests, such as Whiteley, abused multiple children only to be transferred, with a bishop's blessing, to a new parish.
"We all started laughing," Clohessy recalls. "Like, that just simply can't be."
Blaine and Clohessy would go on to become the dual powerhouses of SNAP, with Blaine's organizational ambition establishing SNAP chapters in every U.S. state and nine countries. Meanwhile, Clohessy applied his professional skills in community organizing for labor and environmental groups to the issue of priest abuse. He staged press conferences and met with victims, steadily churning out mentions in news stories throughout the 1990s.
This was the decade when, for the first time, the Vatican began its crawl to finally admitting that something was very wrong in the clergy. Addressing the issue for the first time in a 1993 letter to Roman Catholic bishops, Pope John Paul II wrote that he felt "sorrow and concern" for victims. The pontiff's letter began with a quotation from Matthew 18:7: "Woe to the world because of scandals!"
It would be a decade of scandal, and more, for the Catholic Church.
By the time Clohessy spoke to the bishops in June 2002, the Boston Globe had already started publishing the first of the 500-plus stories it would run that year on the mechanics of the church's cover-ups. This was the year of the "Spotlight" investigations.
Two months before the bishop's conference, in April 2002, the newspaper ran a front-page story about a whistleblower in Rolla named Donna Cox. Before she was fired by the Diocese of Jefferson City, she had spent years as a lay youth minister working with the high-school-age students in the St. Thomas Aquinas Seminary in Hannibal.
The Globe story revealed that Cox had been terminated in 1992, not long after her attempt to warn church officials about troubling incidents involving six priests — five of whom were eventually removed from ministry after additional reports of abuse.
The story led with the fact that the seminary had spent 25 years under the directorship of Bishop Anthony J. O'Connell, who acknowledged in 2002 that he'd abused multiple victims. But there was another name that stood out in the story: the Reverend Kevin Clohessy.
David Clohessy had known about the accusations against his brother Kevin for nearly a decade before the Globe story ran in the spring of 2002. He'd even called Kevin the night before its publication to warn him of the impending media storm.
"I know this is going to make your life really hard," Clohessy remembers telling him over the phone. Kevin had responded, "Thanks for the heads up."
Days after the Globe story broke, the Associated Press ran a follow-up, focusing solely on the doubly dramatic saga of the brothers Clohessy. The reporting added further information from the Diocese of Jefferson City, which confirmed that Kevin Clohessy had been removed from his post in a Catholic student center because of "sexual contact with an 18-year-old in 1993."
After that, the diocese had transferred Kevin to a treatment center, and then reinstalled him in the tiny town of Taos near Jefferson City. Several years later, he left the ministry.
It was a perfect soap opera — the priest brother of the country's foremost voice for sexual abuse survivors was himself an accused abuser. And that's how the Associated Press ran it, under the headline, "2 Brothers: 1 is activist; 1 is priest accused of abuse."
The most detailed account of the Clohessy family drama came one month later when New York Times journalist Frank Bruni reported on the case based on Cox's accounts and the diocese's description of "inappropriate and serious" behavior with an 18-year-old victim. Bruni wrote that "Kevin's specific transgression ... hovered at a murky intersection between a possibly repressed homosexuality, which was being channeled inappropriately, and outright molestation."
David Clohessy knows how it looks: Just two months after the Globe story ran, during his emotional speech in Dallas, he pleaded with Catholic bishops to make the right choice, to "fight the temptation to turn away from the horror."
He made no mention of Kevin in that speech.