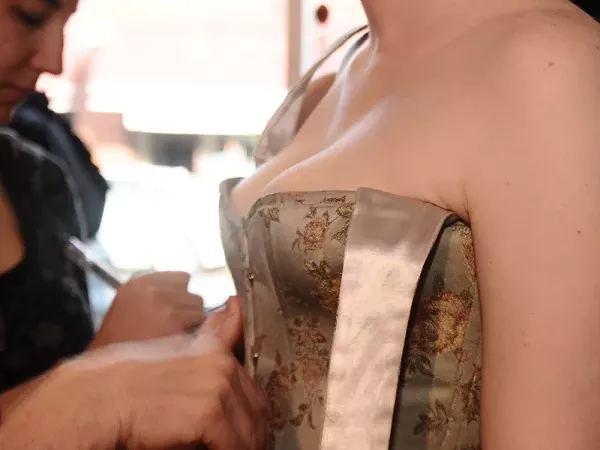 Need cleavage? They'll make it. Too much around the waist? They'll take it.
Charlynn already owns about ten corsets but this is the first fitted one.
She enjoys them because they "lift and separate" and "presents things in a very favorable light."
Sabrina owns one other off-the-rack corset. She says this corset's fit and quality is better.
In fact, she states the off-the-rack corset is a lot more uncomfortable.
This is Sarah's first experience with fitted corsets. She said she was impressed with the attention to detail and measurements.
Sarah contends that if you wear the corset over a blouse it wouldn't be quite so, "HELLO! I'm in a corset out in public!"
Fifty-year-old Pam is buying her first corset because she "feels sexy in every single way."
Singer Amanda seems too skinny to really need a corset. But she states that a corset makes better posture which is important while singing. And "it makes your breasts look great."
The business is called The Other Woman, because "she's the one who is always hot, despite the donuts." The styles are named after all the famous bad women of history. Corsets have the reputation of being something bad women wear. And also bad women were famously bad for being babes.
Sarah's waist shrank to nothing. Hypnotized by herself all she could say was "It's gorgeous!"
With two corsets in the closet for Rocky Horror screenings and kink events, Courtney tried on a corset.
"It's beautiful." "This one is perfect."
A corset virgin, Latricia followed The Other Woman from the company's recent Saint Louis Fashion Week appearance.
he loved the way it accentuates your curves if you have them and if you don't have them it creates them."
Dorothy Jones is a Broadway-trained draper and pattern maker. Finding herself with children to feed, she focused on corsets because the intersection of fashion and sex always has money.
Cheap Trx employee, Maxi Glamour had to try on a corset. And yes, he's a boy.
"I look like a brick. It goes straight down. With the corset on I've got curves. I feel like a woman!"