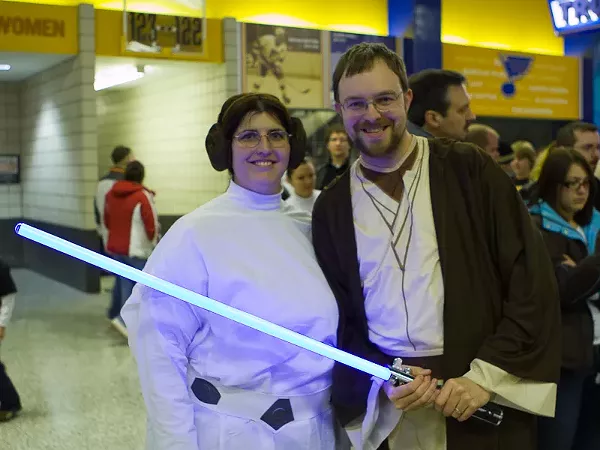 Grace and Ryan Cornett of Wentzville came out to enjoy their first Star Wars concert.
Among the memorabilia on display were concept sketches.
Crystal VanHorn and her four-year-old son Charles braved the below freezing temperatures.
Christina with the 501st Stormtrooper brigade.
A Stormtrooper from the 501st and Darth Vader himself were making there way through the crowd and posing for pictures with young fans.
Carl Middleman from 97.1 FM posing for the camera.
Carl Middleman from 97.1 FM proudly displaying his official Marc Ecko Star Wars Stormtrooper hoodie.
John Taylor of Edwardsville, Illinois sporting an X-Wing pilot hoodie.
The stormtrooper was actually saying "move along, nothing to see here, move along."
Star Wars fans gathered in the concourse of the Scottrade Center to catch a glimpse of memorabilia from the movies.
Michael Kramer and his friend braved the cold and traffic to hear the sounds of the Force.
Scenes from the Star Wars movies were playing on huge TV's alongside costumes and props used in the movies.
Jumbo sized murals made perfect spots for young fans to pose for pictures.
A young fan admires Padme's outfit from the second Star Wars movie.
Emmy Brown, Kathleen Brighton, Chris Labraun and Jennifer Fidel, all of St. Louis.
Bobby, of Manchester sports the classic Star Wars tie.