St. Louis World Naked Bike Ride 2009 (NSFW)
From Tower Grove Park to Atomic Cowboy, here is the 2nd annual World Naked Bike Ride. All photos by
Egan O'Keefe
. Not Safe for Work.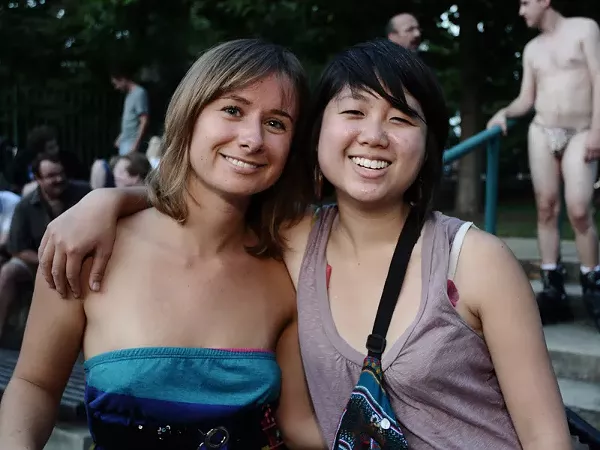 The organizers started the World Naked Bike Ride in St. Louis as part of a summer project last year. This year, they did it just for fun.
Not naked....but just as good. Lemme show ya'.
Now, what do you want? A circle? A flower? Hmmm...
"Don't take a picture! I'm naked!"
A tie. A bare chest. A wig. A sign on his back that says: "Don't look. I'm shy." Mixed messages?
Two SLU Med School first-year students, a week old in St. Louis. Upperclassmen told them about the ride. They didn't dare to go bare.
The organizers, post ride, a little more giddy, a little less clothes.
Her husband was dressed conservatively. She picked up the slack.
"I'm naked a lot...more often than she would like."
Burlesque dancers know how to work around the clothing barrier.
If you are going to ride naked through St. Louis, bring a shield, a helmet and a weapon. Good advice.
"How can you be bummed? You are about to go bike riding in the nude? Life is good!"
Do you think she cared he misspelled "pollute"?
The most clothes all night and still having the time of her life.
"Well, I prefer to be naked anyway."
Hmmm. Where did those come from?
"Is he going in the buff?" "Well, he's going diapered."
"I wanna go naked. I wanna go naked. I wanna go naked."
"Just don't photograph my face. My parents don't know I'm here."
Trying to decide if they want to go fully naked. They were still on the fence when this photo was shot.
Why ride a bike, when you can ride a pink fuzzy penis?
People not on the fence about going naked.
I came to photograph them and thought, well, why not join them?
Just because you are going naked doesn't mean you can't dress up.
There are ways to share the sentiment and still show your best side.
He was unsuspectingly drafted for his artistic skills. He thought he'd be painting a woman.
Tutus, laughs and cookies. These two were giving everything away.
You're never not young enough to bike in the buff.
One less minivan. One more naked rider.
Jeepers Creepers. Where'd'ya get those peepers?
The bike is as tall as he is. At least he has the beer.
I'm the man and the moon.
Euclid Media Group, LLC
Read Our Sister Publications