Page 2 of 3
Dave Dillon, vice president of public and media relations for the Missouri Hospital Association, mirrors Dinkel in his concern over skyrocketing COVID-19 cases, access to prompt health care and the need for increased vaccination.
The issue isn't just that the emergency rooms and urgent-care clinics are overflowing, Dillon explains. "The real issue becomes how full is the critical-care space in Missouri," he says, describing the scarce capacity of hospital ICUs and other places where patients battle life-threatening injuries and illnesses. After a decline in COVID-19 cases this spring, a surge in delta cases turned the state into one of the country's hottest hot spots. Cases exploded, going from 249 average positive PCR tests per week to an average of 2,137 per week in a two-month period. The southwest corner of the state emerged as the epicenter, and cities such as Springfield were quickly overwhelmed by the rush.
Dillon uses the spike in Springfield as an example for what could happen next.
"In southwest Missouri, hospitals are definitely still up against the wall. They're at or even exceeding their licensed bed capacity, and their ICU capacity is very low. And those hospitals have been working for a month or more and when necessary transferring patients elsewhere," he says. "Why that matters and why hospitals throughout the state are concerned about it is that even in St. Louis and Kansas City — and some of the other sizable but not metro-type areas, meaning St. Joseph, Columbia and Hannibal — when those hospitals begin to get close to their capacity, then you run out of the ability to transfer [patients]."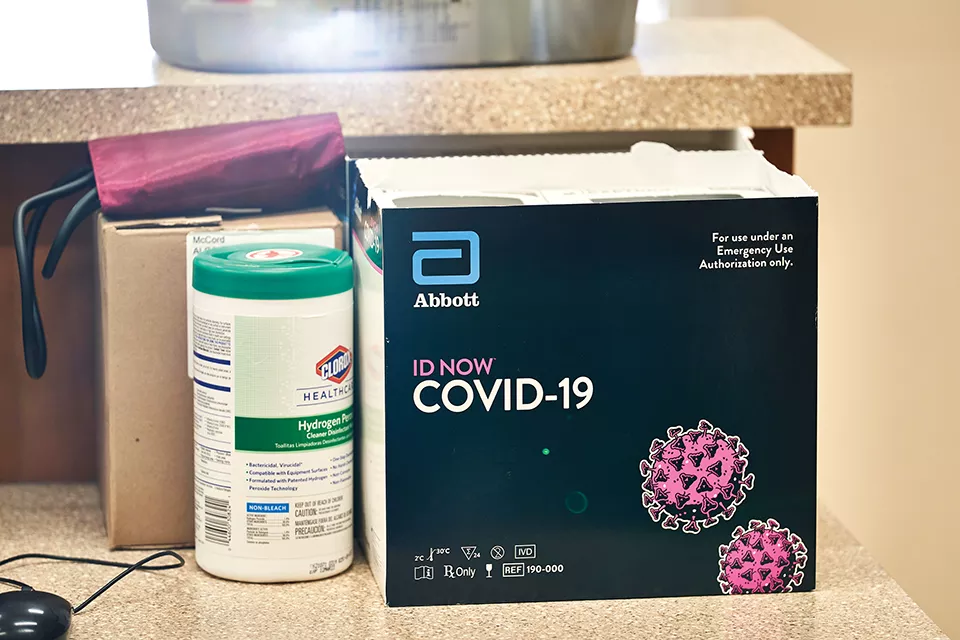 THEO WELLING
A new wave of COVID-19 patients hit by the delta variant have stressed the health-care system.
While many St. Louisans might not have been too concerned about a surge in cases on the other side of the state, these sudden increases can still have an impact on local access to critical care. Many COVID-19 patients spend weeks in the intensive care unit. If patients from far-flung areas are sent to St. Louis hospitals and then St. Louis has its own surge, ICU beds here could already be full when locals need them.
Still, having actual beds to put patients in or having enough ventilators to breathe for them isn't even the biggest problem the health-care system is facing. Right now, the problem is that there aren't nearly enough nurses to take care of everybody.
"Our biggest challenge isn't beds. It's a workforce that has been up against the wall for eighteen months. It's inadequate to expand the beds with the existing workforce that we have," Dillon says. "So you have to bring in additional workers to staff beds."
Traveling nurses are being hired by local hospitals at rates of hundreds of dollars per hour to cover the worker shortage, but Dillon says that soon it's likely that finding money to hire expensive part-time nurses won't be the biggest problem for hospitals — it will be finding traveling nurses to hire at all. Dillon says that as COVID-19 case counts grow in Texas, it has already become harder to find nurses to work in St. Louis. And there are only so many nurses to go around.
This issue takes on even more gravity when it comes to taking care of sick kids. Extra pediatric and neonatal nurses are even more difficult to come by in the current health-care ecosystem, which could spell disaster in the coming months.
"In this wave, the concern is of course that delta seems to have the ability to — unlike the earlier virus — affect kids more. And if you're eleven or younger, you can't get vaccinated yet. So that's the challenge as we're sending kids back to school right now," Dillon says.
"So you not only have the illness in kids, but you have the illness in kids and when they leave school they will go home [and infect others] and so you get the collateral impact."
Because of the high vaccination rate of seniors, Dillon says the average age of people currently hospitalized with COVID in Missouri is no longer people in their 60s and 70s, but people in their 40s and 50s. So it's not grandmas and grandpas who are more likely to be taken down by COVID now — it's moms and dads.
A recent article in Forbes said that the ICU situation in Dallas is so dire that the North Texas Mass Critical Care Guideline Task Force held a meeting to discuss using a patient's coronavirus vaccination status to factor in which patients get access to priority care — based on the assumption that the vaccinated have a much better chance of surviving.
When asked if Missouri has any plans to implement similar protocols should things get as bad here in the Midwest, Dillon says, "We have, since the beginning, been concerned about having to move to a crisis standard of care. And that would be, in essence, the clinicians would make those kinds of judgments."