Page 2 of 3
PHOTO BY DANNY WICENTOWSKI
A visitor tries on a headscarf during CAIR-Missouri's March 26 "Make America Whole Again" open house.
In CAIR Missouri's press release, the organization touts the "Make America Whole Again" event as a first-of-its-kind effort to reach the region's Trump supporters and show them the world shared by thousands of local Muslims.
"It is time for us to take sincere steps to reach out to those who may have serious suspicions about Islam and American Muslims," reads a statement by executive director Faizan Syed. "We could easily hold a mosque open house and host hundreds of people who already support the Muslim community. That's not what we want."
And indeed, while the event would be unlike anything Missouri's CAIR chapter had ever undertaken, it earns that distinction by concluding in acrimony, with Syed being accused of betrayal — by a Muslim public official, no less — and an embarrassing media spotlight courtesy of the St. Louis Post-Dispatch.
Just after 4 p.m. on March 26 at the Dar-Al-Jalal Islamic Center in Hazelwood, visitors are greeted at the door by a smiling member of the mosque, then ushered toward the ornately carpeted central prayer room. Inside (and shoeless), they gather around Syed as he flips through the pages of an Arabic Koran and explains the meaning behind the ornate text.
Watching from behind a dozen or so visitors is a red-headed 21-year-old wearing a smart gray blazer and black trousers. Aside from the subdued color palette of his ensemble, he looks like a Young Republican. And in a lot of ways, the crisply dressed, fast-talking Eli Karabell really is the perfect Republican. Too perfect, perhaps.
As Syed wraps up his presentation on the Koran's distinctive text, Karabell introduces himself to the group.
"Hello, my name is brother Eli," he says. "I'm a Republican Party official, and one thing I want to say is that in the Koran, there are different letters for Allah —" his next words are a fluent stream of Arabic. Returning to English, he offers a quick explanation about the particular blessings a Muslim is supposed to say after uttering the name of God.
Syed takes Karabell's interjection in stride. "Yes, Brother Eli is one of our good friends. He helped us organize this event and he really helped us outreach to different people within the Republican Party."
As the group moves to the second floor — where the speeches will be delivered, and afterwards, a giant buffet dinner — Karabell lingers to chat with one of the Republican visitors. The clean-cut young man explains that, while he was raised Jewish, he converted to Islam two years ago and recently joined the Republican Party in an official capacity, as the seventeenth ward committeeman in the party's St. Louis City Central Committee.
Karabell isn't shy about wearing both his religion and politics on his sleeve. "We need a counterpart to the Democrats in the city," he says, and throws in a plug for the no-chance-in-hell Republican challenger to Democratic mayoral nominee Lyda Krewson, Andrew Jones: "He has a lot of support in the Muslim community."
On the second floor, a banquet hall is lined with folding chairs and stations where the visitors cycle between presentations on Islamic religious practices and a rack holding traditional Muslim garb. A handful try on traditional Islamic robes and headscarves, and take pictures with the CAIR staff. A table bears stacks of pamphlets on various Islamic topics — "Women's rights in Islam," "The Hijab," "Jesus in Islam" — and another holds rows of prepackaged "Islam 101" kits with Korans for guests take home.
The outsiders are mostly dressed in their Sunday best. Which is fitting, as most of them are here with church groups. But for an event dubbed "Make America Whole Again," it's hard to gauge whether any of these folks are actual Trump supporters.
In fact, as becomes clear over the course of the event, this audience is mostly choir. Of 100-plus people in attendance, about half are local Muslims, and the remainder comprises several dozen open-minded churchgoers, none of whom are openly declaring their love of the president.
After remarks by Syed and his brother-in-law, a former U.S. Marine who now sits on the mosque's board of directors, Karabell takes his place before the lectern. The redheaded Muslim convert has been given top billing. He also might be the only authentic Trump supporter in the room.
"I want everyone to know that I supported President Trump," Karabell tells the dead-silent crowd. He immediately launches into what sounds like a campaign speech, albeit one delivered from a reality in which President Trump "supports the Muslim ummah."
At one point, Karabell seems to transition completely into a stump speech, declaring to the audience that he dreams of becoming the first Muslim president of the United States. But before that can happen, he says Muslims have to act — and that means supporting the Republican platform.
"We must as a community support the Republican Party and help them in their efforts," Karabell says. If he notices that his audience appears to be squirming in their seats, he doesn't show it. He ends the speech by calling for more Muslims to run for positions in the Republican Party — not to reform it, but to join its mission of defeating Democrats and progressives.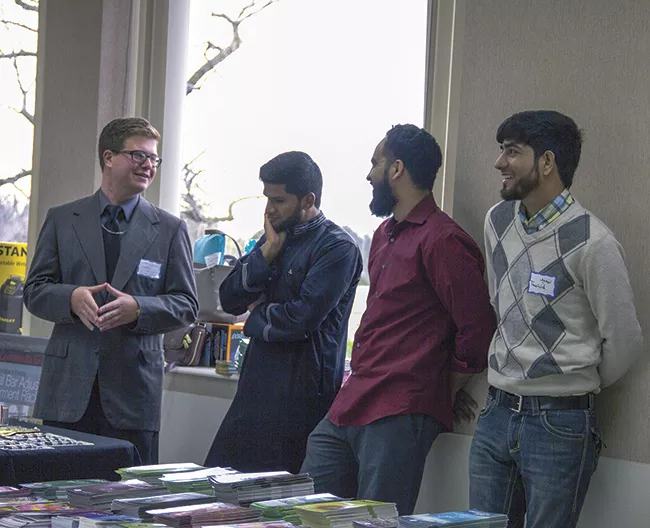 PHOTO BY DANNY WICENTOWSKI
Eli Karabell, a St. Louis city GOP committeeman, said he was dismayed that not a single ​outspoken Trump supporter attended CAIR-Missouri's open house.
"The president will continue to support Muslims," Karabell says, concluding his remarks. Finally, it seems like the young GOP committeeman notices that something is amiss, because he repeats himself, emphasizing his certainty. "I know, and I can assure you," he says, "that he's for Muslims." He finishes by thanking Syed. The crowd claps politely.
After Karabell comes Chris Caras, and then two of CAIR's newly appointed "Muslim Speakers," Sandi Bowers and Mohamad Alhalabi. (The people auditioning proved so polished, all nine made the cut, though only Alhalabi and Bowers are speaking tonight.) The school teacher and engineer deliver speeches generally similar to their audition remarks, but it's no easy feat to follow a Muslim-convert-Republican-official insisting to a Muslim audience that President Trump is really on their side, despite all evidence to the contrary. Karabell has effectively sucked the air from the room.
As Bowers speaks, Karabell is followed into the hallway by a line of audience members seeking to rebut his talking points. For the next two hours the young GOP official finds himself being grilled on how, exactly, President Trump's statements about how "Islam hates us," or his policies to ban travel and immigration, could be presented as "supporting Muslims."
This is not the scenario Karabell envisioned when he received CAIR's open house invitation. During a brief respite from critics of his presidential role model, Karabell fumes to a reporter that Syed and CAIR "ambushed" him.
"I came thinking that Trump's supporters are coming in to hear about why Muslims want to be involved, why Muslims want to work with them. And then I find out they're all for Bernie Sanders," he says.
Karabell seems almost distraught, suggesting that CAIR and the Democrats planned the event as an "op" to shame Republicans, not reach out to them. It must have been a set up.
"This was supposed to be for Trump supporters," he says sorrowfully. "Did you see anybody here wearing a 'Make America Great Again' hat?"
He's right. There are none.
Karabell isn't the only one who noticed the disparity. The next day, the Post-Dispatch bears the headline, "Mosque invites Trump supporters to open house, but few takers."