PHOTO BY DANNY WICENTOWSKI
In March 2016, the Missouri chapter of the Council on American-Islamic Relations drew national attention for showing up to the Trump rally in downtown St. Louis with donuts. Instead of joining a protest line, the local Muslims attempted to confront the "America First" crowd with kindness (and high cholesterol), an approach that proved charming, media-savvy and only occasionally tense. "Allah is a pig! Go fuck yourselves," one man shouted. Most of the others took a donut.
Almost exactly one year later, nine Muslim-Americans, all St. Louisans, show up at CAIR Missouri's main office in Chesterfield. The time for donuts is over. With Trump elected, and Muslim-majority countries targeted in a series of immigration crackdowns, CAIR and its staff are convinced they need to up the ante. Instead of just earning positive media coverage, they're seeking a way to truly engage with the people who distrust them. They're not looking for converts. They just need a truce.
The group assembled at CAIR's St. Louis headquarters this Thursday have come in response to a call for auditions to join the organization's team of "Muslim speakers," a role that will have them speaking not only to classrooms or interfaith conferences, but potentially before crowds with little exposure to Islam outside of Fox News. Both secular and religious Muslims are among those auditioning, including a veiled elementary school teacher and a retired engineer who identifies as Muslim but who was also baptized, decades ago, as a college student.
The diversity extends to CAIR's own staff. Chris Caras, the organization's Islamic education director, is a Peoria-born convert who settled in St. Louis after spending several years studying Islamic legal theory in Saudi Arabia and Malaysia.
Addressing the group, Caras lays out the mission for the new outreach program. "The very first and foremost goal is humanizing Muslims, so that people do not see Muslims like savages or barbarians," he says.
Driving home his point in sermon-like tones, Caras reminds the group of the stakes at hand, the importance of reaching across the divide at this moment in history. "If you have studied hate and genocide," he intones, "the heart of enabling these atrocious acts against humanity is dehumanization. That's why we want to make our presentations personal."
And what they share tonight is personal, even more so than Caras anticipated. These American Muslims aren't inexperienced orators or (as he expected) individuals motivated primarily by the power of their faith. Instead, they are corporate professionals, doctors and college students. And if defending their intertwined identity as American Muslims means volunteering as unpaid ambassadors for CAIR, they are ready to answer to the call.
Although the people auditioning are instructed to spend five minutes preparing a presentation on a subject chosen by Caras, they're given free rein to present a persuasive case for why Muslims should be treated as regular Americans, not potential terrorists or agents of Sharia.
Sandi Bowers approaches the lectern at the front of the room while carrying a squirming infant. Bowers wears a niqab, a full face-veil that shrouds everything but her eyes. The St. Louis-born elementary school teacher has plenty of experience handling a tough audiences: Her day job involves facing classrooms of fourth and fifth graders.
As Muslims, "we need more interactions with people," Bowers says. That's not always easy, as some people are simply intimidated by her niqab. They presume that any Muslim who looks or dresses like her must be the victim of abuse or subjugation.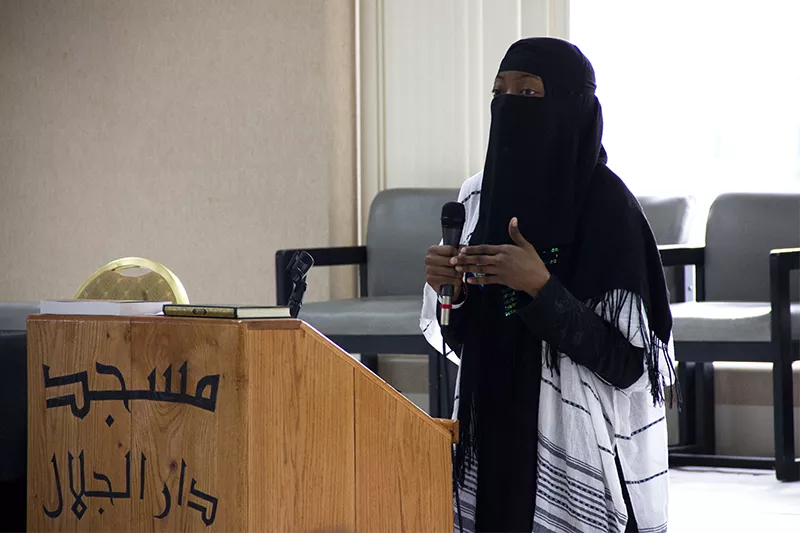 PHOTO BY DANNY WICENTOWSKI
Sandi Bowers, a St. Louis elementary school teacher and member of CAIR-Missouri's team of "Muslim Speakers," addresses the visitors to the March 26 open house.
"I love answering questions," Bowers says. "I can break down the idea that all Muslim women are bound by whatever stereotypes they have in their mind. Just the fact that I have a voice, that I'm educated and I have a career could help break those stereotypes."
Then again, there are times when the situation calls for more aggressive action.
That's a situation Mohamad Alhalabi raises in his speech. Back in 2003, Alhalabi was working as an engineer and regional director for the Missouri Department of Natural Resources' division of water protection and soil conservation. That year, he attended a convention of public water suppliers in Springfield, Missouri, convened to discuss the security of the state's water treatment facilities and the public's drinking water.
"There was 300 people attending," says Alhalabi. "I was sitting in the back listening. I heard, one after the other, speakers standing up and bad-mouthing foreign people. And the message was, don't hire these people because their goal is to come and poison your water."
He couldn't remain on the sidelines.
"I couldn't take it anymore. I told them I wanted the mic, and I told them I was one of the five directors in charge of this whole show. I told them that I'm a Muslim and I have more than 1.2 million people under my control. I protect their public drinking water from hazardous waste, toxic waste, nuclear waste, you name it. I regulate everything. I told them, 'My name is Mohamad. Are you going to drink my water?'" It's a great story, and gets a rousing laugh from his like-minded comrades in the CAIR office.
But not all the group's audiences are going to be so friendly. Caras informs the speakers that in just two weeks, on March 26, the organization will be hosting an open house in a north county mosque.
"The target audience for this event is Trump supporters, right wingers, right GOP folks," he says. "We're going to be advertising with the radio stations, their social media sites, their blogs, as much as we can."
They're calling the event, Caras says, "Make America Whole Again."
PHOTO BY DANNY WICENTOWSKI
A visitor tries on a headscarf during CAIR-Missouri's March 26 "Make America Whole Again" open house.
In CAIR Missouri's press release, the organization touts the "Make America Whole Again" event as a first-of-its-kind effort to reach the region's Trump supporters and show them the world shared by thousands of local Muslims.
"It is time for us to take sincere steps to reach out to those who may have serious suspicions about Islam and American Muslims," reads a statement by executive director Faizan Syed. "We could easily hold a mosque open house and host hundreds of people who already support the Muslim community. That's not what we want."
And indeed, while the event would be unlike anything Missouri's CAIR chapter had ever undertaken, it earns that distinction by concluding in acrimony, with Syed being accused of betrayal — by a Muslim public official, no less — and an embarrassing media spotlight courtesy of the St. Louis Post-Dispatch.
Just after 4 p.m. on March 26 at the Dar-Al-Jalal Islamic Center in Hazelwood, visitors are greeted at the door by a smiling member of the mosque, then ushered toward the ornately carpeted central prayer room. Inside (and shoeless), they gather around Syed as he flips through the pages of an Arabic Koran and explains the meaning behind the ornate text.
Watching from behind a dozen or so visitors is a red-headed 21-year-old wearing a smart gray blazer and black trousers. Aside from the subdued color palette of his ensemble, he looks like a Young Republican. And in a lot of ways, the crisply dressed, fast-talking Eli Karabell really is the perfect Republican. Too perfect, perhaps.
As Syed wraps up his presentation on the Koran's distinctive text, Karabell introduces himself to the group.
"Hello, my name is brother Eli," he says. "I'm a Republican Party official, and one thing I want to say is that in the Koran, there are different letters for Allah —" his next words are a fluent stream of Arabic. Returning to English, he offers a quick explanation about the particular blessings a Muslim is supposed to say after uttering the name of God.
Syed takes Karabell's interjection in stride. "Yes, Brother Eli is one of our good friends. He helped us organize this event and he really helped us outreach to different people within the Republican Party."
As the group moves to the second floor — where the speeches will be delivered, and afterwards, a giant buffet dinner — Karabell lingers to chat with one of the Republican visitors. The clean-cut young man explains that, while he was raised Jewish, he converted to Islam two years ago and recently joined the Republican Party in an official capacity, as the seventeenth ward committeeman in the party's St. Louis City Central Committee.
Karabell isn't shy about wearing both his religion and politics on his sleeve. "We need a counterpart to the Democrats in the city," he says, and throws in a plug for the no-chance-in-hell Republican challenger to Democratic mayoral nominee Lyda Krewson, Andrew Jones: "He has a lot of support in the Muslim community."
On the second floor, a banquet hall is lined with folding chairs and stations where the visitors cycle between presentations on Islamic religious practices and a rack holding traditional Muslim garb. A handful try on traditional Islamic robes and headscarves, and take pictures with the CAIR staff. A table bears stacks of pamphlets on various Islamic topics — "Women's rights in Islam," "The Hijab," "Jesus in Islam" — and another holds rows of prepackaged "Islam 101" kits with Korans for guests take home.
The outsiders are mostly dressed in their Sunday best. Which is fitting, as most of them are here with church groups. But for an event dubbed "Make America Whole Again," it's hard to gauge whether any of these folks are actual Trump supporters.
In fact, as becomes clear over the course of the event, this audience is mostly choir. Of 100-plus people in attendance, about half are local Muslims, and the remainder comprises several dozen open-minded churchgoers, none of whom are openly declaring their love of the president.
After remarks by Syed and his brother-in-law, a former U.S. Marine who now sits on the mosque's board of directors, Karabell takes his place before the lectern. The redheaded Muslim convert has been given top billing. He also might be the only authentic Trump supporter in the room.
"I want everyone to know that I supported President Trump," Karabell tells the dead-silent crowd. He immediately launches into what sounds like a campaign speech, albeit one delivered from a reality in which President Trump "supports the Muslim ummah."
At one point, Karabell seems to transition completely into a stump speech, declaring to the audience that he dreams of becoming the first Muslim president of the United States. But before that can happen, he says Muslims have to act — and that means supporting the Republican platform.
"We must as a community support the Republican Party and help them in their efforts," Karabell says. If he notices that his audience appears to be squirming in their seats, he doesn't show it. He ends the speech by calling for more Muslims to run for positions in the Republican Party — not to reform it, but to join its mission of defeating Democrats and progressives.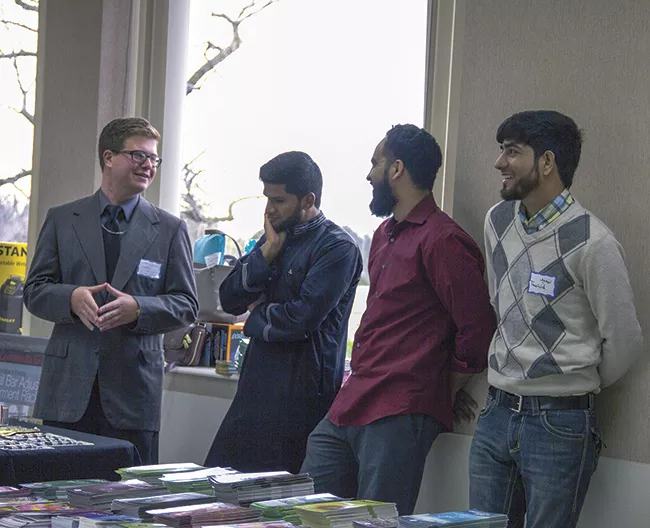 PHOTO BY DANNY WICENTOWSKI
Eli Karabell, a St. Louis city GOP committeeman, said he was dismayed that not a single ​outspoken Trump supporter attended CAIR-Missouri's open house.
"The president will continue to support Muslims," Karabell says, concluding his remarks. Finally, it seems like the young GOP committeeman notices that something is amiss, because he repeats himself, emphasizing his certainty. "I know, and I can assure you," he says, "that he's for Muslims." He finishes by thanking Syed. The crowd claps politely.
After Karabell comes Chris Caras, and then two of CAIR's newly appointed "Muslim Speakers," Sandi Bowers and Mohamad Alhalabi. (The people auditioning proved so polished, all nine made the cut, though only Alhalabi and Bowers are speaking tonight.) The school teacher and engineer deliver speeches generally similar to their audition remarks, but it's no easy feat to follow a Muslim-convert-Republican-official insisting to a Muslim audience that President Trump is really on their side, despite all evidence to the contrary. Karabell has effectively sucked the air from the room.
As Bowers speaks, Karabell is followed into the hallway by a line of audience members seeking to rebut his talking points. For the next two hours the young GOP official finds himself being grilled on how, exactly, President Trump's statements about how "Islam hates us," or his policies to ban travel and immigration, could be presented as "supporting Muslims."
This is not the scenario Karabell envisioned when he received CAIR's open house invitation. During a brief respite from critics of his presidential role model, Karabell fumes to a reporter that Syed and CAIR "ambushed" him.
"I came thinking that Trump's supporters are coming in to hear about why Muslims want to be involved, why Muslims want to work with them. And then I find out they're all for Bernie Sanders," he says.
Karabell seems almost distraught, suggesting that CAIR and the Democrats planned the event as an "op" to shame Republicans, not reach out to them. It must have been a set up.
"This was supposed to be for Trump supporters," he says sorrowfully. "Did you see anybody here wearing a 'Make America Great Again' hat?"
He's right. There are none.
Karabell isn't the only one who noticed the disparity. The next day, the Post-Dispatch bears the headline, "Mosque invites Trump supporters to open house, but few takers."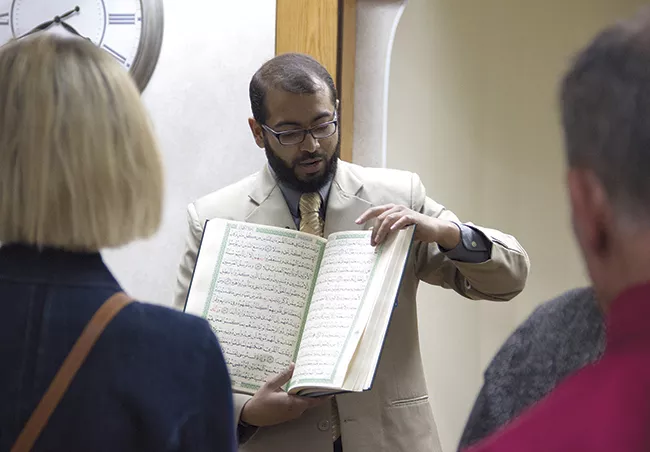 PHOTO BY DANNY WICENTOWSKI
"My goal isn't to change every single person's understanding of Islam; that's not my job," says Faizan Syed.
Faizan Syed doesn't have much time to counter with the bad press or engage with Karabell's complaints. He may have drawn mostly sympathetic ears to CAIR's open house — but just a few weeks later, he sees a chance to engage with a more outspoken critic.
Robert Spencer calls himself a "counter-jihadist." A best-selling author, blogger and occasional Fox News pundit, Spencer's views on Islam — particularly his campaign to stop the "Islamization of America" — contend the Koran and its teachings are aimed at violence and domination. In the Trump administration, that's not a fringe view. When Steve Bannon was still a radio host and not one of the president's key advisors, he called Spencer "one of the top two or three experts in the world on this great war we are fighting against fundamental Islam."
Two weeks after the CAIR open house, news breaks that a chapter of Young Republicans at Truman State University is hosting a speech by Spencer on April 13. The Muslim Student Association and its allies raise a ruckus, gathering hundreds of signatures seeking to cancel the event. The university, in response, scrambles to negotiate a compromise and avoid a contentious public protest.
Faizan Syed is that compromise.
On his website, jihadwatch.com, Spencer writes that attempts to silence him only prove his opponents are the modern-day incarnation of (yes, of course) Nazis. He also has a message for Syed.
"I'll be at Truman State University today anyway," Spencer writes in an April 13 blog post, "facing down the fascists, unless the university cancels my event at the last minute. That is, however, unlikely, as university administrators have already attempted to appease the Left-fascists by scheduling a lecture by Faizan Syed of the Hamas-linked Council on American-Islamic Relations, right before mine."
Spencer adds that he expects Syed's speech to be a collection of "deceptions, distortions, half-truths, and ad hominem attacks against me."
(Spencer's attempt to link CAIR to Hamas, the militant Palestinian group that governs the Gaza strip and is considered a terrorist organization by the U.S., is based on decades-old conspiracy theories that the national CAIR website devotes pages to definitively debunking.)
After a three and a half hours of driving, Syed arrives in Kirksville, Missouri, and faces 220 students in the largest auditorium on campus. Police officers and campus security stand guard at the auditorium's entrances, and attendees are screened with a metal detector.
Kirksville is a quiet college town, and the campus' collection of brick buildings lies within a few blocks of student apartments and a small downtown strip. It's not a place that's used to playing host to controversy.
Even here, though, Syed finds supporters: An entire side of the room is occupied by students wearing white, a planned show of solidarity against Spencer.
This will not be a head-to-head debate. A faculty member explains that Syed will talk for 45 minutes and take questions, and then Spencer will do the same. But before Syed addresses the students, he turns on his phone and starts a livestream.
"Hello everybody," he says, looming over the screen. "I'm here at Truman State University about to give a talk before Robert Spencer, notorious anti-Muslim bigot and racist against Muslims."
Syed pans the screen to the security guards and local police officers at the auditorium's rear. The department is reacting to reports of threats on social media, for which both sides claim the other is at fault.
After a formal introduction, Syed begins his speech with a melodic Arabic prayer that dips in and out of the language's distinctive guttural vowels. He transitions without pause to English as photos of Muslims flash on a projection screen.
"Muslims speak every language in the world, they are from every country in the world, they represent every ethnicity in the world and they are part of every single community on the face of this planet," he says. He spends the next twenty minutes making his own introduction.
When he was four years old, Syed emigrated from Lahore, Pakistan, to Kirkwood with his family. In 2011, at age 23, he became the youngest person ever appointed as executive director of a CAIR chapter.
Syed took over rebuilding the organization's latent civil rights and outreach missions in St. Louis and Missouri, and that same year he led a delegation of Muslims to assist in rebuilding tornado-ravaged Joplin, where dozens of newly homeless residents had found safety in the town's Islamic Center.
One year later, Syed tells the crowd, "a man came and threw a Molotov cocktail at the building. The fire department got there in time and put the fire out."
Weeks after that, in the midst of Ramadan, a homeless Iraq War veteran finished the job, burning down Joplin's Islamic Center. The man, Jedediah Stout, was later convicted of arson after he tried tossing a Molotov cocktail at Joplin's Planned Parenthood facility.
Americans, Syed continues, should fight the temptation to live in fear of a version of Islam that only exists in the minds of extremists. Part of Syed's argument is that Spencer's version of Islam is just as unhinged as the bloodthirsty edicts raised by terrorists in the Muslim world.
"Are there Muslims who use Islam as a way to justify their improper acts? Yes, there is. What kind of idiot says, 'No there isn't'?" Syed says. "They exist in places that apparently don't have the best political governments in the world. They exist in places the U.S. has bombed and invaded, and they exist in a place that has a void of central government and leaderships."
Understanding that terrorism is a reaction to "anarchy and chaos," he says, and not an essential function of a single religion — this is the point he so desperately wants Trump supporters to accept.
"The question we have to ask ourselves is, are Muslims human beings — or are Muslims something else?"
PHOTO BY DANNY WICENTOWSKI
Before his speech at Truman State, Robert Spencer lashed out at the "left fascists" who oppose his views on Islam.
But even before Spencer's turn at the mic, it's clear that Syed's question about humanity could be complicated by interpretation. During the Q&A session that follows Syed's remarks, a middle-aged man sitting near the front row asks Syed about a verse in Koran that, he says, instructs Muslims to deceive non-believers. Apparently, the verse even describes Allah as "the greatest deceiver of all."
The man asks, "Now, how are we as non-believers supposed to know what we're hearing from a believer, whether it's true or not?"
The CAIR director, who actually can read and speak Arabic, immediately looks up the verse on his smartphone and disputes the translation — Syed reads his version aloud as "Allah is the best of planners" — but a man in the audience seems unconvinced. He asks Syed to explain a different verse that concerns whether Muslims are permitted to befriend non-believers.
This too, Syed says, is a blatant misunderstanding, or at least a mistranslation, of the words in the Koran.
This is the "something else," Syed was referring to: The worry that Islam is a religion of unique corruption, or a source of hidden conquest whose true adherents follow a blueprint of violence. For people convinced of that, donuts won't help. Nor will Syed's smooth presentation.
The audience member's stubborn questioning echoes the argument Spencer spends the next 40 minutes making. Though Spencer's version features a blizzard of statistics, names and historical proofs derived from events centuries apart, it all funnels back to this suspicion: Maybe some Muslims say Islam is good, but what if they really secretly believe something else?
Spencer's other main point, which comprises most of his early remarks, amounts to lashing out at those who tried to get his speech canceled. He doesn't call them Nazis, settling for a more academic-sounding put-down.
"Any analysis of the motivating ideology of the jihad terrorists is all too often consigned to the realms of racism and bigotry," Spencer says. "The suppression is actively deleterious to the ability of free nations and free individuals to oppose and resist that terrorism."
Spencer spends a few minutes scoffing at Syed's statements about how Spencer is part of the "Islamophobia industry." Yet even Spencer seems to acknowledge that Muslims do face additional scrutiny for their beliefs.
"In reality, if there is any unjustified suspicion of Islam among any non-Muslims, Americans or non-Americans, then it is the result of terrorist attacks," Spencer says. "It was not I who did this."
Around three-fourths of the audience appears to be in open opposition to Spencer, and so his attempts at funny asides or self-depreciation are met with a brittle silence. But there are a few red "Make America Great Again" hats nodding along with Spencer's speech, plus a dozen or so members of the College Republicans.
One hat is worn by Andrew Egan, a freshman computer science student at Truman.
He calls Syed's speech "amazing," yet says that the issues of Islam and extremism that were supposed to take center stage became so bogged down in personal jabs and ambiguous sources that both presentations left him unsatisfied and unmoved.
"I think they're both reading into each other incorrectly," he says of Syed and Spencer. "They're reading only into the harshest and the meanest parts of their arguments, and that's what they're trying to attack. I don't think they realize that they both agree that not every single Muslim is violent."
Another student, a first-year named Sydney Shank, admits that she attended "because of the controversy," and that she'd been hoping to learn more about the issues before picking a side.
"What mainly stood out to me was they seemed to be talking circles around each other," she says. "None of the facts seemed to align."
PHOTO BY DANNY WICENTOWSKI
At CAIR's open house, visitors could get henna tattoos, like this one urging people to "Make America Whole Again."
Four days after the Truman showdown, Syed sits behind a desk in a back room of CAIR's St. Louis office. The three-button suit he wore to both the open house and speech at Truman State has been replaced with a faded black t-shirt from his own college days; it bears a logo of the St. Louis chapter of the Muslim Students of America, a mosque outlined against the Gateway Arch.
It's an image that might worry a person whose primary source of knowledge about Islam is Robert Spencer. Syed doesn't let that possibility bother him.
"My goal isn't to change every single person's understanding of Islam; that's not my job," he says. And anyway, he has more important things to worry about.
Chiefly, while the CAIR director chafes at the Post-Dispatch's coverage of the "Make America Whole Again" open house — apparently, the presence of several additional Trump supporters went unreported — he says it shows just how important it will be to meet Republicans and Trump supporters where they are. To do so, he says, CAIR needs to create partnerships with local Republicans. He wants the Missouri chapter and its new Muslim speakers to do more to interact with Young Republican groups and other similarly minded committees.
At the same time, Syed maintains the Republican Party must give up its intolerance of immigrants and its "Islamophobic narrative" — not just because it's the right thing to do, Syed says, but politically speaking, he believes the party needs to broaden its appeal to survive in the long term.
What that future Republican Party would look like, Syed can't say, but it probably won't look like Karabell's vision of red hats mixed with hijabs in a north county mosque. And regardless, it doesn't look like Karabell will be working with CAIR anytime soon. In the aftermath of the open house, the young GOP committeeman tweeted a demand to "all of my Muslim Brothers & Sisters" to boycott CAIR "for not fairly [representing] American Muslims."
Syed brushes it off.
"Eli is definitely in the Republican Party, but he's not a representative of the Muslim community," he says.
In addition to Karabell, state committeeman Robert Vroman attended the open house on March 26, the only other Republican official to do so. Still, Vroman is a self-described libertarian who favors the economic advantages provided by immigrants and is gung-ho for open borders — not a popular view in today's Republican Party.
But some local GOP representatives are also chafing at the Post-Dispatch narrative. They know that appearing close-minded is a bad look. They say it's not their fault they didn't show.
Committeeman Mark Comfort says he spoke by phone with Syed just days before the Sunday marked for CAIR's open house. In his telling, the scant attendance at the event lies not in Republican disinterest in Muslims, but miscommunication.
According to Comfort, he concluded the phone call with Syed under the impression that CAIR would reschedule the open house, allowing for a stronger showing from St. Louis County's large Republican committee.
"I thought they weren't going to go ahead with the event, and then we got our butts blasted in the Post for having such a poor showing," Comfort says. The Republican Party, he insists, is committed to serving all Americans, including CAIR and American Muslims.
But when presented with Syed's request for an active rejection of Islamophobia, Comfort recoils. The party official refuses to validate any accusation, even implied, that the Republican Party has an Islamophobia problem.
It's a strange parallel: Even as Syed believes his fight is with those who imbue hidden meaning and see divinely commanded deception within Muslims' utterances, Comfort is equally certain that those who accuse Trump or modern-day Republicans of racism are doing the same thing.
"We don't feel a need to become more open," Comfort says. "We respect the president and appreciate that he's taking action to protect us and enforcing the law. We aren't people who listen to his speeches and go, 'Oh look, secret racist wording.' And all the excuses of [claiming Trump ran] some kind of horrible, racist, xenophobic campaign — we listen to the same speeches and we hear patriotism and protection of citizens."
Comfort pauses, and adds, "But Faizan, he seems like a really nice guy and out to do good things."