Page 4 of 4
The issue of child killings is complicated by the fact that there are two categories of victims: those who are targeted, and those who are innocent bystanders. The latter category, which incites more collective outrage, might be the result of higher firepower of guns on the street, resulting in errant bullets fired through barriers like walls and car windows.
Semiautomatic weapons and high-capacity magazines "are becoming distressingly common," says University of Missouri-St. Louis criminologist Richard Rosenfeld. "They can spray an area of bullets in a matter of seconds. And children in the area become collateral damage."
Alderman Jeffrey Boyd, a military veteran who represents the Wells-Goodfellow neighborhood, echoes that assessment: "Kids have AR-15s and semi-automatic rifles with 40 and 50 rounds in a clip. If you got a nine-round clip, you're gonna be deliberate with your aim. If you got 50, all you're gonna do is spray. And that's why these kids are getting killed. They get caught in the spray."
But it's the other category — the targeted victims — that some have become inured to, opening a debate on the root causes of youth-on-youth shootings. Steven Ohmer, chief juvenile judge of St. Louis, believes many of these shootings are impulsive, perhaps even accidental. Some incidents might begin as common disputes between teenagers, "But put a gun in that scenario, and it fires, well, there's no tomorrow," he posits. "I don't think kids realize this. My gut feeling is that they don't really know what a gun can do. I doubt they've shot it. They might not even know it's loaded. They think, 'Oh, I just got to point a gun at someone and that's all I got to do.'"
Another driver of youth gun crime is the underlying trauma of community violence, says Sarah Johnson, director of juvenile defense and policy for the Missouri State Public Defender System. Many of her clients, she says, "recount examples of being victims of gun violence themselves, or witnessing gun violence perpetrated on their friends or family members. This trauma oftentimes goes unaddressed." (Teshawn Ford had said as much in an interview last year. "At first I was doing good. Then at eleven I started getting traumatized.")
All that said, experts say the number-one reason children are shot in St. Louis is the same reason adults are shot: Missouri gun laws, which are among the most lax in the nation. In the past fifteen years, the state legislature has dropped requirements for permits, safety training and background checks.
In the three years following the 2007 repeal of license requirements, Missouri gun homicides increased 25 percent. Now, the state owns the third-highest gun death rate in the country. Every ten hours, a Missourian is killed by a gun, a reality concentrated in St. Louis, where in a recent year 40 percent of the state's homicides occurred. "St. Louis is always on our radar." says Michael-Sean Spence, director of community safety initiatives for Everytown for Gun Safety.
The data become more dire when accounting for race. From 2014 to 2017, the rate of Black Missourians killed by guns increased 64 percent. Black Missourians die from homicide at triple the national average among their American peers, far outpacing every other state.
St. Louis Circuit Attorney Kim Gardner calls the combination of gun access and systemic racism "a perfect storm for hopelessness." In the most cutting assessment of Jefferson City, Alderman Boyd adds, "I think it's a conspiracy. I think they want Black people to kill each other. White people aren't doing it in their communities. But the more guns you put in the inner cities, the more carnage. I think it's a social engineering plot against Black people by the state of Missouri general legislature."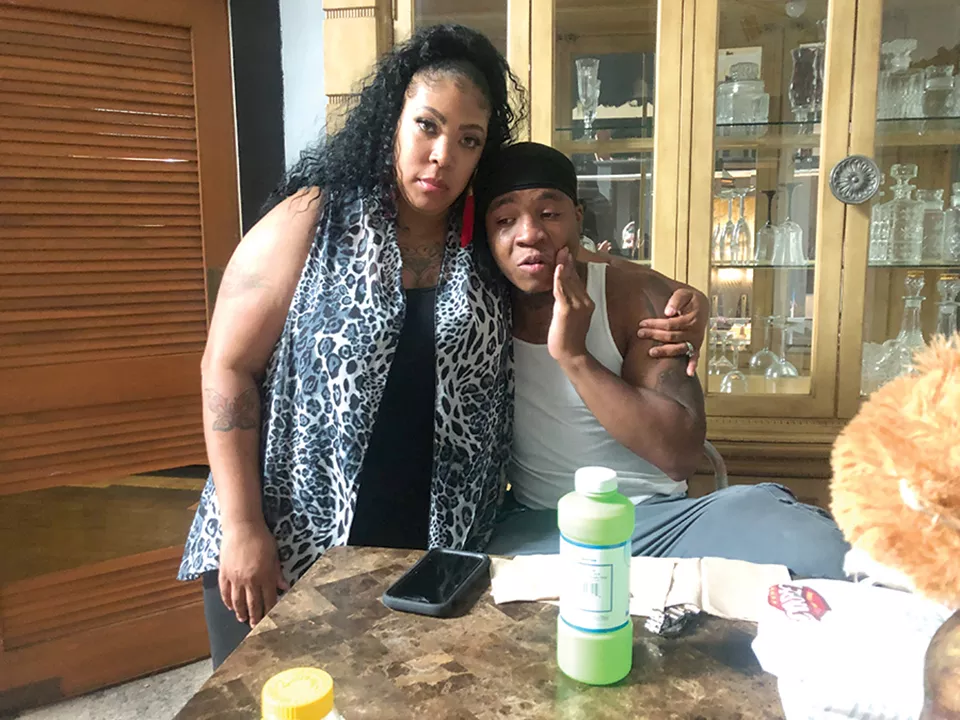 JOHN H. TUCKER
Nunu's mother Trina Houshmand and older brother Donald lean on each other after the murder.
Each time Donald steps into a recording booth, he prays for Nunu's guidance. In the year following his brother's death, his music has exploded; he's already released nine songs under the stage name Head, and "Not Alone" has eclipsed 6 million YouTube views. In the process, Donald has learned the concept of universal truth. In the immediate aftermath of Nunu's killing, he felt like no one understood his pain. But in the months that followed, acquaintances told him that they, too, had been haunted by death-dispatched demons. "Not Alone" thus became an elegy on loss and empathy.
"You can be surprised how many lives you can save by saying something they were going through," he says, recounting a story of a suicidal thirteen-year-old from Australia who messaged him to say that his verses helped him persevere.
Houshmand, too, is doing better, though George Floyd's murder last summer — the image of a Back body lying on the pavement — triggered emotions. Throughout last year, she yearned for a new chapter, in another city, one with lots of palm trees. "I feel like everyone in St. Louis got a gun," she says. A few months ago, she made good on her quest, moving with her husband and two daughters to California.
Donald, too, is tired of St. Louis, a place where he feels he's eyed with suspicion, where guns are drawn on him, where his car is searched by police and life is "a punch in the face."
Inside their old kitchen, where Nunu liked to feed his kid sister Jasmine extra-large portions of Fruity Pebbles, Houshmand comments on the emotional tug of Donald's songs: "I can feel his pain and scars," she says. She launches into a verse: "Tomorrow not promised ..."
Donald, seated next to her, joins in unison: "Now I see progress ..."
"You can help heal people," Houshmand tells him.
It's unclear whom she's referring to. Is it her? Other St. Louisans? Suicidal teens in Australia? Or is it Donald himself — a vehicle for his own reconciliation?
During an earlier conversation, Donald summarized solemnly his thoughts on death and fraternity. "I was the one doing all the bad stuff that could have gotten me killed. But it wasn't me. It wasn't me. It was my little brother. He was a good kid."
Even after death, Donald has preserved his instinct to protect Nunu, a fact evidenced during the house visit by Mothers in Charge leader Valarie Dent. After Donald played his music video honoring his brother, Houshmand began to cry.
At this, Donald walked over to his mother and embraced her. "I know he OK," he assured her. "He safe."
Editor's note: This story has been updated to include information from an interview with Clifford Swan Sr. after publication.