Page 2 of 3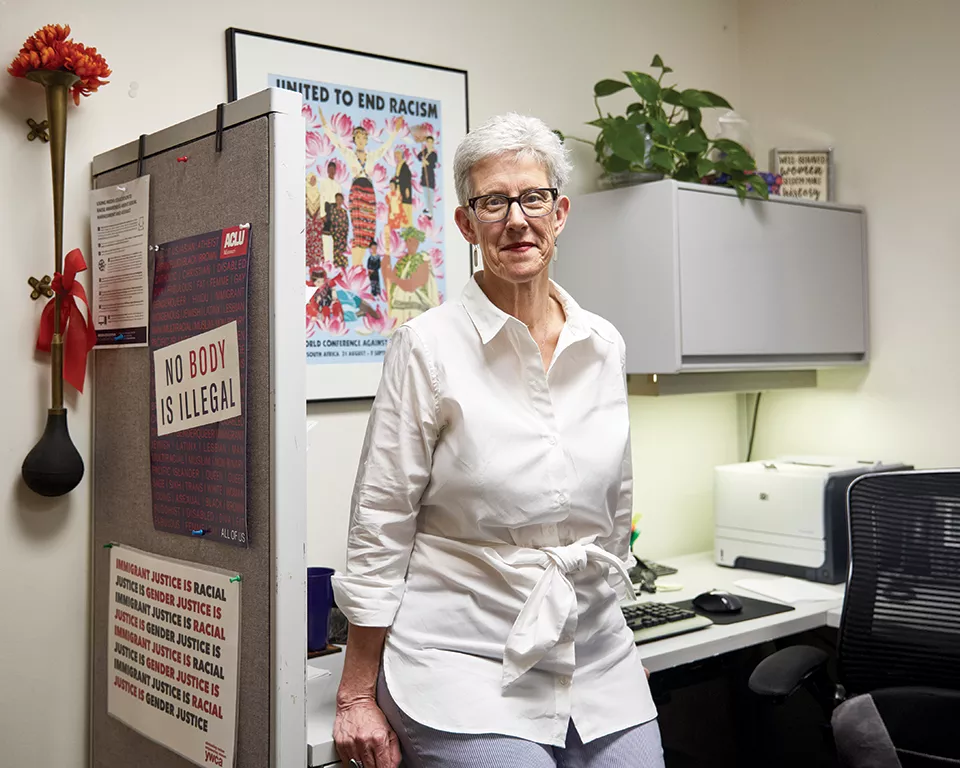 THEO WELLING
As the YWCA's racial justice director, Mary Ferguson wrote a lengthy guide for Witnessing Whiteness classes.
GROWING PARTICIPATION
In each of the ten Witnessing Whiteness sessions in the local YWCA's program, participants spend the first hour discussing and reflecting on a chapter, in large and small groups, through "listening pairs" and by journaling. The second hour is activity-based.
Facilitators choose the activities from a 150-page guide created by Mary Ferguson, who took over for Hunter as the St. Louis YWCA's racial justice director in 2016.
For Chapter 3, "Uncovering a Hidden History," participants might share biographies of white anti-racist activists such as Elijah Lovejoy and Jane Elliott, or outline the parallels between past practices, like redlining or naturalization laws, and current ones.
Ferguson wrote the manual to provide parameters for the pool of what is now more than 100 facilitators, a group that mushroomed in the wake of Michael Brown's 2014 death and the ensuing protests.
When the program first started in 2009, one group met at a time. When it wrapped up, another would start. After word spread and demand spiked, Ferguson implemented a schedule. Groups now run from January to May and August to December. More than 3,500 people in the region have now participated in Witnessing Whiteness.
Almost five years after Brown's death, Ferguson attributes the continued growth to "local and national reinforcement. Everything has echoed what was happening here, all of the spoken and unspoken ways that race is included in political and social events."
White people hear about disparities — police shootings, immigration policies, incarceration rates — and they want to understand what's going on, she says.
The St. Louis YWCA uses a "spiral" model that allows Witnessing Whiteness to grow with little funding. Participants buy their own books, but there are no other costs. At the end of the session, anyone who is interested can attend a daylong training to become a facilitator.
That's what Lexie Walsh, 27, did after participating two years ago. A Philadelphia transplant, Walsh heard about the program while at Washington University. She said she wanted to learn more about how being white affected her personally and how it influenced the systems she lives and works in.
Walsh, of Tower Grove South, just wrapped up her third session as a facilitator. It's not always a linear process toward racial awareness, she says. It can be humbling.
"You don't know what you don't know. People come in knowing stereotyping is bad, that individual acts of racism are wrong," she says. But coming to terms with the racism that is manifest in housing, government, education and labor "can be an emotional process of working through the weeds."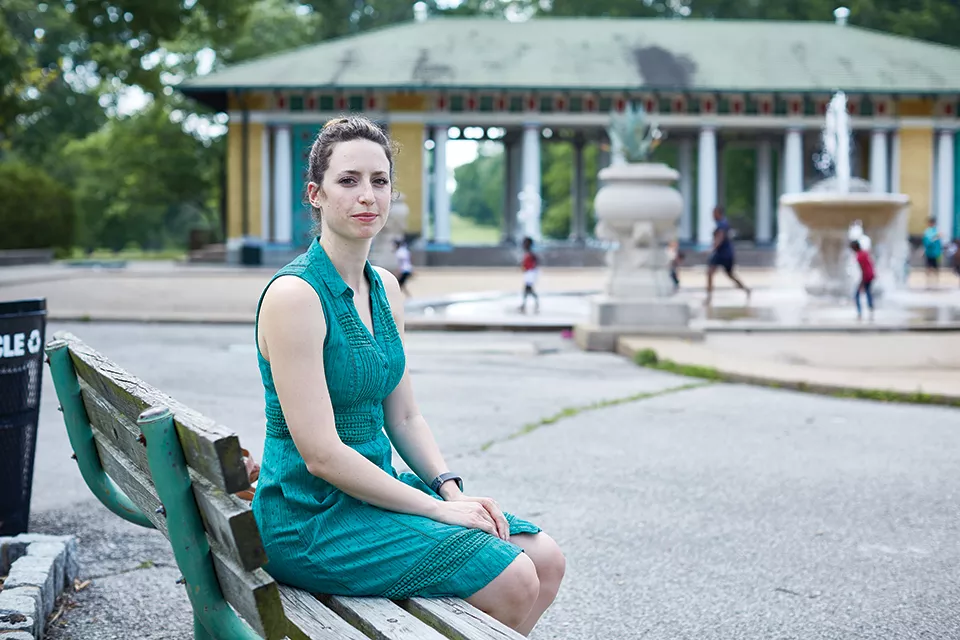 THEO WELLING
Lexie Walsh graduated from the YWCA's program and now serves as a facilitator.
RIPPLE EFFECTS
The book concludes with suggestions for taking action. And though some people drop off after the program, many others take up the anti-racism mantle, says the YWCA's Ferguson.
"I want people to advocate or come up with new solutions," she says. "But I don't want to discount smaller, personal things."
Like being deliberate in how you raise your children.
Laura Horwitz, 37, of Clayton, participated in Witnessing Whiteness in 2015. She had moved back to her hometown the year before and connected with Adelaide Lancaster, 39, another East Coast transplant with young children and a background in community building.
Horwitz, the mother of two, says she was trying to figure out her role amid the tension following the fatal shooting of Michael Brown by a white police officer. Like many folks, she noticed that white and black people didn't view that flashpoint in the same way.
"White people were concerned with the specifics surrounding Michael Brown's death, while black people were focused on the root causes of the Ferguson movement," says Horwitz. "To take that thinking down to the family level: We're not even talking about the same thing in our homes." Many white families never discuss race with their children. For families of color, ignoring it is not an option, she says.
Lancaster, who has three kids and lives in Webster Groves, says she and Horwitz wanted to figure out a way to make conversations about race more natural for white families.
Books would be the conduit.
Horwitz and Lancaster's project, We Stories, became an official nonprofit in 2016. The two women combed through lists of diverse children's stories, reading and discussing them with their own kids. They tapped experts such as Kira Banks, a professor of psychology at Saint Louis University and the host of a podcast called Raising Equity.
Banks, who is black, says that many white parents were raised thinking there was a simple solution: "Treat everyone as an individual and be colorblind, and it will solve the problem. It won't."
Research has found that babies as young as six months notice differences in skin color, and racial bias begins to solidify by age seven — even when the adults in their lives do not exhibit racial biases.
Using books to spark conversation lets "white families increase their comfort level around topics such as race and difference," says Banks. "Being a white anti-racist person takes work. You need internal reflection and to be comfortable in your own skin."
At We Stories, that work comes via four children's books and an online curriculum. Parents are prompted to ask questions about what their children notice in the books and in their own lives. They can turn to a Facebook group for advice and support.
In its first three years, 800 families have joined a We Stories cohort. The families are mostly white, though about fifteen percent identify as multiracial. The nonprofit hosts parent workshops and town halls throughout each session and invites its previous participants to join new alums at a wrap-up event.