"Spectaular Wed-tacular" at Mad Art Gallery
There are weddings, and then there are weddings bursting with burlesque and fire-breathing. This open-to-the-public affair drew out artists, dancers and lovers of the weird on February 20, 2010. By
Crystal Rolfe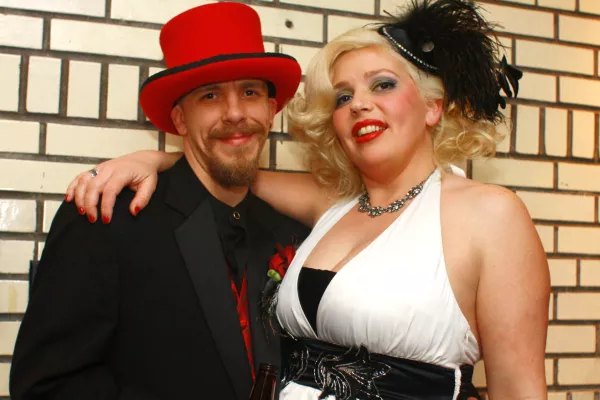 The happy couple, Dustin Indigo Charles Krueger and Sturdy Gurlesque.
The Swedish Siren performs her routine at the wedding.
Burlesque dancers do their "Like a Virgin" routine.
Burlesque dancer Gogo McGregor
The pre-wedding preparation begins at Mad Art Gallery in Soulard.
Cuddles and Weevils, his hairless dog.
Burlesque performers Gravity Plays Favorites.
Rockabilly stalwarts the Trip Daddys were the musical guests for this wedding.
Clownvis Presley acts as the emcee.
Pyromorphic, a fire-breathing team.
Two wire hair performers and Michelle Minx (far right) during the wedding.
Burlesque dancer Lola van Ella and her burlesque gaggle.
Various members of the wedding party pose for a photo.
The boy with the wire hair performs.
Dennis Williams, the DJ for this wedding.
The flower girl, Alora Ellis.
As with all weddings, there's a guest book to be signed.
The blushing bride, Sturdy Gurlesque.
Wedding guest William Spencer.
This wedding featured fire-eating.
Clownvis and a friend at the wedding at Mad Art Gallery.
The newlyweds enjoy their wedding cake.
Local artist Tom Huck (left) and the man known as "PBR Dave" pose for a photo.
Wedding guests Carrie Harris and Max Iver.
The "Elvis couple" who showed up at this open-to-the-public wedding.
Wedding guests Mimi and Shaun, sporting a sweet "Three Wolves" shirt.
Wedding guests Jessica Graves (left) and Jessica Henderson.
Euclid Media Group, LLC
Read Our Sister Publications