Courtesy of Joey Rumpell/RumZoo Photography
One Flea Spare
August is dragging its unwelcome carcass out the door rather slowly, so September already began unpacking its cooler weather. Maybe you should bring a sweater when you're out on the town this weekend.
FRIDAY
1. Expose yourself to the plague (of other people).
The Snelgraves have just about run out the clock on their enforced quarantine. It is 1665 and plague ravages London outside their doors, but in a few hours they will be able to flee to the relative safety of their country manor. But the family's quarantine is sure to restart when the guard watching the house discovers that a sailor and a young girl have broken into the home seeking sanctuary. In a lonely house in a city gripped by fear and imminent, grisly death, these four people must confront their own mortality, their imbalances in social standing and the ever-present truth that their bodies will betray them. Slightly Askew Theatre Ensemble continues its season with Naomi Wallace's One Flea Spare. Performances take place at 8 p.m. Wednesday through Saturday (August 19 to 29) at the Chapel (6238 Alexander Drive; 314-827-5760 or www.slightlyoff.org). Tickets are $15 to $20. — Paul Friswold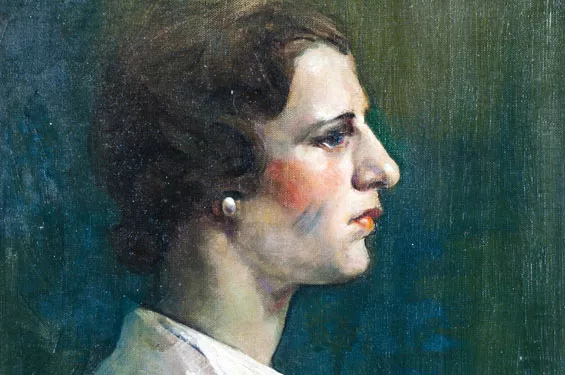 Freda, n.d. Oil on canvas Collection of St. Louis University High School, Gift of Timothy and Jeanne Drone Fine Arts Trust
Joe Jones
2.See some of the best art from Midwestern painters.
Painting the Midwest
Timothy Drone began seriously collecting art in the 1970s. In the intervening 40-odd years, he's amassed a healthy collection with an emphasis on pieces by Midwestern artists such as Joe Jones, George Caleb Bingham and Fred Conway. But Drone was also canny enough to recognize the quality of work done by women, and added paintings by Aimee Goldstone Schweig, Emily Summa and Kathryn E. Bard Cherry to his growing hoard. Now he and his wife, Jeanne, share their passion with the city in Painting the Midwest: Selections from the Collection of Timothy and Jeanne Drone Collection. The exhibition opens with a public reception at 5 p.m. Friday, August 21, at the Saint Louis University Museum of Art (3663 Lindell Boulevard; 314-977-2666 or sluma.slu.edu). The show remains up through Sunday, December 20, and the gallery is open 11 a.m. to 4 p.m. Wednesday through Sunday. Admission is free. — Paul Friswold
SATURDAY
3. Get a new perspective on the Arch.
Arch Perspectives
The Gateway Arch has become visual shorthand for St. Louis. It shows up in films, commercials, on signs, T-shirts, bags, postcards. But what does the Arch really mean to the region? It was designed to celebrate Thomas Jefferson and his dream of westward expansion, but the meanings of our civic symbols change as the people who live in its shadow also change. Arch Perspectives, the new exhibit at the Missouri History Museum (Lindell Boulevard and DeBaliviere Avenue; 314-746-4599 or www.mohistory.org), offers a look back at the birth of the Arch and what it was meant to symbolize through photographs and original documents. The exhibit includes a continuing series of forums for people to discuss their interpretation of the monument's meaning. Is it a promise unfulfilled, a reminder of past glories, or something else entirely? Arch Perspectives is open daily through Sunday, January 24. Admission is free. — Paul Friswold
4. Get stuffed at the Fare.
The St. Louis World's Fare Heritage Festival
The 1904 World's Fair still looms large in St. Louis' history. The city was big and growing bigger, and Forest Park welcomed the world into its leafy environs to celebrate progress and the future. The St. Louis World's Fare Heritage Festival recalls that great moment in time, while also celebrating everything going on in the city right now. From 4 to 10 p.m. Saturday and 10 a.m. to 10 p.m. Sunday (August 22 and 23), you can stroll through art displays, play games and hear music from Looprat, Daughters of Zion and the Schwag. Local restaurants and food trucks will be nearby, waiting to fill you up — stop by I Scream Cakes, Mission Taco Joint, Sugarfire Smoke House and Drunken Fish, though not necessarily in that order. It all takes place in Forest Park's Shakespeare Glen (www.stlworldsfare.com). Admission is free.# — Paul Friswold
5. Sow your Wild Oats.
Wild Oats
John O'Keeffe's 1791 Restoration comedy Wild Oats is about a by-the-book naval colonel named George Thunder who is chasing deserters when he stumbles across the home of his niece. George sends for his son Harry in order to arrange a marriage between the two young people, but his son has been slumming as an actor and would prefer to continue living that dream. Harry's lookalike (and actor chum) Rover shows up in his place, and begins wooing Kate without the old man noticing the difference. This drawing-room comedy was adapted by American playwright James McLure as a Western, with a few names changed but the action mostly the same. There's a Native American who talks like an Irishman, a Shakespearean actor on the lam and a brief snippet of As You Like It crammed in there as well. St. Louis Shakespeare presents the McLure version of Wild Oats at 8 p.m. Friday and Saturday, 2 p.m. Sunday (August 21 to 30) at the Ivory Theatre (7620 Michigan Avenue; 314-361-5664 or www.stlshakespeare.org). There is one 7:30 p.m. show on Thursday, August 27. Tickets are $15 to $20. — Paul Friswold
SUNDAY
6. Enter the World of Leon Russell.
A Poem Is a Naked Person
Once thought to be doomed forever to limbo, Les Blank's 1974 film A Poem Is a Naked Person was officially shown to the public in 2015. This documentary about musician Leon Russell covered two years of Russell's life, from 1972 to 1974, as Russell and his extended circle of friends wrote, played and recorded music on the banks of Oklahoma's Grand Lake. In addition to concert footage and interviews, the film includes multiple instances of Blank's beloved "scene-setting" shots, such as sunsets, different views of the lake and extended sequences of artist Jim Franklin painting a mural in an empty swimming pool. The Webster Film Series screens this highly anticipated documentary at 7:30 p.m. Friday through Tuesday (August 21 through 25) at Moore Auditorium on Webster University's campus (470 East Lockwood Avenue; 314-968-7487 or www.webster.edu/film-series). Tickets are $4 to $6. — Paul Friswold