Show-Me Burlesque at Off Broadway
"Naughty Fairytales," the final show of the weekend-long, first-ever Show-Me Burlesque festival in St. Louis, went down on Saturday night, May 15, 2010 at Off Broadway. Photos by
Crystal Rolfe
.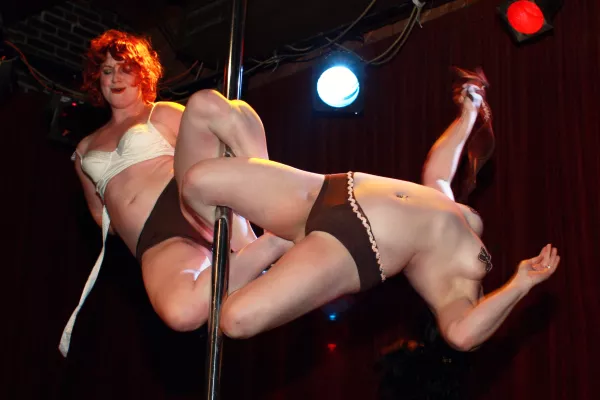 Burlesque duo Gravity Plays Favorites as Hansel and Gretel.
Greta Garter as Snow White gone bad.
The performers of the 2010 Show-Me Burlesque festival.
The 3 Little Wolves (Bitsy Bittersweet, Roxy Red Rockets and Mimi Le Yu.)
Whiskey Kiss the Evil Queen.
Jada B. and Elle Adorabelle.
Sinthea La Fee from Denver.
Lil' Miss Lixx of New York as the Big Bad Pig.
Whiskey Kiss with Chris Barnhart, the villain.
The beautiful Michelle Mynx.
Two Evil Beauties: Tessa Von Twinkle and Gogo McGregor.
Sinthea La Fee, the Fairy Ballerina from Denver.
Lucky Deluxe from Kansas City, as Little Red Riding Hood.
Tessa Von Twinkle strikes a pose.
Foxy la Feelion, "along came a spider."
Sturdy Gurlesque with her famous pyro act.
Bartenders Rachel Greb, Jason Matthews and Sarah Jones.
Cherry Bottoms, Brandy Owens and Pixie Sixx.
Kalista's unbridled bachelorette group.
Lil' Miss Lixx, the Big Bad Pig.
Whiskey Kiss stirs her poison.
Kalista, the bride to-be.
Jett Adore, Zorro, the "No-Panster Romancer."
Jett Adore shows what he's made of as Zorro.
Tessa Von Twinkle from Indiana as Cruella.
Gogo McGregor puts on her face backstage at Off Broadway.
Ray Gunns doing his Matrix act.
Ray Gunns from all angles.
Sara Jones and Joe Bobnick enjoying the show.
Cora Vette, Mistress of Ceremonies.
Bazooka Joe: "His bubbles pop when his trousers drop."
Lady Lola and Sammich the Tramp.