Page 2 of 2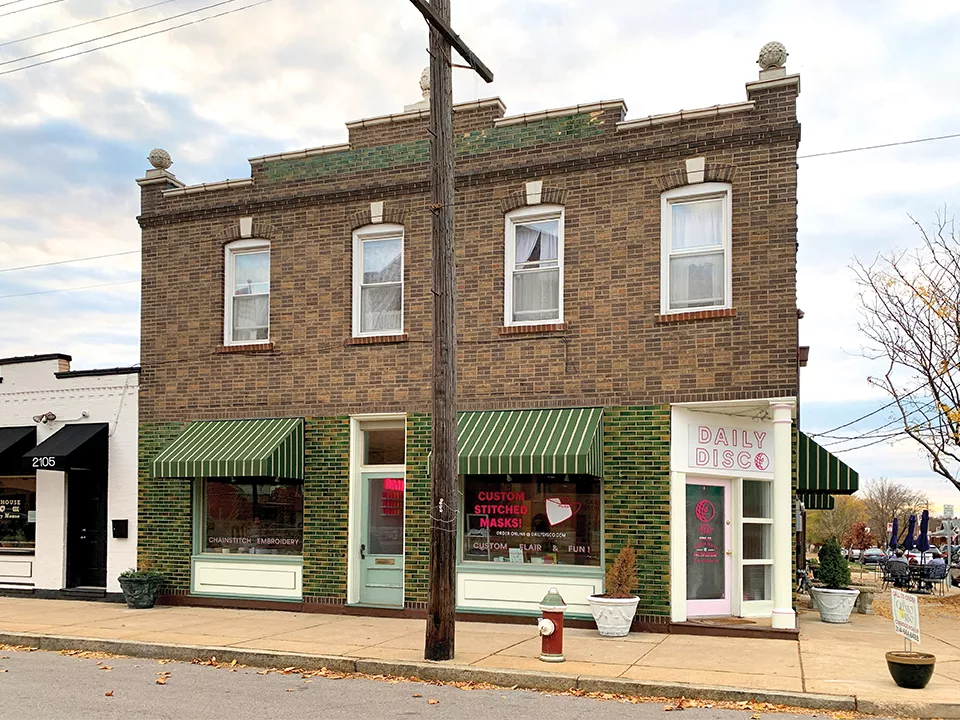 Personal Shopper
If you're looking for a one-of-a-kind gift for that special someone, one of the best places in St. Louis to find unique and personalized gifts is Daily Disco (2103 Marconi Avenue, 314-802-7575). This local chainstitch embroidery shop cranks out custom wearables and other designs from its headquarters in the bustling Hill neighborhood. Shop owner and founder Abbey Eilermann works there with a small crew to produce made-to-order gifts like tea towels, patches, face masks, bandanas, bucket hats, clutch bags, beanies, berets, eye masks, jean jackets and more.
Daily Disco's storefront is currently closed to the public, but in addition to shipping items they also offer curbside pickup from 9:30 a.m. until 4:30 p.m. Monday through Friday right outside their happy little factory located near St. Ambrose Church and the popular Piazza Imo. You can order and then pick up most personalized items the same day, making Daily Disco the perfect shop for the impatient shopper.
But if you want to place a large custom order (like having a large photo or logo stitched onto the back of a vintage jean jacket), you should make sure to call them up and reserve your spot soon.
"Our slots for larger pieces are filling up fast," says Eilermann, "so if people want a larger piece done in time for the holidays, they should call in as soon as they can."
Though it usually takes about a week to get a big, elaborate design finished, most of the items they sell are designed to be customized in just a few minutes with just a name or a short phrase. The word "vote" stitched on a face mask was a recent hit, and many customers are eager to get a face mask stitched with their own name, so people know who they're looking at behind the cloth.
Eye masks are their newest offering, but the shop is about to launch a line of bags and pouches, too. And in addition to these personalized items, the store also sells other fun little gifts like retro hotel keychains, pins that look like a margarita, earrings featuring Dolly Parton and patches with the Gateway Arch styled as a big rainbow.
If you want to get a custom item but you're at a loss for inspiration, visit DailyDisco.com and click on the "personalization inspiration" tab for design ideas like symbols or social justice phrases or funny expressions like "aspiring retiree."
And if you know that your loved one would love the shop but you're unsure which item they'd like best, Daily Disco also offers gift cards so they can pick the perfect gift for themself.
— Jaime Lees
Treat Yourself
Raw Blend Custom Apparel, 1408 North Kingshighway, Suite 106, 314-398-1585, www.rawblendcustom.bigcartel.com
Lovin My Melanin, lovinmymelanin.com
Klutch by Khadejah, www.etsy.com/shop/klutchbykhadejah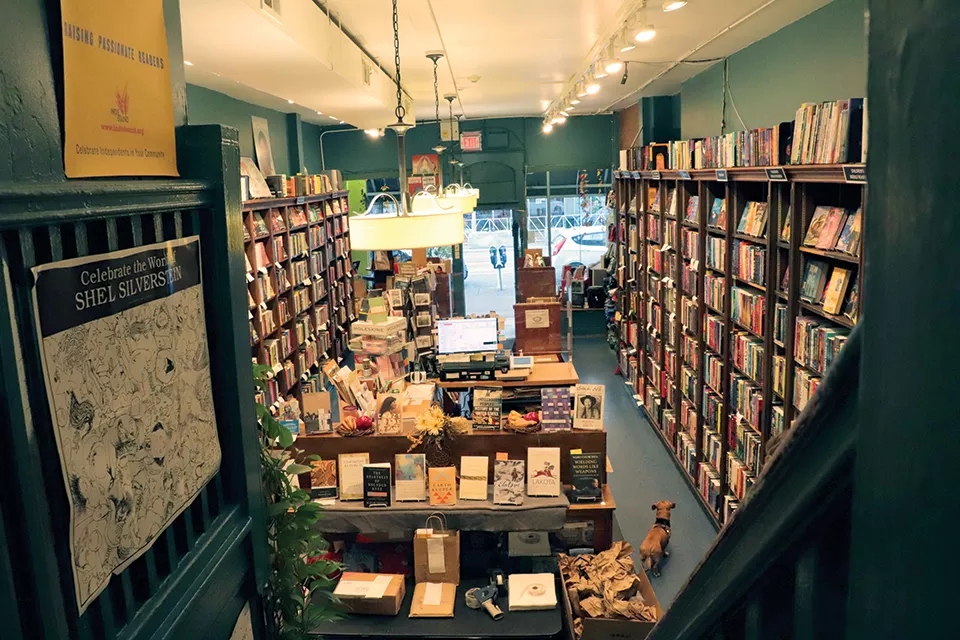 Bookworms
In October, Subterranean Books (6275 Delmar Boulevard, 314-862-6100) turned twenty years old. Two decades as an indie bookshop in the ever-changing Delmar Loop is an accomplishment.
"We had plans for a big public birthday bash," longtime manager Alex Weir says. "That got shelved."
Like a lot of other small businesses, Subterranean is doing everything it can to ride out the pandemic. During months of shutdowns, Weir was one of two employees laboring behind locked doors to pack orders for online shoppers, local delivery and curbside.
One of the hooks for Subterranean has always been the pleasure of walking in for a leisurely browse through the aisles, picking the way across sections that range from architecture to the latest big novel to young adult. The small space feels like a dream treehouse or a cozy ship's cabin, the walls neatly stuffed so that an interesting title is always within reach along the main floor. A pint-sized perch atop a flight of stairs at the back of the shop is an irresistible stop, even if you need nothing up there. And Teddy, the shop dog, is on duty five days a week.
It's a great place to hang out, but the pandemic made that impossible for six months. And even after reopening to walk-in traffic in September, they've had to limit the number of people in the shop at one time.
So how have they kept going? A core group of customers knows we're better off with Subterranean in St. Louis. The shop has had a frequent buyer program since the day it opened in October 2000, and members have supported the store through thick and thin.
"This year, it's been a lot of thin, but they've just been very loyal," Weir says.
Add in plenty of hustle and a growing number of people who'd rather spend their money with a local business than Amazon, and Weir says Subterranean has a lot to be grateful for during what has been a rough stretch.
The shop is now open 11 a.m. to 5 p.m. every day for in-store shopping and 11 a.m. to 7 p.m. for curbside pickup. You can also order online (store.subbooks.com) 24 hours a day.
The personalized service hasn't changed throughout the pandemic, and you can still find their book recommendations on Subterranean's website or by calling. And some day, they'll have that birthday bash, Weir says.
"We feel just lucky to still be here," he says, "and we'll do the celebrating later."
— Doyle Murphy
Further Reading
Dunaway Books, 3111 South Grand Boulevard, 314-771-7150, www.dunawaybooks.com
Left Bank Books, 399 North Euclid Avenue, 314-367-6731, www.left-bank.com
The Book House, 7352 Manchester Road, Maplewood; 314-968-4491, www.bookhousestl.com
EyeSeeMe, 7827 Olive Boulevard, University City; 314-349-1122, www.eyeseeme.com
The Novel Neighbor, 7905 Big Bend Boulevard, Webster Groves; 314-738-9384, thenovelneighbor.com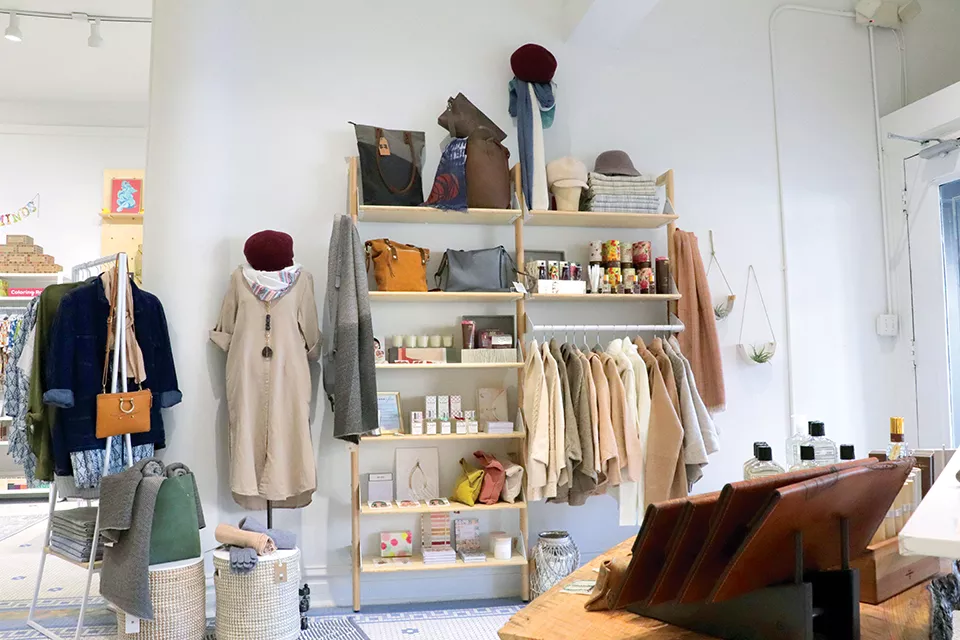 The Local Local
Amy Schafer and Mary Hennesy, owners of Urban Matter (3179 South Grand Boulevard, 314-769-9349), had just opened a second storefront two doors south of their main shop when the pandemic began ravaging small businesses across the country.
"When that opportunity became available in January, we signed a lease and started planning," Schafer says, "and then COVID happened."
For four months, both locations were closed to customers. Slipping by through what they deemed "window shopping Urban Matter-style," people ordering items over the phone or email from window displays, they worried that the pandemic would mean permanent closure.
Today, through fighting spirit and their community of support, Urban Matter is back open to the public with both storefronts — and just in time for holiday shopping, too.
Urban Matter is filled with perfect gifts for anyone on your list. The store is best known for their Instagram-worthy home décor, spunky homemade jewelry and cards so notable that Chelsea Handler posted one on her Instagram.
Their first South Grand location, a corner shop at the Connecticut Street intersection, is focused on home goods. Handcrafted furniture, bar goods, kitchen supplies, pillows, books and candles are just some of the items shoppers can find at the quirky and eclectic storefront.
Their new location (3189 South Grand Boulevard, 314-833-3223) was created with the wants of South Grand shoppers in mind: The store specializes in pet items, women's clothing, jewelry and bath and body goods.
Regardless of the type of product, one thing is assured when purchasing at Urban Matter — the money will go towards helping the local economy.
"We're not buying most of our goods out of a catalog — we're buying most of our goods from a person," says Schafer. With each product that they purchase for the store, they try to meet the makers and form a relationship. Through the success of their business, the owner says, they hope to support other local businesses along the way.
The store has a staff of ten, including the owners. Schafer says that the money they earn is also paying the salaries of other St. Louis residents.
"So, your money is sort of doing double/triple duty in staying local, because the people that we're buying from are also here in St. Louis," she says.
Many customers report that the store's small, friendly staff similarly makes the shopping experience worthwhile. It's typical for visitors to make themselves at home, sit on their couches and spend time in the store. That's the kind of community Urban Matter offers, says Schafer.
While the effects of COVID-19 certainly aren't over for small businesses, Urban Matter's employees maintain hope that people will see their mission and support them.
"We aren't as busy as before," Schafer says, "but we feel very confident we will be around on the other side."
— Riley Mack
Also Gifted
Union Studio, two locations, including 1605 Tower Grove Ave, 314-771-5398, stlunionstudio.com
Golden Gems, 3156 Cherokee Street, 314-925-8931, shopgoldengems.com
Civil Alchemy, 8154 Big Bend Boulevard, Webster Groves; 314-801-7577, civilalchemy.com
Collectors
Randy Fauth has more than six million sports cards in his store, from baseball to hockey, football and basketball. His stock comes from more than 30 years of collecting.
Fauth, owner of the Sports Card Dugout (8041 Watson Road B, Webster Groves; 314-963-9666), started collecting cards as a kid. He saw the business firsthand when he started working at the World of Baseball Cards, a local shop, in 1982. When the owner passed away in 1990, Fauth decided to start his own shop.
As a kid, Fauth collected the cards of his heroes. Those few cards turned into a few million from America's top sports.
"I was always a person that wasn't just going to buy a few packs of cards and be happy with what I got," he says. "I wanted to get one of every card."
He's picked up some rare finds over the years, such as a Joe Namath rookie NFL card that Fauth has for sale with a current price tag of $4,000. That one is an eye-catcher, but St. Louis sports fans show much more interest in baseball and hockey. Fauth says vintage baseball cards have remained his favorite part of the hobby and job. One of his most cherished is a 1934 Lou Gehrig card that a customer walked into the store with about ten years ago. Goudey, the card's brand, was the first company to sell baseball cards with a stick of gum inside. Fauth says he does not want to sell the 86-year-old card just yet.
He also carries much more affordable cards for the novice collector. The good part about collecting sports cards, Fauth says, is that you can spend at any level you want.
He has seen an increase in popularity for what he calls "junk era" cards. These were produced in the late 1980s and early 1990s, and people can buy unopened boxes of them. These types of cards give older generations a chance to introduce sports cards to younger relatives.
Fauth says second- and even third-generation customers come in the store and are introduced to the sports card hobby. Recently, the popularity has shifted from baseball to a sport that hasn't been played professionally in St. Louis since 1976: basketball.
The demand for basketball cards has been high after a wave of COVID-19 shutdowns. It's hard to say why, but Fauth thinks some of the money that would have been spent at major sporting events is being redirected to sports memorabilia. He expects basketball cards to be a hot product for as long as the pandemic lasts, especially with the holiday season around the corner. After the initial gut punch of lost traffic, the coronavirus might actually help business in the long run with those homebound sports fans.
The Sports Card Dugout is open Tuesday through Friday 12 p.m. to 8 p.m. and Saturday 10 a.m. to 5 p.m.
— Matt Woods
Collect Them All
Dogtown Sports Collectibles & Framing, 6410 Wise Avenue, dogtownsports@yahoo.com
1,000,000 Baseball Cards, 14560 Manchester Road #23, Manchester; 636-527-4424, www.onemillionbaseballcards.com
RbiCru7, 629 Salt Lick Road, Saint Peters; 636-387-0987, rbicru7.com