Page 3 of 3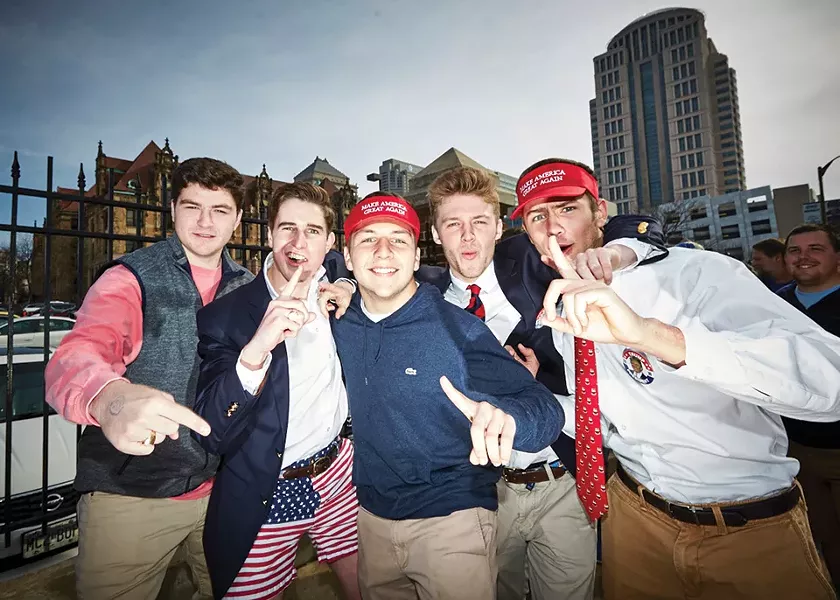 THEO WELLING
After Trump's 2016 St. Louis rally, Kendzior wrote, "American history is filled with ordinary people doing unspeakable things."
More than two years into Trump's first term, Kendzior has turned her uncommon background into an unusual career, albeit one she hopes will be temporary. ("Journalists don't fare well in authoritarian states," she quips.)
While her academic career provided only the opportunity for poverty, freelancing is little better, though it does allow her to work from home. That means she doesn't have to pay for childcare.
On the other hand, Kendzior is not on contract with MSNBC (she says she's not paid for her appearances on cable news) and her actual, income-making "career" is more of a jumble. She's been hired to speak at conferences in North America and Europe, and she currently serves as a freelance American correspondent for the Globe and Mail, a Canadian newspaper.
In 2018, with Kendzior's name on viral tweets and face on cable news, her publisher re-released her 2015 ebook The View From Flyover Country as a physical book — and despite featuring articles written years before the rise of Trump, it became an instant best seller in a country suddenly desperate to understand how things had gotten to this point. No less than Hillary Clinton praised the book in a speech after the election, calling it "especially relevant in the midst of our current health-care debate."
At first, Kendzior wasn't sure what to make of the reaction. Some fans had branded her a Cassandra, a tragic figure who'd tried to warn us of the danger posed by Trump.
"People act like I have magical psychic powers," she says. "Like, no, this is unfortunately what I've studied my whole life."
Kendzior's burgeoning fame, though, has marshaled a vocal and politically aware audience, fans who buy her book and retweet her every word, followers who message her with thanks for preparing them for the latest twists of the Trump saga.
In return, Kendzior projects intellectual clarity in a climate often dominated by ambiguity. She is not CNN or the New York Times, treating Trump's lackeys as reasonable political actors. She sees much of the media as useful idiots, and she refuses to play the fool. Last month, during an appearance on MSNBC, she accused the GOP of seeking a "one-party state." Trump, she said, "wants to be an autocrat with that state behind him." Her fans eat it up.
In a way, Kendzior still hasn't moved on from the 2016 election. Since last summer, she's co-hosted the "Gaslit Nation" podcast, which aims to re-evaluate the election with a perspective drawn from the ocean of subsequent revelations — and indictments — that continue to shape and re-shape what we know about Trump, his campaign and the degree to which Russian influence assisted him in becoming president.
The podcast, an instant hit, now has 40,000 Twitter followers. And now she's not just preaching to the choir; she's funded by it. The podcast's Patreon page counts more than 2,300 monthly contributors, each paying at least $1 to support the production of the show — and some much more than that. (The show's highest contributor level, "Muckraker" requires a $300 monthly commitment. Kendzior declined to provide the show's exact monthly income.)
She has her doubters. On Twitter, Kendzior says she's become a target of left-wing trolls for criticizing Speaker of the House Nancy Pelosi (D-California), who recently argued that impeachment would give Trump exactly the martyrdom that he desires.
Kendzior says that position is absurd. "People keep forgetting that Trump is someone who has manipulated tabloid media and then reality TV," she says. "He has a great understanding of propaganda, and he does not want these kinds of hearings to happen."
Even if the GOP-led Senate would never vote to remove Trump, she says, the process retains more than symbolic value. "Impeaching puts evidence in the public domain," she suggests. "It clarifies what has happened and it forces people to show who they are, under oath, in an environment they can't control."
It's not just impeachment. Her worldview often presents the reality of a conspiracy at work, a kind of corkboard universe crisscrossed in red thread that links Russian agents to American politics. It isn't easily digested. She's been criticized as a one-woman engine of confirmation bias, a Russiagate truther who bends every new development into her theory of America's imminent fall to full-blown authoritarianism under Trump.
In a 2017 essay for the New Republic, Colin Dickey — an academic with a PhD in comparative literature and the author of a book on haunted houses — wrote that Kendzior "relies heavily on comparisons that are technically plausible but far from definitive." Blinded by her bias, Dickey wrote, Kendzior perceives "every action taken by the Trump administration is evidence that we're in the early throes of an authoritarian takeover."
When asked about Dickey and his critique, Kendzior literally rolls her eyes.
"That guy wants to call that confirmation bias," she retorts, "I call that being a woman with a PhD and expertise."
THEO WELLING
"This is how demagogues form their movements," Kendzior says of what she witnessed at Trump's rally.
In Trump's America, image is everything. The president can fight subpoenas from Congress and turn around and insist there's no cover up. Up is down, small crowds are big, and no one is less racist or more knowledgeable than a president who embraced birtherism and doesn't like to read.
It is a world ripped from the pages of Kendzior's research, but the voice of flyover country has, as of late, published quite little. Her last published column, from January, was an op-ed about Trump's government shutdown in the Globe and Mail.
Instead, for the last five months, Kendzior has been working on the first draft of Hiding in Plain Sight. It will be her first book — not a collection of essays — and is set to be published by Flatiron Press in April 2020. (Last year, she signed a two-book deal with the publisher.)
The book is intended, she says, to "look back at how we got here."
She says, "One of the problems with why people have trouble understanding this crisis, and I don't blame them, is that this is such an incredible scandal that goes into so many different countries, so many brazen acts of crime and corruption."
Instead, she says people have chosen to tune out the alarms, believing, as much of the media did in covering Trump's election, "it couldn't really be so bad." She calls this perspective "normalcy bias," a delusion that Trump can't permanently damage America. "If it really was so bad," it whispers, "the FBI and intelligence agencies would have done something to stop it."
Mueller may have punted on indictments, but to Kendzior, the ongoing revelation of Russia's meddling in the 2016 election vindicated her arguments dozens of times over. From the indictment of Russian hackers to the trial of Paul Manafort to the confession-cum-testimony of Michael Cohen, Kendzior sees the steadily thickening outline of the treachery that produced Trump's election.
But writing a book that won't be released until months before the 2020 election poses new challenges. She's already planning revisions to a chapter on Missouri to reflect the fact that its Republican governor just signed into law one of the strictest abortion bans in the country — a prelude, perhaps, to an attempt by the Supreme Court to finally allow states to ban abortion.
"This is what I've been trying to tell people, yes, they will take it that far," Kendzior says. "If you refuse to look at it head on, people suffer as a consequence."
To believe Kendzior is to believe that she never wanted this new career, that she derives none of the conspiracist's satisfaction of drawing a new thread across the corkboard. That she is motivated by consequences, by the knowledge of how authoritarian states thrive on a slow churn to nightmare, and that in time, even the heinous can seem normal.
When Kendzior left journalism and traveled to Turkey in 2003, it was a country with a recently elected president, Recep Tayyip Erdoan, who was widely seen as a reformer who could integrate the country with the European Union. Her students in Istanbul were optimistic about their future.
Kendzior kept in touch with some of her students after leaving Turkey, but time has changed that country and its leader, who remains in power more than a decade later. She says she hasn't heard from her former pupils since 2013, when Erdogan's regime cracked down on press freedom and social media.
No one wants to believe they live in an autocracy. To see the dark coming, says Kendzior, requires a "dark imagination." But there is some optimism, even now: In 2020, Kendzior expects Trump to face an American electorate who, despite the bluster and propaganda, "sees through his false promises." This time around, she suggests that his path to victory will require even more blatant "voter suppression and foreign interference."
In a free and fair election, she predicts, "he wouldn't be elected."
But that possibility raises an even darker portent, the final test of all authoritarians. Like Erdoan in Turkey, Niyazov in Turkemenistan and Karimov in Uzbekistan, the measure of a successful demagogue isn't necessarily the number of elections they can win. It's in their power to transcend elections, to remain in power decade after decade.
And so the danger, for Kendzior, isn't that Trump will win. It's that he loses, but it won't matter anymore. "I don't think he will leave," she suggests, "unless he's facing legal consequences, like indictments."
Win or lose, if Trump remains past 2020, the future grows blurrier, darker, harder to predict even for an expert.
"I don't think there are limitations for the worst-case scenario," Kendzior says of Trump and his allies. "Think of the worst thing possible that they could do. They'll try to do it. I tell people, look out for who is the worst off, and fight for them. Let that be your moral compass."