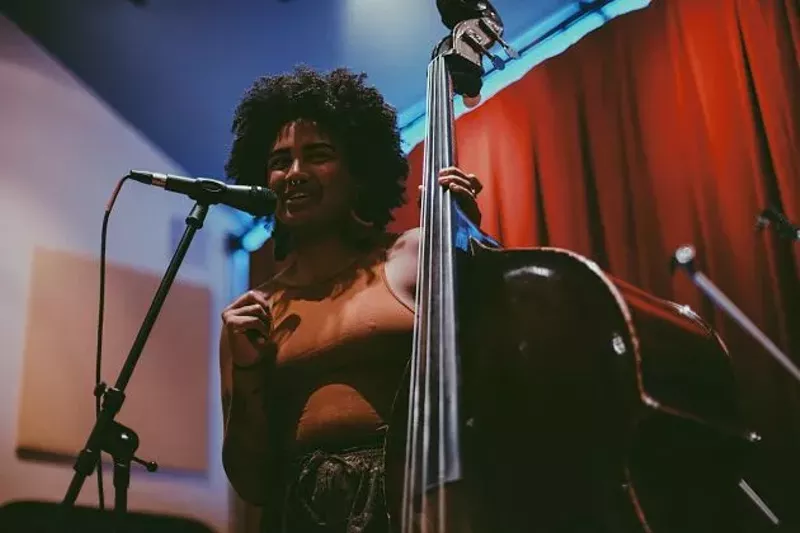 PHOTO PROVIDED BY THE ARTIST
Some people preach musical diversity and cross-genre pantheism; Tonina Saputo simply lives it.
An upright bassist by training, she gradually shied away from classical music and gravitated to jazz studies, which took her to the storied Berklee College of Music in Boston (she graduated last year). She made her first album, a basement hip-hop joint, with St. Louis-born/L.A.-based producer Dylan Brady, and she's currently working on a largely folk-inspired album with former Pokey LaFarge trumpet player Luc Klein.
Oh, and in April she will release a Spanish-language album on Grammy-winning songwriter and producer Javier Límon's label and embark on an upcoming tour of Italy and Spain.
To understand Saputo's many musical personalities, it helps to get a snapshot of her family tree. Her father played bass and drums in the Marine jazz band. Her older sister is a classically trained violinist. Her uncle, Tony Saputo, played drums for Reba McEntire before he and two other members of the touring band died in a plane crash. Another uncle, Mike Saputo, still plays in a local bluegrass band and encouraged her to pick up a guitar at age six.
But even those diverse branches go only part of the way to explaining Saputo's reach and range. Depending on what night you catch Saputo play — and depending on the venue she is playing in — you'll see at least two sides of the same young artist. When she plays jazz gigs at places like the Dark Room, she's leading her quartet on upright bass, pushing and pulling her instrument like a dance partner. In solo shows, she favors a hollow-body electric guitar, which she cradles against herself as she plays spare but harmonically rich patterns. At any gig, her voice will be the magnet that draws you in — no matter the language or the style, Saputo has internalized soul's emotion and jazz's phrasing.
When reached by phone, Saputo is recounting a previous weekend's gig; she played as part of a hodge-podge of up-and-coming acts at Off Broadway alongside LéPonds, Looprat and Monhk & the People. She was worried that such a diverse bill would alienate the crowd, but was pleasantly surprised to find an audience that took the time to listen to all four acts. As a solo performer, Saputo doesn't always have that luxury.
"My setup that night was me, my electric bass and my guitar — I'm primarily an upright bassist, it's what I'm most comfortable on," she says. "I've been playing it the longest. I've been playing guitar for a minute now — I've been super nervous about showcasing it because I know there are a lot of better guitarists than me."
She had picked at the guitar from a young age, but found herself drawn back to the instrument during her time at Berklee.
"I learned those chord shapes, but being in music school my guitarist friends would teach me here and there," she says. "I feel I need to learn a chordal instrument — you put me in front of a piano and it's tragic," Saputo says, laughing. "I feel like guitar is more linear on the strings; it's something I can relate to.
"I think my songs are better suited on guitar," Saputo continues. "My writing is geared around folk — I think I'm a folk musician, yet I have this R&B voice." When asked about the limitations of supporting herself on bass, an instrument she knows intimately, Saputo claims that the song "just comes out different. When I play them on bass, it has a different spin, but it's not what I intended."
Her upcoming Spanish-language album came through a study-abroad program in Valencia, Spain; Límon was serving as a visiting instructor and, impressed with Saputo's contributions to the program, offered her a recording deal. While she is excited about that album and European tour, in conversation she seemingly brushes it off, even more excited about her solo material and its relationship to her hometown.
"I'm trying to stay true to my market," Saputo says. "I want to start here and play my songs here.
"My personal album is so important to me — it's fully me. No one is telling me how to write and how to sing.
"I just really care about my city, and how that relates to me and my music," she adds.
For her solo album, which is being recorded at Cherokee Street's Native Sound Studio with a host of local players, Saputo gives a hint of the different textures she is working with.
"I think you're gonna hear some intimate lyrics — it's not gonna be drowned out by anything," she says. "I think you'll hear some more folk, delicate, pick-y guitar, and some you'll hear a more R&B band. I really want to showcase all aspects of my artistry. I love being that basic girl with a guitar sometimes — I love that '70s Joan Baez ish. But I also love Hiatus Kaiyote and Vulfpeck, those modern-day funk groups."
That flexibility across genres makes Saputo hard to pinpoint, but as she stands on the cusp of a multi-pronged musical career, she has begun looking at her mutability as a virtue.
"I am finally accepting myself as a musician and coming to the realization that I don't have to categorize myself," she says.