Page 3 of 3
PHOTO BY ERIC FRAZIER
Tucker's Place: readers' choice for best steak.
STEAKHOUSE
Tucker's Place
Multiple locations including 2117 South 12th Street, 314-772-5977
Here's the thing with steakhouses. Sometimes their fanciness outweighs the tastiness of the food. For Tucker's Place, it's the opposite — and that's a very good thing. Whether it's your first time at one of the three locations, or you're a regular, it's easy to settle in and feel right at home. But don't be fooled by the comfortably casual ambiance. Tucker's serves up steaks and other meaty entrées (think pork chops, chicken and fish) that are outstanding, memorable and affordable, with perfectly baked potatoes on the side. Lunches here are no joke, either. The midday sandwich special includes your choice of side and a drink — we're talking soda, beer, wine or a well drink (don't mind if we do, thank you very much!). And for you non-steak lovers out there, you've got a friend in the steak business. Tucker's thin-crust pizza also hits the spot.
MEXICAN
Mi Ranchito
887 Kingsland Avenue, University City; 314-863-1880
Cherokee Street isn't the only spot in St. Louis to find delicious Mexican eats. Readers love the soul-satisfying south-of-the-border-style dishes served up at University City's festive Mi Ranchito, too. Maybe you start off your meal with some queso fundido, complete with chorizo and chips — a little bit rich, a smidgen spicy and a lot melty — yum! It's the perfect tastebud teaser for the chori pollo, a chicken and chorizo entrée offering a bit of heat and plenty of flavor, with fresh guacamole and tortillas on the side. For a less heavy nosh, consider trying the shrimp cocktail, with plump shrimp, pico de gallo, avocado and hot sauce — cool but spicy, light but filling. Wash whatever you choose down with a Mexican beer, and sweeten things up before you go with cinnamon-sugary churros and ice cream.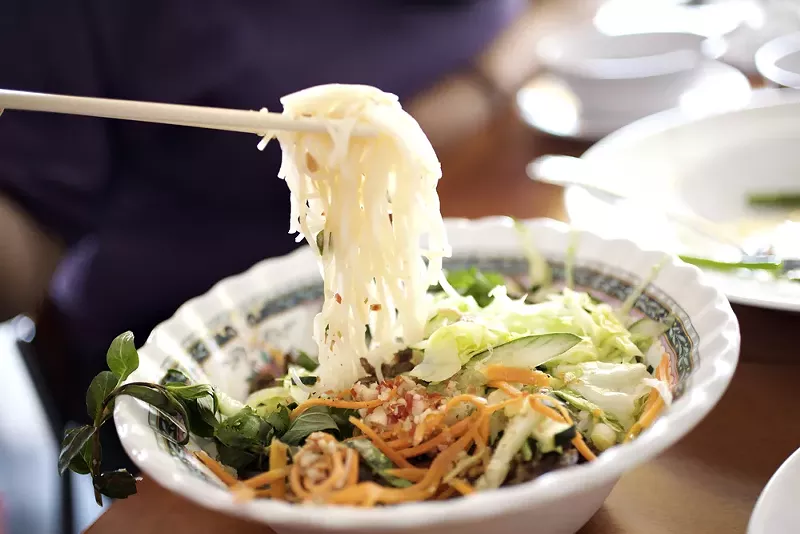 PHOTO BY JENNIFER SILVERBERG
Mai Lee: readers' choice for best Vietnamese.
VIETNAMESE
Mai Lee
8396 Musick Memorial Drive, Brentwood; 314-645-2835
Mai Lee is consistently readers' favorite Vietnamese joint in St. Louis, and why shouldn't it be? For a little investment, diners are rewarded exponentially, no matter what they order. The menu breaks things down in an easy-to-understand way, with several photos included to guide the way. There are multiple soup sections and appetizers, rice plates and noodle bowls, sandwiches and salads, plus beef, chicken, pork, seafood and vegetarian entrées. House specialties range from pad Thai to frog legs, and there's even a whole Chinese food menu as well. When deciding on your meal, keep the following in mind: The brightly favored pho will warm you from the inside out, the banh xeo appetizer — crispy crêpes with shrimp and pork— is definitely worth a try, you can never go wrong with a noodle bowl, or bun, and if you're feeling brave, you can try rolling your own spring rolls.
GOOEY BUTTER CAKE
Park Avenue Coffee
Multiple locations including 1919 Park Avenue, 314-621-4020
If you're seeking out St. Louis' beloved gooey butter cake, readers say there's no better spot to visit than this cute coffee shop, which has expanded from its Lafayette Square digs to include locations downtown, on the Hill and in the Cortex Innovation District. Sure to cause a sugar crash an hour later, gooey butter cake is as decadently rich as it sounds. Park Avenue Coffee's version has a dense, cake-like crust topped with a mixture of cream cheese, powdered sugar and naturally, butter. While the original gooey butter cake is the St. Louis classic, Park Avenue makes many flavors including banana split, blackberry, butter pecan, banana chocolate chip, amaretto and apple cinnamon. They're the perfect companion to Park Avenue's coffee, made by air-roasting beans in small batches.
PHOTO BY TED DREWES
Ted Drewes: readers' choice for best ice cream.
ICE CREAM
Ted Drewes Frozen Custard
6726 Chippewa Street, 314-481-2652 and 4224 South Grand Boulevard, 314-352-7376
When you think of heading to Route 66's iconic frozen custard stand (or its smaller outpost deep in south city), you're likely longing for a dessert after a summer's supper of pork steaks and corn on the cob. But what if we all flipped that idea, and had Ted Drewes Frozen Custard for dinner instead? Things certainly would be a lot sweeter. And if we chose a custardy creation like, say, the "All Shook Up" concrete, with peanut butter cups and fresh bananas, we would at least be covering a couple of food groups, in addition to satisfying our sweet tooth. A classic win-win. A tip for Ted Drewes' neophytes: Do yourselves a favor and check out the menu online before getting in line, so you aren't overwhelmed with options. Still, no one will mind if you try to make a game-time decision — even with those lines, the people who are about to consume St. Louis' best sweet treats are a pretty jovial crew.
FAVORITE DRINKS
BAR/PUB BURGER
Blueberry Hill
6504 Delmar Boulevard, University City; 314-727-4444
A one-of-a-kind St. Louis destination, Blueberry Hill features a dart room, walls brimming with vintage paraphernalia, and a concert venue (the Duck Room) in the basement where the late, great Chuck Berry played monthly for many years. Several dining and bar areas mean plenty of room to grab a meal before the show, while outdoor tables provide plenty of people-watching opportunities. There's something for everyone on the huge menu, including St. Louis classics like toasted ravioli and gooey butter cake. The burger — which readers chose as the city's best — has been a local favorite since 1974, with seven ounces of 100 percent ground chuck on a fresh sesame seed bun. Add the cheese of your choice (yes, Provel is an option) for $1, or a host of other toppings for just a bit more. And while the Blueberry Hill experience has changed little in 40 years, this is a kitchen that knows how to keep up with the times: A gluten-free bun is an option.
COURTESY OF THE SHACK
The Shack: readers' choice for best margarita.
BLOODY MARY
The Shack
Multiple locations including 731 South Lindbergh Boulevard, Frontenac; 314-736-9500
The blood mary at the Shack only sounds like a drink. It's really more like a meal with a liquid base. This west county hotspot offers two options: a "Veggie Mary" with cucumber vodka, olive, asparagus and carrot; and a "Meaty Mary" with cucumber vodka, bacon, cheese cube and a beef jerky straw. The Shack serves breakfast, lunch and brunch with lots of creativity, and in turn lets its patrons use their creativity, offering colorful permanent markers for use in decorating the reclaimed wood walls. The brunch drinks don't stop with bloody marys – at the Shack, you can get alcoholic cereal shakes, like the "Captain Crunch" with rumchata, Captain Morgan, yogurt and crushed Captain Crunch, or the "I Do What I Want" with Coco Puffs, yogurt, Bailey's and Frangelico. Drink up.
HAPPY HOUR
SUSHI
Drunken Fish
Multiple locations including 1 Maryland Plaza, 314-367-4222
The Drunken Fish is known for its creative drinks, which you can get in a glass or, if you're feeling especially thirsty, a 53-ounce fish bowl. The restaurant's win for favorite happy hour surely has something to do with the fact that it offers not one, but several happy hours: Monday through Friday, 11 a.m. to noon and 4 to 6 p.m., and Thursday through Saturday 10 p.m. til close. During those times, select beers are $4, martinis/cocktails are $6, and some wines and sakes are only $5, plus appetizers are $6 and rolls are $11. But happy hour isn't the only thing on offer here: Readers also voted Drunken Fish favorite sushi, thanks to a menu that includes dozens of sushi rolls, plus soups, salads, sashimi and nigiri, in addition to entrees like stir fries, sesame tuna steak and shrimp tempura. Locations in Ballpark Village, Westport Plaza and on one of the busiest corners in the Central West End mean you can always see and be seen while expertly deploying your chopsticks here.
MARGARITA
Mission Taco Joint
Multiple locations including 6235 Delmar Boulevard, 314-932-5430
The margarita just might be the supreme year-round drink. Hear us out. Sure, most people think about kicking back with a marg, or three, in the summer or while on a beachy vacay, but indulging in a citrusy tequila cocktail in the wintertime brings that tropical feeling to the fore and encourages it to wash right over you, right here at home. Our readers' favorite margarita spot, Mission Taco Joint, knows this. This growing local chain revels in that lively, laid-back, Mexican vacation vibe, offering up all sorts of innovative street tacos that please meat lovers and vegetarians alike — and, just as importantly, lay a sturdy foundation in our bellies for our liquid holidays. The top-shelf Maestro Margarita is where it's at here, with fresh-squeezed juice and Maestro Dobel tequila, a special blend made especially for the taco joint. You won't even remember what store-bought margarita mix and rail tequila taste like after trying these — and we guarantee you can't stop after just one.