This year, we've chosen the 40 restaurants we love -- and even more places we adore. But it's not all about us. We've also turned over to the selection to our readers in 40 categories. Here are the places you've chosen.
FAVORITE BREAKFAST
FAVORITE COFFEE
Kaldi's
Multiple locations including 700 De mun Avenue, 314-727-9955
Kaldi's flagship is located just across from the Concordia Seminary Park in De Mun, arguably the most adorable neighborhood in Clayton. The 23-year-old cafe is busy nearly all times of day, with small tables and cozy corners for reading inside, as well as several patio tables outside. Kaldi's serves a small menu of baked goods and vegetarian items like quiche, salads and breakfast burritos, and of course the main attraction: coffee. The homegrown company specializes in sustainably sourcing and roasting the finest coffees from around the world. A rotating selection of drip coffee is supplemented by seasonal lattes. Kaldi's has six other locations in the St. Louis area, plus outposts in Columbia and Kansas City, and has even expanded south with three locations in Atlanta — giving the rest of the country a chance to sip St. Louis' favorite cup.
PASTRIES/DONUTS
Vincent Van Doughnut
1072 Tower Grove Avenue and 40 North Central Avenue, Clayton; 314-899-9500
Yes, the original "Square Beyond Compare" is a cracker-thin crust topped with Provel and tomato sauce, but we can't help but think the slogan could apply equally well to another St. Louis-based delicacy — Vincent Van Doughnut. The donuts at this local favorite are soft, square and at least twice as big as any others in town, which is fortunate, since it's simply impossible to stop eating them once you've had a bite. Originally a food truck, Vincent Van Doughnut put down roots in Clayton in 2015 and opened a second outpost in the city's Grove neighborhood in February, offering not only its signature doughnuts but also breakfast kolaches, doughnut ice cream sandwiches and affogato. Owner Vincent Brian Marsden says the next step will be obtaining a liquor license, in order to add a line of boozy shakes. As if the shop wasn't already deliriously tempting!
BRUNCH
Eclipse
6177 Delmar Boulevard, 314-726-2222
The Moonrise Hotel isn't just a great spot to drink under the stars, although its rooftop bar will always be one of our favorite places to do just that. You can also greet the morning with its brunch offerings — whether you're rising at 6:30 a.m. and starting your day with a spinach salad or rolling out of bed at 11 a.m. to take down a plate of steak and eggs and a bloody mary. On the weekends, Eclipse serves its brunch menu all the way til 4 p.m., so it's impossible to sleep through this one. And hey, guess what? The rooftop opens again at 5 p.m. So fuel up on a "Brunch Burger" — eight ounces of meat, cheddar, a fried egg and "Comeback sauce" — and get ready to start the party all over again.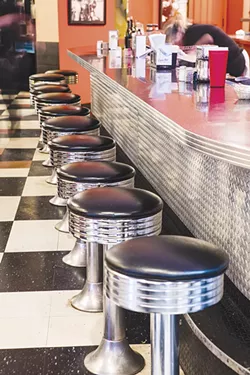 PHOTO BY ERIC FRAZIER
City Diner: readers' choice for best diner.
DINER
City Diner
3139 South Grand Boulevard, 314-772-6100
In the heart of South Grand's international district, City Diner stands as a celebration of nostalgic American dining. Opened in 1992 by Peter Spoto as an inclusive place with "something for everyone," the restaurant has built a reputation as the go-to breakfast spot for south city residents in search of classic American fare. Pancakes, slingers and hash browns abound, but it's the creative touches that make City Diner stand out from the other old-timey diners that populate St. Louis' dining landscape. Omelets aren't merely "Denver" or ham and Swiss; why not try one filled with meatloaf, mashed potatoes and milk gravy? And why settle for any old bacon and sausage when you can head to City Diner and pair your eggs with a pork chop or spicy salsiccia? And City Diner doesn't just have you covered for breakfast. This readers' favorite follows in the footsteps of classic New Jersey diners with blue plate lunch and dinners that are every bit as tasty as the breakfast fare. Or you could just order them both at the same time — say, mozzarella sticks with a side of pancakes at 3 a.m. on a Saturday. Does it get any better than that?
BARBECUE
Sugarfire Smokehouse
Multiple locations including 9200 Olive Boulevard No. 114, Olivette; 314-997-2301
Sugarfire Smokehouse is relatively new on the St. Louis barbecue scene, but it has quickly made its presence known with six locations throughout the area, and counting. Known for its outrageous how-do-you-eat-that specials, Sugarfire offers a wide menu of smoked meats, sandwiches, sides and desserts, including options for vegetarians. The chefs make most of the condiments in house and work with local ingredients whenever possible. The genius behind the growing Sugarfire empire, Mike Johnson, worked in restaurants from New Orleans to Chicago to France before making his way to St. Louis. He's always coming up with new barbecue concoctions that aren't to be missed. Where else can you find brisket rangoon or a brisket and gravy sandwich with cheese curds? Starters, too, excel, with options including smoked fried artichokes and pork belly hush puppies. No wonder readers say it's No. 1.
MAC & CHEESE
Salt + Smoke
6525 Delmar Boulevard, University City; 314-727-0200
Salt + Smoke is a bit more elevated than your average barbecue joint — you won't find disposable plates here, and there's a server to assist you rather than a long line snaking out the door. The Loop location is elegantly rustic, with a menu that features both the classics (brisket, pulled pork) and inventive surprises, like a falafel burger or the fried jalapeño and cheddar bologna. While you can't go wrong with just about anything on the menu, the "white cheddar cracker mac" is both the signature side and readers' favorite in the whole damn city, for good reason. Made with white cheddar cheese and sprinkled with oyster crackers that provide a nice crunch amidst all that gooey, cheesy deliciousness, this addictive version of macaroni and cheese bears little resemblance to the orange stuff in a box that you grew up with — and you'll be very glad that's the case. Wash it down with bourbon and feel pure bliss.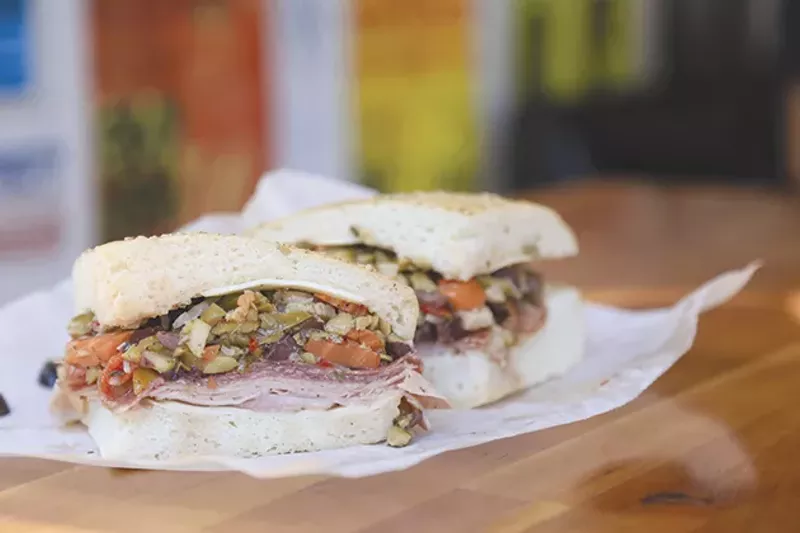 PHOTO BY MADELINE AZAR
Blues City Deli: readers' choice for best deli and best sandwiches.
DELI/SANDWICH
Blues City Deli
2438 McNair Avenue, 314-773-8225
For residents of Benton Park, Blues City Deli is a corner sandwich shop — the sort of place you walk to with your dog, run into friends and where the owner knows your order by heart. For the rest of St. Louis — well, it sort of feels that way too. Owner Vince Valenza and family have somehow managed to make Blues City Deli the neighborhood sandwich shop for all of St. Louis. Part of this is the sandwiches themselves: the best muffulettas and po' boys this side of NOLA, a glorious homemade meatball sandwich, Italian beef topped with piquant giardiniera and everything in between. No one disputes that Blues City Deli is serving the best thing between bread in town. But a lot of the deli's appeal has to do with its atmosphere. It's welcoming, friendly, efficient, and it always seems like there's a party going on. This is especially true on Thursdays and Saturdays when live blues music fills the space and turns this corner of McNair and Victor Street into a street party. This place is the total package. No wonder readers voted it to the top of two key categories.
PHOTO BY JENNIFER SILVERBERG
Pi Pizzeria: readers' choice for best pizza.
PIZZA
Pi Pizzeria
Multiple locations including 400 North Euclid Avenue, 314-367-4300
We've forgotten most of what we learned in math class — but we have no problem remembering how delicious a circle can be. Mathematically named Pi Pizzeria proves this to the nth degree over and over and over again. Whether you're going thin-crust for a decidedly non-St. Louis-style pizza pie (or pi, as it were) or tucking into a delightfully deep-dish cornmeal-crust extravaganza, you'll be filling up on incredibly fresh toppings that pack flavor into every bite. Maybe the all-veg Lincoln Park is your scene, with thin crust, zucchini, tomato, feta, basil, garlic olive oil and mozzarella. Or perhaps you're a bit of a traditionalist and go for the South Side Classico, a deep-dish pie with Berkshire sausage, mushrooms, green pepper, onions and mozzarella, all topped with a chunky tomato sauce. No matter your selection, no matter your dining location, Pi will leave you plenty full, very happy and better at math (no guarantees on that last one).
FRIED CHICKEN
Hodak's
2100 Gravois Avenue, 314-776-7292
Thirty years ago, people were lining up to get a taste of Hodak's crispy fried chicken. Five years ago, every hip restaurant in town was clamoring to serve fancy fried chicken as the trend du jour — and Hodak's still had a line. These days, that fad has come and gone and, you guessed it: There's still a line out the door at Hodak's. Since 1962, when the former owner's wife made chicken to feed hungry patrons at their little tavern, people have been flocking to this no-frills restaurant on the south side for its deep fried bird, makings Hodak's as much a St. Louis food icon as toasted ravioli and Ted Drewes. And what's not to love? For less than nine bucks, you get slaw, half a fried chicken, and fries served piping hot out of the deep fryer (like a place this busy has time to let the food sit around!). It's nothing fancy: Just succulent meat, crispy skin and a lighter-than-most batter that's seasoned with just a little salt and pepper, but what it lacks in culinary innovation it more than makes up for in staying power.
PHOTO BY ERIC FRAZIER
Anthonino's: readers' choice for best toasted ravioli.
TOASTED RAVIOLI
Anthonino's Taverna
2225 Macklind Avenue, 314-773-4455
Many restaurants claim to be the originator of St. Louis' iconic toasted ravioli. Perhaps they argue for those bragging rights because one place in town has already shored up the title of "best." The beloved Italian-Greek tavern Anthonino's on the Hill has perfected the art of the city's legendary finger food. Here, the chefs make the ravioli fresh in-house, beginning with an egg and semolina shell that is filled with ground beef, spices and pecorino cheese. The secret, however, is the addition of ricotta into the mixture, giving the filling a rich, creamy texture. These golden beauties are deep-fried so that the outside gets crispy and the interior cheese gets molten and gooey. Fresh grated cheese is sprinkled over the top when they're hot, forming a second coating, and tangy marinara sauce adds a zesty flavor that cuts through the richness. Who cares who did it first when you can eat the very best?
SOUP
Pickles Deli
701 Olive Street, 314-241-2255 and 22 North Euclid, 314-361-3354
At a place known for such fantastic sandwiches as Pickles Deli, you'd expect soup to be an afterthought — an offering on the menu in case someone wants a heartier side than chips to go with their reuben, but not the star of the show. However, Pickles is also quietly serving up an ever-changing array of unique, from-scratch options that would make you think you've wandered into a place dedicated to soup, not sandwiches. This is not your standard chicken noodle sort of place (though when it's on the menu, it's outstanding). Pickles serves everything from curried lentil to white bean with chicken sausage to cheesy smoked poblano. And who would've thought that the best lobster bisque in St. Louis might be served out of a to-go container from a sandwich shop? You may go into Pickles for a ham and Swiss on rye, but there's no way you'll be able to resist a side of its outstanding soup. Heck, maybe you'll even skip the sandwich.
APPETIZER SELECTION
Retreat Gastropub (tie)
6 North Sarah Street, 314-261-4497
Blueberry Hill (tie)
6504 Delmar Boulevard, University City; 314-727-4444
Retreat Gastropub, the stylishly rustic spot on the edge of the Central West End, offers a wide range of small plates, perfect either for starting your meal or for fueling up while you're having a drink at the bar — from killer french fries to savory pork toasts to cedar-smoked trout. Readers rave about the experience at Retreat, from the modern cocktails to expert service, but if you can't manage to score a table (an all too common occurrence at this popular spot), readers also love the more traditional bar eats on offer at Blueberry Hill. Nosh on pretzel sticks with nacho cheese, fried pickles with a side of ranch, or cheddar cheese balls, fried and served with a side of salsa, and remember why this oldie is always a goodie. Whether you like your appetizers with a side of rock & roll nostalgia or as a prelude to one of the city's hottest-ticket dining experiences, one of these spots will always have you covered.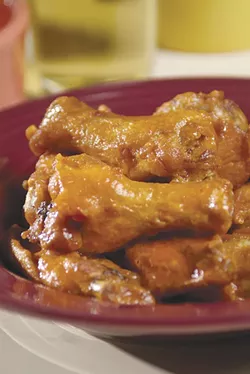 COURTESY OF CULPEPPER'S
Culpepper's: readers' choice, once again, for best wings.
WINGS
Culpepper's
300 North Euclid Avenue, 314-361-2828 and 3010 West Clay, St. Charles; 636-916-3102
The wings at this popular restaurant are a perennial winner on our readers' choice list, and it's easy to see why. Crispy on the outside, incredibly moist on the inside, they're so delicious that it's impossible to stop gobbling them up once you've tried one. No wonder Culpepper's sells them in batches as big as 50! Try the original hot, gold, chipotle BBQ, sweet and spicy, or honey mustard sauce — and, to really mix things up, pair any of the above options with a boneless version. Either way, you can dip them in your choice of ranch or bleu cheese. Readers will happily attest to the fact that you'll leave sated.
PHOTO BY JON GITCHOFF
Broadway Oyster Bar: readers' choice for best restaurant, best seafood and best Cajun/Creole.
FAVORITE RESTAURANT
SEAFOOD CAJUN/CREOLE
Broadway Oyster Bar
736 South Broadway, 314-621-8811
How beloved is Broadway Oyster Bar? Not only did it make our critic's list of "40 Restaurants We Love," but readers also voted it to the top of no less than three categories, including the big kahuna: best seafood, best Cajun/Creole and best restaurant. Phew! Here, you'll find marvelously quirky decor and live music seven nights a week. Broadway Oyster Bar first opened its doors more than 35 years ago, and recently underwent a renovation — it now boasts two patios that can be heated and covered in cold or rainy weather, all the better to handle the revelers and diners who regularly pack the place. It's a must-visit whether you're hungry for a taste of New Orleans or simply eager to let the good times roll. The seafood-heavy menu features Cajun and Creole dishes, including crab cakes, peel-and-eat shrimp, fried alligator, po' boys, fried crawfish tails, jambalaya, red beans and rice, gumbo, and of course, oysters — fried, grilled and freshly shucked. Dining here isn't just a meal, it's an experience.
NEW RESTAURANT
Vista Ramen
2609 Cherokee Street, 314-797-8250
Unlike most chefs who've come to the ramen trend, Chris Bork didn't obsess over Japanese tradition. Sure, Bork studied the craft of ramen and familiarized himself with the original ways of doing things, but instead of trying to mimic, he took that knowledge as a jumping-off point for doing his own thing. It's why you'll see everything from the traditional-leaning Vista bowl to the Latin-inspired pozole — each one a celebration of the art of ramen. However, Bork's biggest departure from traditional ramen at Vista is the fact that the magnificent Cherokee Street restaurant he cooks for isn't a ramen shop at all. As good as the food in the bowls at Vista is, it's what Bork serves as small plates that's the most exciting part of dining here. Dishes lean Asian, but there are nods to everything from classical French to Mexican to the Mediterranean as well, sometimes on the same plate. His ability to combine flavors — 'nduja and orange marmalade; crab caramel; green curry and watermelon — results in tastes that are as intellectually stimulating as they are flavorful. Though he's at a restaurant where he could have been pigeonholed, Bork instead shows his full range as a chef. It's what makes Vista one of the most thrilling places to open in the last several years.
COURTESY OF KEMOLL'S
Kemoll's: readers' choice for most romantic.
ROMANTIC RESTAURANT
Kemoll's
211 N. Broadway, 314-421-0555
For native St. Louisans, our relationship with the Arch is a lot like a marriage. Sure, there was a time when you looked at it lovingly, eager for a chance to get up close and personal. But over time, the novelty fades and you find yourself looking past it, confident in the knowledge that it's always going to be there. Then something shifts, and you suddenly find yourself looking at your love with fresh eyes. Maybe it's the elevator ride that takes you to Kemoll's dining room on the 40th floor of the Metropolitan Square Building that makes its grandeur smack you across the face. Maybe it's a porcelain dish of saffron and lobster risotto, or a platter of delectable fried artichoke hearts. Maybe it's the way the lights of downtown shine through the floor-to ceiling windows and dance across the polished glassware and elegant china. Whatever the reason, there's no chance you'll leave dinner at Kemoll's without falling in love with the icon of St. Louis' skyline — and in the process, with whomever is lucky enough to be dining with you, too.
CHINESE
Wonton King
8116 Olive Boulevard, University City; 314-567-9997
If you walk into a Chinese restaurant and hear Cantonese coming from a bunch of regulars, you know you've struck gold as far as the food is concerned. This is the scene at University City's Wonton King, as diners flock to the restaurant for its authentic Hong Kong-style cuisine. But even if this is your first time dining here, don't be shy. William Huynh and his wife Ling make sure that, whether you've been here twenty times or twice, you are welcomed like an honored guest in their home. Together, they ooze a hospitality that is typically associated with white-tablecloth restaurants — and they serve food that is deserving of such accolades as well. Huynh is a master of flavor, approaching his cuisine like a scientist. The results show in multi-layered dishes that reveal something new in each bite. Dim sum is a "must" here; what it lacks in breadth it makes up for in quality. And no one's Peking duck is better than Wonton King's — the bird is so large and plump, it will make you shake your head at anything else being passed off as such. The place is packed, and you'll often have to wait for a table during dim sum hours, but once you taste Huynh's delicious food, you'll understand why.
MIDDLE EASTERN
Ranoush
6501 Delmar Boulevard, University City; 314-726-6874
Forget the spare tables, bare walls and refrigerated display cases at many Middle Eastern spots around town. Our readers' choice for favorite Middle Eastern restaurant, Ranoush, isn't just a feast for the mouth, but also the eyes. Striking murals adorn the walls, ornate hookahs and tapestries lend an exotic air, and large windows face the street parade on Delmar — making it that rare spot where the view is as good as the food. And the food is quite good. Opened by Syrian immigrants in 2009, Ranoush has outlasted many Loop competitors by providing top-quality meze, or appetizers, and expertly grilled meats. The RFT's critic called the lamb shish kebab "a carnivore's dream," and that remains just as true today as eight years ago.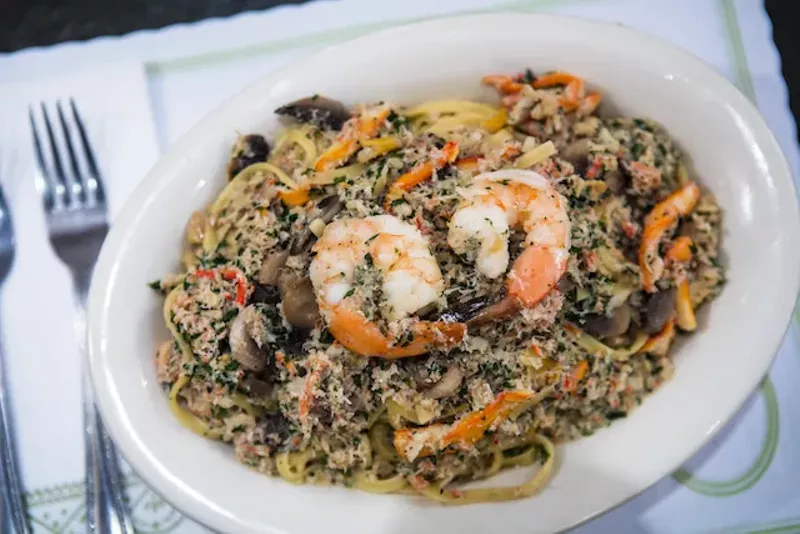 PHOTO BY ERIC FRAZIER
Cunetto House of Pasta: readers' choice for best Italian.
ITALIAN
Cunetto House of Pasta
5453 Magnolia Avenue, 314-781-1135
Visiting Cunetto House of Pasta on the Hill is a bit like stepping back in time; it hasn't changed much since opening in 1972. But there's comfort in knowing what to expect: a big St. Louis-style Italian salad, enormous portions of pasta swimming in flavorful sauces and hearty Italian entrees. Cunetto's traditional comfort foods are served in a traditional dining room — no Edison bulbs in faux-industrial chandeliers here. But you'll need to arrive early or be prepared to wait in the bar area where patrons are always packed like sardines. Despite — or maybe because of? — the lack of what's supposedly "hip" and "modern," people line up around the block for Cunetto's down-home Italian cuisine.
IRISH/ENGLISH/SCOTTISH
Scottish Arms
8 South Sarah Street, 314-535-0551
When you walk through the door of the Scottish Arms, you get the feeling you've left the Central West End behind and are entering, Narnia-style, a pub in the British Isles. Its interior features an ornate pressed tin ceiling and lots of dark wood, with a bar offering beers on tap from numerous Scottish, British and St. Louis breweries. The menu changes seasonally and features dishes made with ingredients from sustainable local farms, many that you can't find elsewhere in town, like Scotch eggs, haggis fritters, shepherd's pie, bangers and mash, and Cornish pasty. You can sample Scottish fare at brunch, too, with dishes like the "Highland Hangover" (Scotch egg, forfar bridies, smoked salmon and home fries). Of course, it wouldn't be a true pub without a cocktail and spirits menu, and the one here includes an enormous selection of whisky. It's no wonder that readers named it their favorite in St. Louis even in a crowded category.
INDIAN
Haveli
9720 Page Avenue, Overland; 314-423-7300
Years ago, the space now occupied by Haveli Indian Restaurant used to be a Shoney's. In fact, if you look at the floor in the center of the dining room, you can still see the outline of the old salad bar. These days, there is still an all-you-can-eat buffet, but rather than iceberg and ranch dressing, it's filled with some of the best Indian food you can get this side of Kolkata. Haveli hews to the standard Indian restaurant playbook with tandoori chicken and lamb, various curries and vindaloos, and vegan and vegetarian dishes, including channa masala and saag paneer. However, there is nothing ordinary about Haveli's flavors. Its chefs have the ability to play with aromatic spices that only comes with a mastery of Indian cooking. Dishes like vindaloo, so often filled with one-dimensional spice, are here a symphony of flavor thanks to their well-trained hands. As exciting as the food is at Haveli, readers also love the pleasant customer service, with servers who greet you as if you are a guest in their home. It's a breath of fresh air that fills this former chain burger joint.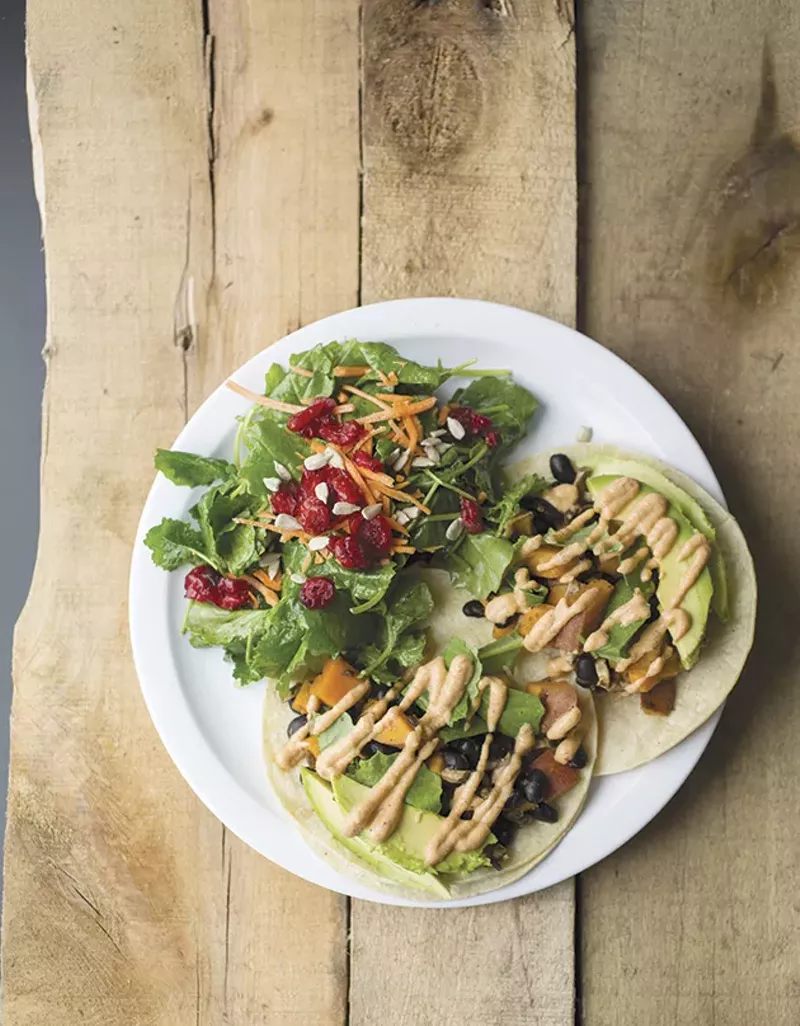 PHOTO BY JENNIFER SILVERBERG
LuLu's: readers' choice for best vegetarian.
VEGETARIAN
Lulu's Local Eatery
3201 South Grand Avenue, 314-300-8215
Lulu's Local Eatery is many a St. Louis vegetarian's happy place. Much of their menu is vegan, and all of it is both vegetarian and delicious. Lulu's started as a food truck and expanded to a brick-and-mortar on South Grand in 2014. Owners Robert Tucker and Lauren Loomis work with local farmers to provide the highest quality, freshest ingredients to their customers. They're thoughtful of customers' dietary needs; soy-free and gluten-free items are noted on their menu. Inventive offerings include buffalo cauliflower bites, sweet potato falafel and bánh mì tacos. Wash it all down with a local craft beer under the string lights on the charming patio and see why readers named it their favorite vegetarian spot in the city.
THAI
King and I
3155 South Grand Avenue, 314-771-1777
Many think of King and I as St. Louis' essential Thai restaurant: It's been serving up flavorful dishes since 1980 and claims to be the city's first Thai restaurant. Located on South Grand, it features several dining rooms (both of which got a striking remodel in recent years) and a small carry-out area. The large menu showcases the cuisine of central Thailand, from curry to stir-fry to the requisite pad Thai. Signature dishes include Thai fajitas, the chef's special red curry duck and the four kings of Thailand: shrimp, beef, chicken and pork stir-fried in a medley of red bell peppers, onions and carrots, and glazed with a roasted chili sauce.
OUTDOOR DINING
John D. McGurk's
1200 Russell Boulevard, 314-776-8309
John D. McGurk's Irish Pub is popular for its Irish beers and music, and perhaps most of all for its sprawling patio. With two bars, wrought-iron tables, a charming fountain and even a small waterfall, the rustic brick-lined spot invites year-round drinking (to make that possible in this four-seasoned city, some areas are covered and heated when the weather calls for it). It's the perfect backdrop to enjoy the fine beer of Ireland, Guinness, and St. Louis classics like toasted ravioli — or fish and chips, if you prefer. Come join the party.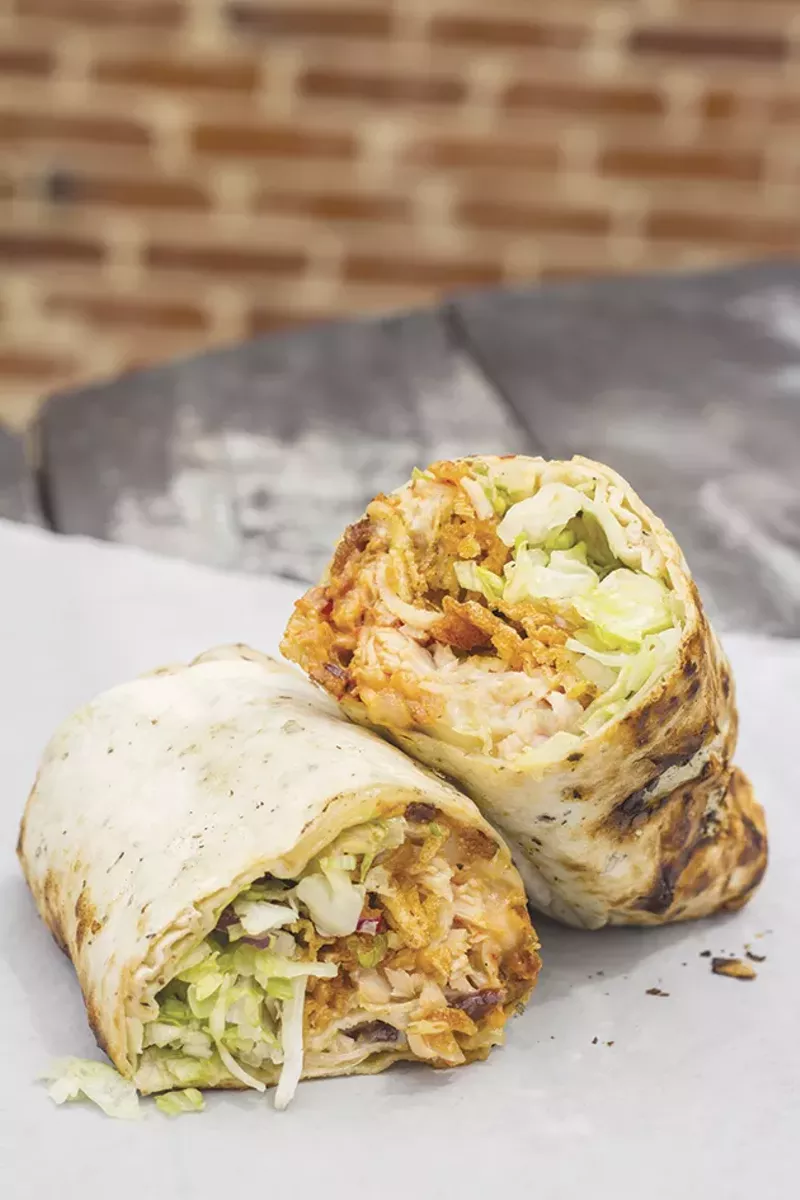 PHOTO BY MABEL SUEN
The Gramophone: readers' favorite fast-casual.
FAST-CASUAL
The Gramophone
4243 Manchester Avenue, 314-531-5700
While simple in concept, the sandwich can be challenging to execute well. There's the meat-to-cheese ratio to consider. Condiments can easily swing from insignificant to overwhelming. Bread — the critical foundation of the entire enterprise — can be too tough, too thin or too boring. Fortunately, the folks at the Gramophone have sandwiches down. At this bar-turned-fast-casual-hangout, quality ingredients are perfectly proportioned, sauces and condiments are applied with a skilled hand, and the style of bread always suits the type of sandwich. But there's also a next-level artfulness to sandwich-making that's unlocked with every Gramophone creation. The condiments and spreads are inspired — we're talking red wine aioli, Cholula mayo and spicy jalapeño-cilantro sauce, to name just a few —and the variety and originality in these sandwiches makes them infinitely satisfying. Want chips on your sandwich, so you don't have to crunch on them separately? Done. Pescatarian or vegetarian? No problem. Interested in all of the meats? The Gramophone's got you covered there as well. Yummy soups and sides — and local brews — perfectly complete the menu.
GREEK/MEDITERRANEAN
Olympia Kebob House and Taverna
1543 McCausland Avenue, 314-781-1299
Many Greek restaurants have a celebratory vibe, what with the flaming cheese and the potent ouzo and all, but Olympia Kebob House and Taverna outshines every one of them. Cozy inside, with a great patio outside, this longtime St. Louis classic offers diners so much more than just crave-able fried kasseri — but, nevertheless, you should always treat yourself to this appetizer to start. From there, move on to Olympia's gyros, which are as fantastically filling as the burgers. (If you're having a hard time deciding between the two, try the gyro burger for a meat-stravaganza.) Greek staples like kebobs, dolmades, hummus and spanakopita also are reliably scrumptious, and the béchamel-covered pastitsio and moussaka elevate comfort food to nearly mythological levels. Opa!
PHOTO BY ERIC FRAZIER
Tucker's Place: readers' choice for best steak.
STEAKHOUSE
Tucker's Place
Multiple locations including 2117 South 12th Street, 314-772-5977
Here's the thing with steakhouses. Sometimes their fanciness outweighs the tastiness of the food. For Tucker's Place, it's the opposite — and that's a very good thing. Whether it's your first time at one of the three locations, or you're a regular, it's easy to settle in and feel right at home. But don't be fooled by the comfortably casual ambiance. Tucker's serves up steaks and other meaty entrées (think pork chops, chicken and fish) that are outstanding, memorable and affordable, with perfectly baked potatoes on the side. Lunches here are no joke, either. The midday sandwich special includes your choice of side and a drink — we're talking soda, beer, wine or a well drink (don't mind if we do, thank you very much!). And for you non-steak lovers out there, you've got a friend in the steak business. Tucker's thin-crust pizza also hits the spot.
MEXICAN
Mi Ranchito
887 Kingsland Avenue, University City; 314-863-1880
Cherokee Street isn't the only spot in St. Louis to find delicious Mexican eats. Readers love the soul-satisfying south-of-the-border-style dishes served up at University City's festive Mi Ranchito, too. Maybe you start off your meal with some queso fundido, complete with chorizo and chips — a little bit rich, a smidgen spicy and a lot melty — yum! It's the perfect tastebud teaser for the chori pollo, a chicken and chorizo entrée offering a bit of heat and plenty of flavor, with fresh guacamole and tortillas on the side. For a less heavy nosh, consider trying the shrimp cocktail, with plump shrimp, pico de gallo, avocado and hot sauce — cool but spicy, light but filling. Wash whatever you choose down with a Mexican beer, and sweeten things up before you go with cinnamon-sugary churros and ice cream.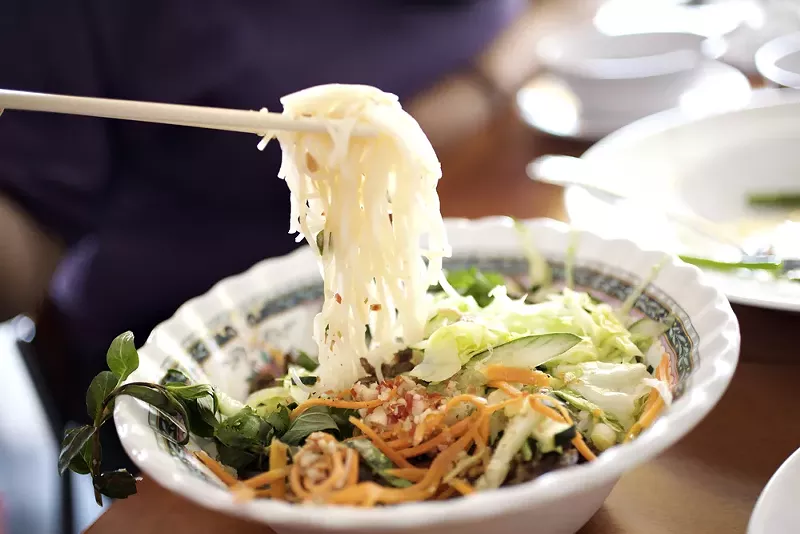 PHOTO BY JENNIFER SILVERBERG
Mai Lee: readers' choice for best Vietnamese.
VIETNAMESE
Mai Lee
8396 Musick Memorial Drive, Brentwood; 314-645-2835
Mai Lee is consistently readers' favorite Vietnamese joint in St. Louis, and why shouldn't it be? For a little investment, diners are rewarded exponentially, no matter what they order. The menu breaks things down in an easy-to-understand way, with several photos included to guide the way. There are multiple soup sections and appetizers, rice plates and noodle bowls, sandwiches and salads, plus beef, chicken, pork, seafood and vegetarian entrées. House specialties range from pad Thai to frog legs, and there's even a whole Chinese food menu as well. When deciding on your meal, keep the following in mind: The brightly favored pho will warm you from the inside out, the banh xeo appetizer — crispy crêpes with shrimp and pork— is definitely worth a try, you can never go wrong with a noodle bowl, or bun, and if you're feeling brave, you can try rolling your own spring rolls.
GOOEY BUTTER CAKE
Park Avenue Coffee
Multiple locations including 1919 Park Avenue, 314-621-4020
If you're seeking out St. Louis' beloved gooey butter cake, readers say there's no better spot to visit than this cute coffee shop, which has expanded from its Lafayette Square digs to include locations downtown, on the Hill and in the Cortex Innovation District. Sure to cause a sugar crash an hour later, gooey butter cake is as decadently rich as it sounds. Park Avenue Coffee's version has a dense, cake-like crust topped with a mixture of cream cheese, powdered sugar and naturally, butter. While the original gooey butter cake is the St. Louis classic, Park Avenue makes many flavors including banana split, blackberry, butter pecan, banana chocolate chip, amaretto and apple cinnamon. They're the perfect companion to Park Avenue's coffee, made by air-roasting beans in small batches.
PHOTO BY TED DREWES
Ted Drewes: readers' choice for best ice cream.
ICE CREAM
Ted Drewes Frozen Custard
6726 Chippewa Street, 314-481-2652 and 4224 South Grand Boulevard, 314-352-7376
When you think of heading to Route 66's iconic frozen custard stand (or its smaller outpost deep in south city), you're likely longing for a dessert after a summer's supper of pork steaks and corn on the cob. But what if we all flipped that idea, and had Ted Drewes Frozen Custard for dinner instead? Things certainly would be a lot sweeter. And if we chose a custardy creation like, say, the "All Shook Up" concrete, with peanut butter cups and fresh bananas, we would at least be covering a couple of food groups, in addition to satisfying our sweet tooth. A classic win-win. A tip for Ted Drewes' neophytes: Do yourselves a favor and check out the menu online before getting in line, so you aren't overwhelmed with options. Still, no one will mind if you try to make a game-time decision — even with those lines, the people who are about to consume St. Louis' best sweet treats are a pretty jovial crew.
FAVORITE DRINKS
BAR/PUB BURGER
Blueberry Hill
6504 Delmar Boulevard, University City; 314-727-4444
A one-of-a-kind St. Louis destination, Blueberry Hill features a dart room, walls brimming with vintage paraphernalia, and a concert venue (the Duck Room) in the basement where the late, great Chuck Berry played monthly for many years. Several dining and bar areas mean plenty of room to grab a meal before the show, while outdoor tables provide plenty of people-watching opportunities. There's something for everyone on the huge menu, including St. Louis classics like toasted ravioli and gooey butter cake. The burger — which readers chose as the city's best — has been a local favorite since 1974, with seven ounces of 100 percent ground chuck on a fresh sesame seed bun. Add the cheese of your choice (yes, Provel is an option) for $1, or a host of other toppings for just a bit more. And while the Blueberry Hill experience has changed little in 40 years, this is a kitchen that knows how to keep up with the times: A gluten-free bun is an option.
COURTESY OF THE SHACK
The Shack: readers' choice for best margarita.
BLOODY MARY
The Shack
Multiple locations including 731 South Lindbergh Boulevard, Frontenac; 314-736-9500
The blood mary at the Shack only sounds like a drink. It's really more like a meal with a liquid base. This west county hotspot offers two options: a "Veggie Mary" with cucumber vodka, olive, asparagus and carrot; and a "Meaty Mary" with cucumber vodka, bacon, cheese cube and a beef jerky straw. The Shack serves breakfast, lunch and brunch with lots of creativity, and in turn lets its patrons use their creativity, offering colorful permanent markers for use in decorating the reclaimed wood walls. The brunch drinks don't stop with bloody marys – at the Shack, you can get alcoholic cereal shakes, like the "Captain Crunch" with rumchata, Captain Morgan, yogurt and crushed Captain Crunch, or the "I Do What I Want" with Coco Puffs, yogurt, Bailey's and Frangelico. Drink up.
HAPPY HOUR
SUSHI
Drunken Fish
Multiple locations including 1 Maryland Plaza, 314-367-4222
The Drunken Fish is known for its creative drinks, which you can get in a glass or, if you're feeling especially thirsty, a 53-ounce fish bowl. The restaurant's win for favorite happy hour surely has something to do with the fact that it offers not one, but several happy hours: Monday through Friday, 11 a.m. to noon and 4 to 6 p.m., and Thursday through Saturday 10 p.m. til close. During those times, select beers are $4, martinis/cocktails are $6, and some wines and sakes are only $5, plus appetizers are $6 and rolls are $11. But happy hour isn't the only thing on offer here: Readers also voted Drunken Fish favorite sushi, thanks to a menu that includes dozens of sushi rolls, plus soups, salads, sashimi and nigiri, in addition to entrees like stir fries, sesame tuna steak and shrimp tempura. Locations in Ballpark Village, Westport Plaza and on one of the busiest corners in the Central West End mean you can always see and be seen while expertly deploying your chopsticks here.
MARGARITA
Mission Taco Joint
Multiple locations including 6235 Delmar Boulevard, 314-932-5430
The margarita just might be the supreme year-round drink. Hear us out. Sure, most people think about kicking back with a marg, or three, in the summer or while on a beachy vacay, but indulging in a citrusy tequila cocktail in the wintertime brings that tropical feeling to the fore and encourages it to wash right over you, right here at home. Our readers' favorite margarita spot, Mission Taco Joint, knows this. This growing local chain revels in that lively, laid-back, Mexican vacation vibe, offering up all sorts of innovative street tacos that please meat lovers and vegetarians alike — and, just as importantly, lay a sturdy foundation in our bellies for our liquid holidays. The top-shelf Maestro Margarita is where it's at here, with fresh-squeezed juice and Maestro Dobel tequila, a special blend made especially for the taco joint. You won't even remember what store-bought margarita mix and rail tequila taste like after trying these — and we guarantee you can't stop after just one.