Victor Jang had no intention of opening a restaurant. A salesman based on the East Coast, Jang regularly traveled for work, and in his spare time, soaked up the food scene of the places he visited. He was always on the lookout for a taste of his native South Korea, and when he was assigned St. Louis as his territory, he became familiar with the city's food scene. One thing stood out to him: How did a city this big lack proper Korean barbecue?
Jang sensed an opportunity, but first he had to convince his wife, Moon, that giving up his lucrative career to move to an unfamiliar city was the right thing to do. Surprisingly, she agreed, and before they knew it, they were packing up their home in New York City and headed to the Midwest to realize his vision for a Korean restaurant unlike anything else this town has seen.
The city may have been unfamiliar to the Jangs, but the restaurant business was not. Moon's parents have owned a Korean barbecue restaurant in Seoul for twenty years, so she grew up around the industry. Her mom and dad proved to be invaluable resources for the young couple, guiding them through every step of the arduous process of opening a restaurant. They even flew in from South Korea to consult on the restaurant's design and demonstrate the art behind their signature dishes. It took roughly six months, but the Jangs finally opened the doors to Wudon last November — and in doing so made it abundantly clear what we've been missing.
PHOTO BY MABEL SUEN
The handsome dining room features pop art.
Wudon is nothing short of dazzling, a fact that is apparent the moment you walk through the restaurant's front door and are hit with the glorious smell of sizzling meat and whole garlic cloves. That is, of course, assuming you get through those front doors.
Since opening three months ago in the Castillions Arcade Plaza, a vintage strip mall at the intersection of Olive and Fee Fee, Wudon has developed quite a following among the area's Korean community. The crowd means you'll be bumping into other patrons, hovering over the tables as others eat and risking a burn as servers rush by with the searing hot griddles they regularly change out from the tables. (A much wiser plan? Give Moon your name and number so she can call when your table is ready, then head over to the Pink Galleon next door for a Busch Light and the soothing sounds of Quad City DJs.)
This bustling scene, however, contributes to Wudon's festive atmosphere, as do the K-pop videos that play from the restaurant's flatscreen televisions. The energy carries through to the artwork covering the wood-paneled walls. Moon is a trained artist, and her black, red and white pop art paintings are simply stunning.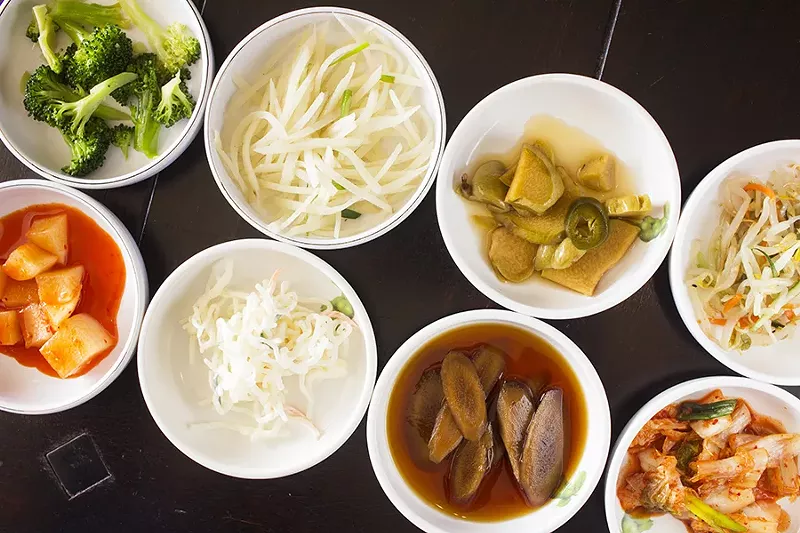 PHOTO BY MABEL SUEN
Banchan includes marinated vegetables such as chayote, kimchi, broccoli, burdock and beansprouts.
Every table at Wudon is outfitted with a round, recessed grill in its center, though that shouldn't deter you from ordering the non-barbecue dishes. Wudon's mandu, Korea's version of pot stickers, are savory pork- and onion-filled pillows; the wrappers are so delicate you can see through them, and when they crisp up just around the edges, they give the dish touch of crunch.
Fried chicken wings impress in their simplicity. Though we've become accustomed to seeing Korean fried chicken covered in gochujang, these are served without sauce, allowing the succulent meat and crispy breaded skin to take center stage.
Wudon's seafood pancake is perfection of the form. Flour batter, studded with green onion and tender calamari, is as delicate as a crepe and crisps just around the outside. The squid is so fresh it flavors the dish with just a whisper, as do the almost-sweet green onions — this subtlety is its success.
As at any Korean feast, guests at Wudon are treated to a kaleidoscope of banchan, or small dishes served gratis. Here, they are impossibly fresh: crisp cabbage kimchi, snappy bean sprouts, ginger-scented root vegetables, funky fish cakes. You could leave Wudon satisfied after having only tasted the banchan and appetizers.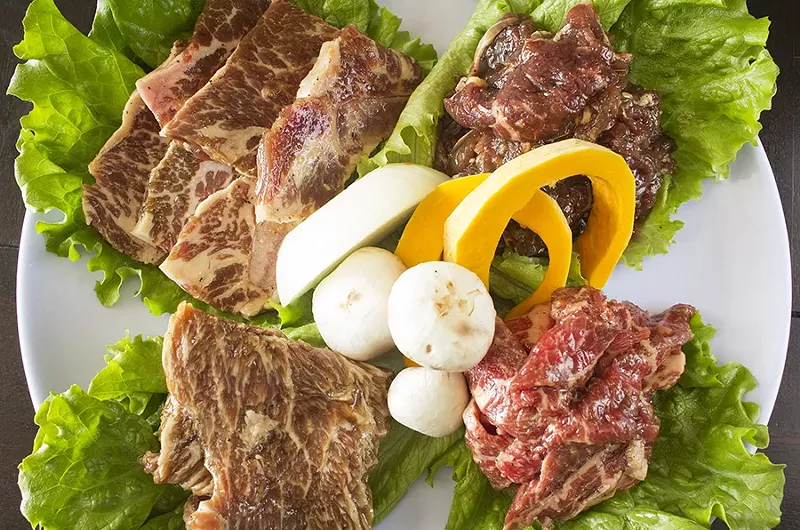 PHOTO BY MABEL SUEN
Wudon's marinated-beef combo features LA-style galbi, beef bulgogi, boneless short-ribs and marinated galbi.
But then you would be missing out on the show-stopping barbecue, the aroma luring you in like a siren song. Wudon offers various cuts of beef and pork, although the combination platter gives you a chance to sample several different styles and cuts. Ours featured four types of meat, including thin strips of prime ribeye so vibrant and well-marbled it could be an advertisement for a high-end butcher shop.
Our platter also contained Wudon's galbi, or boneless marinated short ribs. They had the characteristic sweet-soy taste, but here it avoids coming across as cloying, as can sometimes be the case. Here the marinade proved a restrained enhancement to the meat — not an in-your-face flavor in itself.
The pork component of our beef and pork combo also did not disappoint. Strips of rosy-hued pork belly are about a foot long, the thickness of quadruple-cut bacon and, after it's cooked, the texture of butter. How something so wonderful can be overshadowed is hard to fathom, but the hunks of pork jowl that also come with the platter may do just that. Like its Italian brethren guanciale, the melt-in-the-mouth meat is like pork belly with an exclamation point on it. When we were first served the platter, we marveled that we might not even make a dent in the generous heap of jowl. We finished every last morsel.
PHOTO BY MABEL SUEN
Co-owner Victor Jang shows off some tabletop grilling action.
Alongside the meat extravaganza, Wudon serves a custard-like egg soufflé that makes you wonder how the French cornered the market on egg dishes. Tofu soup, another worthy side dish, is a steaming bowl of mildly funky fish-infused broth that teems with creamy tofu and vegetables. The dish's subtle chili spice isn't at first apparent, but gently taps the back of the throat with warmth.
With such magnificent tabletop barbecue, it might be tempting to skip the house specialties that are prepared in the kitchen. Don't. Wudon's version of osam-bulgolgi, or spicy squid and pork belly, is revelatory. When you order it, your server will bring out a burner, then place a blazing hot cauldron filled with the concoction on top. Though it comes to the table cooked, the continual heat allows the flavors to concentrate even further, resulting in a thick, stew-like concoction. The pork flavors the squid, the squid flavors the pork, and the sweet and umami gochujang sauce soaks up both. Be careful that you're tending to the barbecue on the other burner — the osam-bulgolgi is likely to make you forget about anything else.
That's the thing about Wudon: At such a perfect restaurant, you're likely to get so engrossed in the meal that you forget where you are — or that there ever was a time when such Korean barbecue perfection was missing from this town. Thankfully, those problems are now in the past. The Jangs have St. Louis covered.
PHOTO BY MABEL SUEN
Co-owners Moon and Victor Jang.