If the lovely folks who regularly comment on RFT stories are any indication, some of us are long overdue for a refresher course in basic grammar. Lesson one can be the difference between a noun and an adjective.
Let's use the word "standard" as an example. Depending on how you use it, "standard" means two very different things. As a noun, it has a positive connotation and describes that which is the basis for all other things, often in terms of quality. Think of something along the lines of "white Burgundy sets the standard for all other chardonnay."
Jeff Harlan and Jeff "Jonesy" Jones certainly had this use of the word in mind when they opened Standard Brewing Company last September. The business partners, who became friends as co-workers in the aircraft industry, first made a name for themselves in the local beer community as proprietors of the brew-it-yourself store J2 Brewing in Chesterfield. When that business shuttered, the partners looked to open a more traditional brewpub. They gutted and rehabbed a former Fuddruckers in Maryland Heights, installed their brewing equipment and opened with a small, pizza-heavy menu.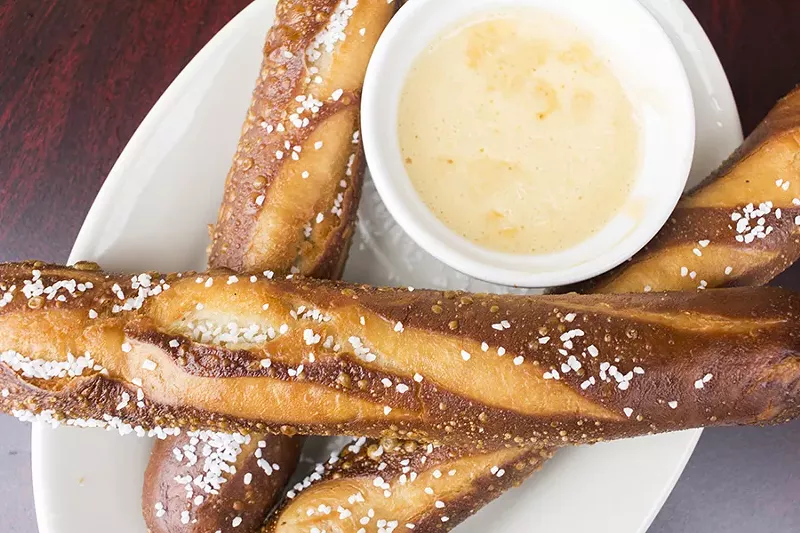 PHOTO BY MABEL SUEN
Pretzels with beer cheese sauce.
The problem for the Jeffs was that Standard Brewing Company's opening food was standard (adj.) — as in pretty darn average. Sure, they used spent grain to make their pizza dough, but they didn't quite hit the level and breadth they had envisioned when they aimed to, in their words, set the standard for beer-centric food.
To remedy this, Harlan and Jones brought in chef Wade Waller in January. A veteran of Eleven Eleven Mississippi and Cleveland Heath (he was executive chef at the former and sous chef at the latter), Waller was tasked with both expanding the menu and increasing the use of beer in the food offerings. He infused the dishes with suds, added entrees and tweaked the dishes.
Whether the result is standard fare or the gold standard of fare depends on the dish, or, in several cases, which components of the dish you are talking about. Chicken wings, glazed with hefeweizen hot sauce, are fine enough finger food. The meat is plump; the rub is pleasantly peppery. The sauce, however, was loose and failed to cling to the drummies. Pooled on the plate instead of coating the meat, it had little impact on the overall taste.
Bavarian-style pretzels, on the other hand, dazzled as the perfect example of brewpub fare. Fat, salty and with the slightest hint of malty sweetness — I can't think of something I'd rather eat with a cold one. The accompanying beer cheese sauce, though, lacked the zing that typically comes from such a pairing. Rather than elevate the pretzels, it actually detracted from their wonderful flavor. I just pushed it aside.
I encountered a similar situation with the cheese curds. The breaded cheesy nuggets were dusted in herbs, fried and served molten hot — a guilty pleasure indeed. I didn't need to dip them in the side of beer mustard, especially considering that it was more like a mustard vinaigrette. Like the wing sauce, it was flavorful enough but quite thin. It only took away from the glory that was the cheese curds.
The roasted cauliflower and beer cheese soup, however, needs no caveats — it's simply a damn good soup. Standard's blonde ale enlivens the rich puree of cauliflower, Gouda and cheddar. It's rich, but the tanginess from the beer cuts through, making it all too easy to finish an entire bowl.
The lowest point on Standard Brewing Company's menu is the pizza. Now, if we were talking crust alone, it would get an A-plus rating. Waller uses Standard's spent grain to make the dough, resulting in a yeasty, slightly tart flavor akin to San Francisco's finest sourdough. When fired, it fluffs up and has a pleasant, chewy pull.
PHOTO BY MABEL SUEN
Standard Brewing Company's black and blue burger" with fries.
The toppings, however, lack the oomph that such an excellent base requires. The buffalo chicken version features chewy chicken, bland bacon ranch and a just-as-bland buffalo drizzle — a perplexing point considering that anything based with Louisiana hot sauce should be the antithesis of bland.
I was also unimpressed with the "Loaded Baked Potato" pie. It aims to be the pizza version of a loaded potato skin, but it just doesn't hit the mark. Though the potatoes are thinly sliced and well cooked, the broccoli is dried out, crunchy and seems out of place, and there simply wasn't enough cheddar cheese or sour cream to make it into the gooey dish it should have been. It was a disappointment.
This feeling dissipated, however, when I got a taste of what Waller can do with a grill. The black and blue burger, cooked to a spot-on medium-rare, is a gourmet version of the classic backyard hamburger. Well-seasoned beef is dusted with blackening seasoning and kissed with grill char, while blue cheese crumbles add to the earthiness. This is among the town's better burgers.
Standard Brewing Company's sirloin steak also benefited from the well-seasoned grill — kudos to the maestro hitting those impeccable temperatures. Housemade stout steak sauce, reminiscent of a higher-end Heinz 57, added a touch of smoky sweetness.
I was equally wowed by the pork porterhouse's sublime execution. The meat arrived a rosy pink medium rare (the restaurant's standard, since my server did not take a temperature), seared with grill marks and dusted with just a hint of black pepper. The garlic aioli drizzle was unnecessary, but it did not detract from this beautifully cooked piece of meat.
PHOTO BY MABEL SUEN
Beer on offer at Standard Brewing Company.
A slight issue — and this occurred on the sirloin as well — was plate presentation. Mediocre mixed vegetables were slopped alongside these impeccably prepared cuts of meat, a clear afterthought. It's a shame that the thought that went behind cooking the main course was not present in its accompaniment. It's like putting on an Armani suit, then dousing yourself in Hai Karate before walking out of the house.
The dish that indeed sets the standard for all others is the pulled pork sandwich. Call this blasphemy, but Standard's version can run with the town's big-guy smokehouses with its caramelized hunks of moist, smoked pork. The pork is tossed, not smothered, in beer-based barbecue sauce, bringing out the meat's natural sweetness without obscuring any flavor. This is the best item on the menu.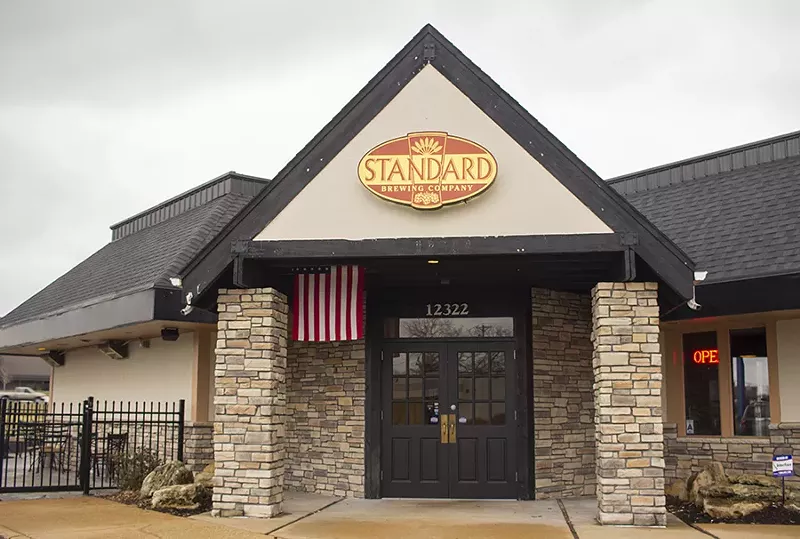 PHOTO BY MABEL SUEN
Standard Brewing Company is located in Maryland Heights.
Overall, though, not everything about the place holds up to this lofty standard. I found myself questioning the choice of cheap bread that tasted like it had come right off a production line on a few otherwise adequate sandwiches (a decent fried cod, an adequate beer-braised brat). And for all the owners' hard work — apparently the space was a disaster area when they took it over — Standard's dining room doesn't really shake off the feeling of having previously been a hamburger chain. There's a long tasting bar and some fermentation tanks that remind you where you are, but otherwise, the space is sterile and nondescript.
Is this the gold standard for brewpubs? Not really. Is it standard fare? That depends on the dish — some hit high notes, while others really are just good enough. It doesn't really matter, though. After a few beers and some pretzels, you'll be too content to worry about words.