It was a Tuesday evening, about two hours before Finding Neverland's curtain call, and Stage Left Diner was packed with the pre-show dinner crowd. The wait was about 45 minutes, but considering how quickly the tables were turning, anyone already on the hostess' list had no danger of being late to the show at the adjacent Fox Theater.
Yet one patron-in-waiting had enough. Perhaps he was overcome by the prospect of his mink-bedecked wife eating a patty melt. Maybe he saw someone breaking a sweat as they attempted to saw through the prime rib. Whatever the reason, he got up from the bench in the waiting area, announced to his group that he was going to check out the other nearby restaurants, and came back about ten minutes later with news that he had secured a table at the Italian spot across the street. He promptly escorted across the way his party of four, who I can only imagine feasted on scrumptious veal piccata, laughing and slinging back wine before showtime.
Those of us who stuck it out were not so lucky, for Stage Left Diner peddles its wares to a pre-theater set who, unlike our aforementioned hero, are willing to wait for mediocrity. And mediocrity is what they get.
PHOTO BY MABEL SUEN
A selection of dishes from Stage Left Diner: berry crepes, prime rib, a slinger and a strawberry milkshake.
It's somewhat understandable. Theater-goers are in a hurry. They have limited options in Midtown and have already found parking. The few other restaurants in the neighborhood are just as busy, and, let's be honest here, aren't going to be winning a James Beard award anytime soon. Plus, Stage Left is mere feet away from the Fox's front doors, making it possible to be in your seats within five minutes of paying the bill.
In other words, with a guaranteed crowd of theater district patrons, Stage Left Diner doesn't have to be good; it just has to be. In that respect, the packed house shows that it's doing just fine. By any other measure, it misses the mark.
It's disappointing, since Stage Left Diner exists as an answer to its predecessor's difficulties. Previously branded as City Diner, a northern outpost of the original on South Grand, the restaurant was given a full reboot in September. At the time, I spoke to consultant Brad Beracha, and he told me that owner Steve Smith had opted for a new concept because the old City Diner had earned poor marks from its customers and lost the confidence of the neighborhood. Smith called upon Beracha to reimagine the greasy spoon as an elevated comfort food spot.
One of the biggest complaints about the previous incarnation, Beracha explained, was the service. He and Smith made improving the restaurant's hospitality the focal point of the rebrand, instilling a cultural change in the staff to try to win back displeased guests.
PHOTO BY MABEL SUEN
The "Stage Left Slinger" includes hash browns, a four-ounce burger patty, chili, a fried egg, cheddar, Fritos and scallions.
And to that end, Stage Left Diner is a success. Though just one host was working the door — and that same host appeared to be the only busser — he greeted everyone promptly, cleared and reset tables as soon as they were vacated and sat guests in as timely a manner as possible. The servers were equally efficient, greeting tables, taking orders and dropping off checks with lightning speed, all while maintaining a friendly demeanor.
Stage Left Diner has made strides to look the part of a respectable dining option as well. For the rebrand, the owners shook off the greasy spoon image in favor of a cool, vintage aesthetic. Avocado green walls, earth-tone tiles and a midcentury modern three-dimensional mural decorate the space. Tucked into a booth and looking out to the gleaming lights of Midtown, I couldn't help but get caught up in the hustle and bustle of the district. It's stunning.
Unfortunately, the menu revamp proved less of a success. A mushroom toast appetizer tasted pleasant enough — roasted mushrooms, goat cheese and chives are sprinkled atop slices of garlic buttered baguette and drizzled with balsamic syrup. It's a classic pairing of flavors, but the components seem cheap. The bread is the kind of take-and-bake garlic toast you'd find packaged in foil at the grocery store, and the goat cheese was the dry, crumbly kind that comes in a plastic container. A few upgrades in ingredient quality would make this infinitely more successful.
Stage Left Diner's French onion soup is cloyingly sweet and unbalanced. Instead of a splash of wine in the background to enhance the rich beef and onion flavors, in the bowl I tried it was front and center and overtook the entire dish. They could've served this over ice with a slice of orange and passed it off as sangria.
A kale and apple salad also spikes the blood sugar. A humongous pile of chopped kale is tossed with toasted walnuts, blueberries, apples and grapes, then drenched in a mayonnaise-heavy raspberry vinaigrette that turns the dish into something reminiscent of a Waldorf salad. The accompanying blue cheese crumbles may have mitigated the sweetness, except they were so bland I could have mistaken them for queso fresco.
PHOTO BY MABEL SUEN
The "SLD Burger" comes with two quarter-pound patties, cheddar, bacon, an over-easy egg, shredded lettuce, red onion and Sriracha ranch on Texas toast.
Burgers are the bright spot in Stage Left's repertoire. The thin, griddled "smash burgers" hit that perfect diner spot of a greasy middle with crispy edges. I opted for American cheese on my double, which created a layer of goo and delicious grease that put other diner burgers to shame. Crisp lettuce and thick sliced tomatoes, onions and pickles gave a bit of cooling relief from the decadence. It would have been perfect were it not for the bread. Though the menu says the burgers are served on Texas toast, there was nothing Lone Star-sized about the thin, sliced white bread that came in its place. Still, the overall sandwich was pretty close to perfect.
I can't say the same about the prime rib. Stage Left Diner serves this massive cut of meat as its blue plate special every Thursday, and I will give them this much: In sheer quantity, it's quite the value. At $12, the hefty hunk of beef has to weigh in at about sixteen ounces, and it's as thick as what you'd find at one of the town's pricey prime rib houses. Garlic and herbs encrust the roasted exterior, infusing the meat with flavor. However, the texture is off. The cut looks like the ribeye it purports to be, but it was so tough on my visit I'd swear it's a different cut. If it was in fact rib roast, it must have come from a geriatric steer who spent his time tilling the fields. There's no other reason you should have to masticate each bite to the point your jaw hurts.
Breakfast offerings don't fare much better. The corned beef skillet has as its base a delightful meritage of onions and red potatoes that, when topped with corned beef, takes on a White Castle-esque flavor. However, the diced corned beef was tough, dry and bland, calling into question the quality of what's being served. Bland hollandaise sauce tastes straight from the jar.
Spoon-drop biscuits are adequately fluffy and smothered in average sausage gravy for a passable rendering of the classic Southern breakfast dish. Grits, however, would not pass your Alabama grandma's muster with their dried-out consistency. Jalapeños infuse the dish with a hint of spice, and cheddar cheese adds richness, but neither is enough to make up for the grits' lack of essential creaminess.
The Monte Cristo sandwich could have been decent; Black Forest ham, turkey and cheddar cheese were a savory counter to the thick slices of French toast that served as the bread. If I'd been given a maple syrup of quality, I would've considered it a success. Unfortunately, though, the sandwich was ruined by a cheap raspberry sauce that tasted like liquefied Luden's cough drops. The whole thing just ended up tasting fake.
Like that awful raspberry sauce, there wasn't much about the food at Stage Left Diner that left me with a pleasant taste in my mouth. And that's a shame that goes far beyond the effort its owners put into the reboot. Grand Center is a prominent jewel in this city's crown, and the Fox Theater is a national treasure. Restaurants catering to this crowd should see it as an opportunity to raise their culinary offerings to the level such a theater district deserves, not phone it in because they have a captive audience. We deserve better. The Fox deserves better.
At least one person at Stage Left Diner that night knew as much.
Turn the page for more photos of Stage Left Diner.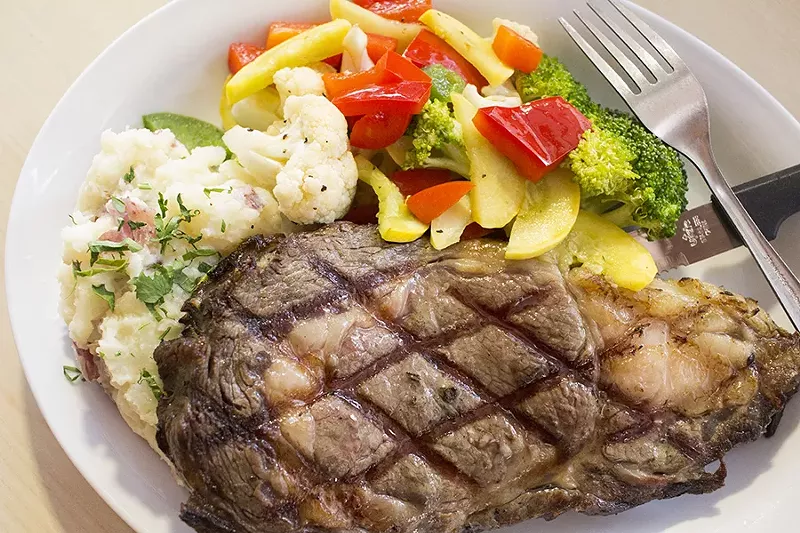 PHOTO BY MABEL SUEN
Daily specials include items such as a ten-ounce prime rib with mashed potatoes, gravy and roasted vegetables.