Your first clue that Snax Gastrobar is not its sister restaurant, Robust Wine Bar, is the chalkboard wall on one side of the dining room. Various beer-centric phrases ("beer makes me hoppy" or "you're right on time, it's beer: 30") are proclaimed in typewriter font across the charcoal-colored canvas, emphasizing the libation that rules the roost — or more importantly, the one that doesn't.
Really, though, the difference between the three-month-old spot and its sophisticated older sister is all in the name. Robust has thriving locations in Webster Groves and downtown St. Louis, as well as a shuttered outpost in Edwardsville, Illinois. When Robust owners Stanley and Arlene Browne took over the former J. McArthur's space in south city in January, they could have easily opened Robust 4.0. Instead, they opted to venture into different territory.
That territory is a concept that places equal weight on wine, beer and cocktails, with a setting and menu that make it clear that this is a place where you're more likely to sport flip flops than loafers. To the Brownes' credit, it's a smart embrace of the low-key, family-friendly Lindenwood Park environs where neighbors are more likely to stop in for a burger and fries than a foie gras torchon.
PHOTO BY MABEL SUEN
Given a makeover since its days as J McArthur's, the dining room now has a casual feel.
In that spirit, Snax is a place to linger. Though the only real structural change from the J. McArthur's era is an expanded bar, the dining room has seen a cosmetic overhaul, with dark grey paint and orange accents that makes it decidedly cozier than its predecessor. In addition to traditional seating, a communal-style table sits in the center of the room, and as a nod to the restaurant's embrace of suds, candles made from repurposed beer cans serve as the tables' centerpieces.
The draw at Snax, however, is its outdoor dining space. The large covered front patio is the perfect place to pass a lazy Saturday afternoon, reclining in one of the wrought iron patio chairs while playing Scrabble — Snax has a shelf full of board games for guests to use at their leisure. Around back, a second patio has more of a biergarten feel to it, one where patrons are welcome to dine with their pets. The restaurant is even in the process of putting together a "yappy hour" for Fido. It's a relaxing gathering spot; on one of the nights I visited, members of a kickball team were having after-match beers in their gear.
PHOTO BY MABEL SUEN
Chef Joseph Hemp V and sous chef Chris Ladley.
All of this sets the scene for unfussy, down-home food, a style of cooking that chef Joe Hemp V, also of Robust, touts as near and dear to his heart. Hemp tapped Chris Ladley, formerly of Quincy Street Bistro, to serve as his second in command, a no-brainer in light of that neighborhood restaurant's prowess with upscale comfort fare.
You'd think this would result in thoughtful low-key food — and it does. Sometimes. Snax is at its best on dishes like the "Buffalo Balls," or meatballs made from chicken and pork that have been tossed in a sweet and spicy glaze. It's the type of dish you might find served out of a crock pot at a Super Bowl party, except here the meaty spheres are served atop creamy grits with a blue cheese and onion garnish. The elevated trimmings turn the dish into a pleasant knife-and-fork endeavor rather than something you'd eat with a toothpick.
PHOTO BY MABEL SUEN
"Buffalo Balls" are tossed in sweet-heat glaze over stone grits with blue cheese and green onions.
A pretzel stick, deep-fried so that you get the satisfaction of both a crunchy and soft version simultaneously, was gobbled up immediately. Velvety cheese sauce served on the side could have been a luxurious chicken volute served at a white tablecloth restaurant. This lovely mix of the highbrow and the humble was so enjoyable I nearly looked past its $8 price tag.
Perfectly cooked shrimp is stuffed inside a crusty hoagie roll, with pickled cabbage slaw and the Russian dressing-style "Snax Sauce" for a well-executed — and appropriately sloppy — po'boy. The garlic parmesan fries on the side, however, were generic and lacking in both garlic and parmesan.
An airline, skin-on roast chicken breast presents plump and juicy. It rests atop black-eyed peas that are braised with leeks and shiitake mushrooms. The cooking liquid mingles with chicken jus for a delectable sauce.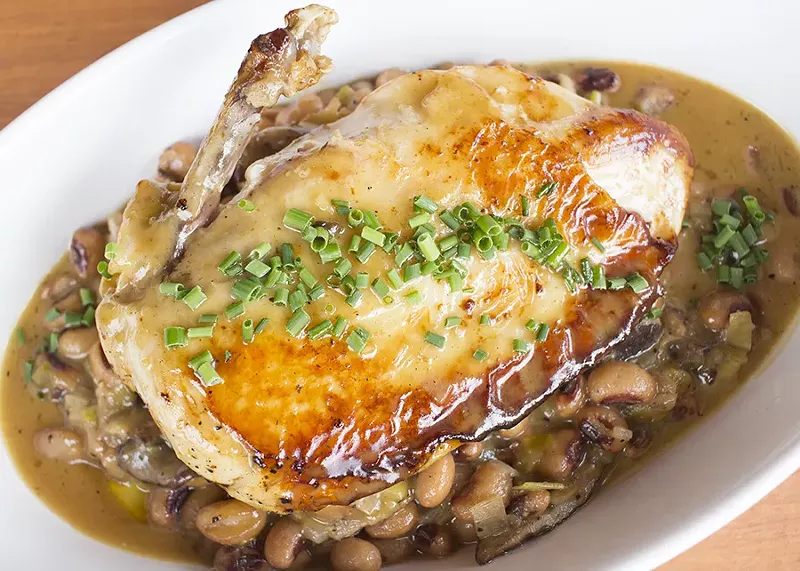 PHOTO BY MABEL SUEN
A cast iron-seared chicken breast is served over shiitake mushroom and leek-braised beans with lemon-garlic pan jus.
A simple pork and beef meatloaf, sliced off and seared so that the edges develop a caramelized crust, also impresses. It's as classic as it comes: The meat gets a sweet and spicy glaze and a drizzle of mushroom gravy, and is paired with mashed potatoes and a side of green beans. If the goal is to entice the Lindenwood Park home cooks to save themselves the dishes, the meatloaf makes a compelling case.
Snax falls short, however, with many other offerings. I'm still confused by how store-bought Chex-Mix ended up on the menu. Never mind that it's doctored in-house with seasoning; the only place this "Bar Kibble" has at a respectable restaurant is as a freebie placed out on the bar in hopes that its saltiness will make you drink more. Unless they're dusting it with gold leaf, this is not a $5 appetizer.
PHOTO BY MABEL SUEN
Snax offers seasonal vegetable salads, like this tomato and squash salad with mozzarella.
Conceptually, a smoked pork chop ticks off all the right boxes: pickled red cabbage, whiskey-glazed carrots, roasted fingerling potatoes. It's a classic pairing, but the cabbage and apples are not broken down enough to provide any sort of moisture. Without some sort of sauce, the dish is dry.
Steak frites, however, were the biggest disappointment. I didn't expect a Wagyu ribeye; the menu is clear this is chuck steak. However, the meat was cut into cubes after cooking, then smothered in a Heinz 57-style steak sauce. It looked like barbecued beef tips — and a very small portion of beef tips to boot.
PHOTO BY MABEL SUEN
The patio is major draw.
Thankfully, you don't have to rely on the steak to get a good taste of beef at Snax. The double griddle burger is outstanding — juicy with crispy edges, dressed with lettuce, tomato and onion, and slathered with a creamy sauce that's reminiscent of Russian dressing. If I lived in the neighborhood, I could see myself eating this at least once — if not twice — a week.
I could also see myself noshing on some cheese with a glass of wine twice a week at Robust, too, though I understand the Brownes' thinking that a more low-key place might be a better fit for the neighborhood. Judging from the two packed patios and almost-full dining rooms I witnessed on my visits, it's clear they are on to something, even if the food component is still finding its way.