Dives, like porn, are difficult to define yet easy to spot. You know when you're in one — there's the musty smell of Schlitz-soaked carpet and enough of a lingering nicotine haze to make your hair smell even though smoking has been outlawed for years. The bartender is old, the lighting is dingy, and if there's food, it's no more sophisticated than a bag of Old Vienna chips or BJ's frozen pizza. Maybe there are darts. Certainly there's Lotto.
Most definitely, there isn't any wine served in a bottle, unless you count airline miniatures of Vendange. And strike me down if I'm wrong, there will never, ever be an $18 glass pour of rosé. Ever.
You will, however, find such a curiosity at Louie's Wine Dive in Clayton, the St. Louis outpost of the expanding Midwestern boutique chain. And depending on who is working on the day you visit, you might find a warm server eager to guide you through the list. Then again, you might find yourself shamed for your preference for a different wine than your server's suggested choice, which "is actually high quality."
Admittedly, I'm being harsh because of a bad service experience that has nothing to do with the name. Or does it?
After all, no one — not the owners nor the patrons — thinks that Louie's is an actual dive. Instead, the name is meant to evoke lightheartedness, a counter to the stuffy attitude ascribed to highfalutin' sommeliers who look down their nose when someone orders pinot grigio. "Wine is supposed to be fun," exclaims the restaurant's Facebook page, promising a lively experience, free of judgment.
So about that service.
Our server came up with no less than three objections to the wine we tried to order — it wasn't seasonal ("we're going into fall, you know"), it wasn't part of the happy hour special so effusively touted by another server ("didn't anyone explain how the Board works?") and it probably wasn't available ("I don't know if we even still have that. It's almost fall"). And it was off-putting as hell. Sure, there are objective markers of quality in wine, but ultimately it's about preference, and well-trained wine professionals should be able to listen to a guest and tailor a recommendation based on what they hear — or don't hear. In other words, when someone requests a "really dry, minerally Old World-style rosé," the answer is not the juicy California fruit-bomb they'd already sampled and didn't like, regardless of its quality or (let's be real here) price point. The belittlement was enough to kill our buzz. Wait, I thought wine was supposed to be fun?
To be fair, on another visit, the staff succeeded. An accommodating host quickly cleared the restaurant's one remaining table so we could be seated without delay. And while our server wasn't a sommelier by any stretch of the imagination, she knew enough to guide us through the list and, even more impressively, to ask a colleague for help when she needed it. Dining at Louie's was an entirely different experience when it worked the way it was supposed to.
I'm still not sure, in light of the superior wine lists all over this town, if I'll feel the need to return. I could be swayed by the atmosphere, though. The former Tani Sushi Bistro's sleek aesthetic has been replaced with Louie's French farmhouse chic. Exposed brick, whitewashed walls and rustic wooden beams that could have been pulled off of an old shed in Burgundy create a warm scene. Gilded filigree orbs with soft white light bulbs hang from the ceilings, and wallpaper in a red, gray and white pattern adds a spark of color. I'm not sure if the enormous television screen that broadcasts a video collage of Parisian streetscapes adds or detracts from the scene — it seems more high-tech than what you'd find in the Restoration Hardware barn they've recreated.
The food, prepared under the direction of chef Patrick Baltes (Cardwell's at the Plaza, Boundary), is like the aesthetics of the place — usually good, always passable and only a few times brow-furrowing. Baltes is cooking a pre-fab menu from corporate Louie's and, to his credit, the misses were more conceptual than related to execution.
"BLT" deviled eggs are fine enough to satisfy, but not so creamy as to push them past the median of the bell curve. The meatballs, however, are extraordinary. Pork, beef and Italian sausage are mixed, providing a sweet, rich taste that pops with fennel seed. The three spheres were each the size of a golf ball on steroids, lightly crispy on the outside and resting atop decadent mushroom cream sauce that would be too much were it not for the bright, balsamic drizzle. It's the highlight of the restaurant's shared plates.
Crab poutine isn't offensive so much as an unnecessary novelty. Instead of "meat stuff on fries," Louie's version is "seafood stuff on fries" — in this case, crabmeat and salty seafood gravy accompanying the usual cheese curds, mushrooms, green onion and egg. Oddly, the difference from the more traditional turf-centered version is negligible, save for a faint crab taste. If you like dipping your fries in seafood bisque, this may work for you. I found it unappealing.
The fish/potato combo succeeds much better on the fish and chips. Thick filets of the pearlescent fish are battered in Champagne and rice flour, then deep-fried to a glistening brown. Crisp, seasoned fries and kohlrabi slaw complete this respectable pub plate.
Gnocchi is equally respectable. The soft potato dumplings are pan-fried to give the exterior a slight crunch. They're smothered in red wine cream sauce that's laden with so much pork — shoulder, sausage, prosciutto, ground pork — you'd think the chef raided a butcher's closeout sale. It's a magnificently rich dish, so evocative of classic Bolognese you may be tempted to spring for some Barolo.
The only thing I was tempted to spring for with the "Gourmet Sinatra Burger" was a napkin. On the one hand, I'm thankful there was enough green goddess-dressed lettuce and balsamic-macerated tomatoes to make up for the over-cooked beef patty. On the other hand, the ooze of colliding flavors overwhelmed the dish. Add bacon and cheddar cheese, and the entire enterprise is what would happen if you let an overzealous five-year-old loose on a condiment bar. Old Blue Eyes would not approve.
"Steak Deburgo," named after the herb and butter sauce that originated in Louie's hometown of Des Moines, was impeccably cooked — perhaps the best medium rare I've seen a kitchen hit this year. After it's taken off the grill, the flat iron steak is coated in a Parmesan, herb and butter mixture, then placed under the broiler so the topping forms a crust. I commend the kitchen for hitting the temperature on the bullseye, especially considering they had to navigate two heat sources.
For dessert, Louie's offers the usual bread pudding with crème anglaise — an average piece of the ubiquitous dish. I was more enthused by the carrot cake, and was impressed by the rich, molasses-like flavor permeating the cake. A few bites in, though, my mouth took on a metallic taste, as if someone had used too much baking powder. Hopefully, this was a one-off mistake on what could have been an excellent dessert.
The biggest mistake of the night, however — well, the second biggest, if you consider the rude rosé exchange — was allowing my dining companion to order a $21 glass of Rombauer Chardonnay, a wine that costs roughly $30 a bottle in a grocery store. My guest, who prefers popcorn-buttery whites, asked our server (a different person, mind you, than Mr. Rosé) if there was an oaky Chardonnay on the glass list. Without hesitation, she suggested the Rombauer. My guest agreed.
We were mid-meal, no menus on table, so she accepted the suggestion blindly. Having worked at restaurants with insultingly priced glass pours, this is a tricky situation. You don't want to insult someone by mentioning price, but you certainly want to avoid sticker shock. My cutoff used to be $15. Anything less, and I'd simply get the wine. Anything more, and I'd find a subtle way to flag it with either a casual mention ("We have a great Rombauer for $21 a glass) or by presenting the menu and pointing to the selection in hopes that the guest will notice the price. Ignoring the issue altogether, as our server did, doesn't benefit anyone.
I recently talked to the general manager of one of the city's most high-profile restaurants about the importance of service. "If we just feed people, we've failed," he told me. "Our job is to create an experience."
We were certainly treated to an experience at Louie's, though it wasn't the one my interview subject had in mind. And despite the fact that the service was much more hospitable on a subsequent visit, the scene that went down on the first night left a bad taste in my mouth — much worse than the bad taste left by stale beer and Jager shots at a real dive bar. And this one socked me for $21 a glass.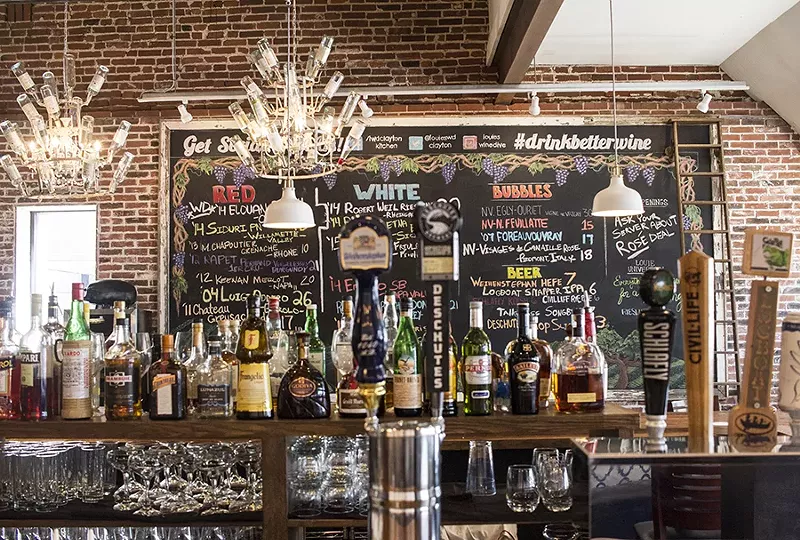 PHOTO BY MABEL SUEN
Specials are listed on a chalk board.
Turn the page for more photos of Louie's Wine Dive.