Last November, a five-star restaurant quietly opened on South Kingshighway.
OK, technically Himalayan Yeti has not been accredited as such, and even if it went through the vetting, it probably wouldn't make the cut because of sheer aesthetics. The space used to be a Long John Silver's, after all, and its most recent predecessor emblazoned the façade with a sign reading "$5.99 Got Rice" in lieu of a name.
If you drive past the place today, it looks like not much has changed. Though owner Dipak Prasai gave the restaurant a serious scrub-down and remodel, it is by no means fancy. Brown laminate tiles you get from Home Depot serve as flooring. A small wooden bar takes up the back half of the space and the neutral walls are only occasionally broken up by Indian and Nepalese framed artwork. There are white tablecloths, but they are topped with butcher paper for ease of turning tables for the lunchtime buffet crowd.
Despite its humble appearances, however, Himalayan Yeti has a world-class pedigree. Chef and owner Prasai grew up in Nepal and attended a prestigious culinary school in India, where he was trained in a variety of cuisines. He returned to Nepal to helm the kitchen of a five-star hotel, where he worked for several years before leaving for San Francisco to join Carnival Cruise Line, focusing on its more upscale offerings.
MABEL SUEN
Yogi thali includes vegetable korma, palak paneer, dal makhani, naan, rice, raita and kheer.
Prasai always wanted to open his own place, but San Francisco's high cost of living was prohibitive. He had a friend in St. Louis who not only touted the city as an inexpensive, family-friendly locale but also — believe it or not — praised its weather (Prasai insists that our temperature variations of hot summers and cold winters remind him of Nepal). He could get Prasai a job and help him get on his feet while he explored his options.
That job was a gig at India's Rasoi in the Central West End, where Prasai worked as a cook for approximately two years. Though he has the utmost respect for the restaurant and speaks well of his time there, he still couldn't shake the feeling that this was not the elegant, fiercely authentic cuisine he was capable of cooking. He searched for properties and saved his money, zeroing in on south city. When the old fast food shack on South Kingshighway came open, he knew he'd found his spot.
When you taste Prasai's cooking, you immediately understand that you are in the presence of culinary greatness, no matter how unassuming your surroundings, and no matter that you might not even be given a menu during lunch hours. During lunch hours, the hostess will likely assume you're there for the standard (albeit excellent) buffet in the corner of the room.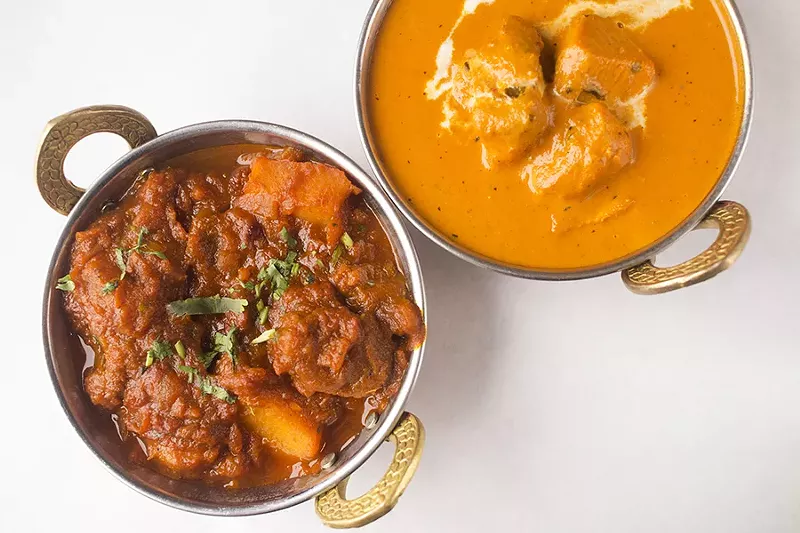 MABEL SUEN
The lamb vindaloo and chicken tikka masala show that the restaurant also excels at Indian standards.
Once you are given the a la carte menu, though, you'll find magic — a mix of Indian and Nepalese specialties that have similar flavor profiles because of shared spices, but are distinct in style and preparation. Both are terrific.
Indian-style veggie samosas, for instance, are the subcontinent's quintessential deep-fried dumpling: a crunchy, triangular fritter filled with mashed potatoes, chickpeas and green peas, and perfumed with fragrant spices. The Nepalese momo are also fried dumplings, but that's where the similarities end. Closer in shape to a pot sticker, the chicken is infused with more of a savory, garlic-forward spice blend that is evocative of well-seasoned fried chicken. The accompanying tamarind chutney is delicate and as savory as it is sweet — a pleasant departure from the overly sweet versions so often served at Indian restaurants.
Prasai says that he will sometimes blend elements of Nepalese cooking into his Indian fare, but for the most part, keeps the cuisines separate. The menu doesn't draw an explicit dividing line, though it notes in the description if a dish is traditional Nepalese (if not, the default is to assume it's Indian). The last page of the menu, called "Chef's Specials," is devoted exclusively to Nepalese fare.
Still, even standard Indian dishes have a certain something that makes them special. Prasai's lamb vindaloo, for example, is not the burn-inducing style you may be used to. Instead, his heat is softer and nuanced — more of a warmth that gradually builds rather than one that smacks you across the face at the first bite. The meat is tender and of impeccable quality.
MABEL SUEN
Chef Dipak Prasai.
His lamb seekh kabob is equally dazzling, pairing ground lamb with garam masala, coriander and enough green chiles to give it a kick. The meat is cooked in a searing-hot tandoor, giving it a delicious char.
Prasai's baigan bharta, or mashed eggplant, gives baba ganoujh a run for its money as the eggplant dish of choice. The vegetable is baked in ghee, or Indian clarified butter, and then mashed with green chiles, tomatoes, onions and fresh herbs. Smoke, tang and subtle spice permeate this satisfying dish.
You may think you've had chola (or chana) masala before dining at Himalayan Yeti, but Prasai's rendition may make you question that. His chickpeas are cooked impeccably: softened, yet firm enough to give a little pop when you bite into them. The tomato and cinnamon-scented masala is present, but it's only part of the story. Every bit reveals a new flavor. First it's garlic; then ginger. Next it's clove and then onion. Everything comes together in a well-balanced symphony. It's revelatory.
MABEL SUEN
Himalayan momo are available steamed or fried.
The same can be said of his chicken tikka masala, admittedly a go-to dish for those new to Indian food. Typically, the staple is all cream with just a bit of tomato. In Himalayan Yeti's version, the tomato leads with a tart punch. The cream is there, but it's a minor player. The richness comes from the freshly milled spices and "low and slow" technique Prasai employs. After eating this dish, my friend whose family hails from Kolkata exclaimed, "I've never had Indian food this good in a restaurant. This is the closest thing I've found to eating in my family's home."
If Prasai's Indian dishes are like those coming from an Indian home kitchen, his Nepalese specialties are like the ones that came from his mother's. For his chicken choila, cubes of the slow-cooked meat are tossed in pungent mustard oil that has the pleasant sharpness of horseradish or wasabi. Red chile spice and raw sliced white onion give it a touch of heat, but never so much as to make you break a sweat.
Lamb sekuwa looks like nothing more than simple roasted meat. However, the freshly milled spice rub — garlic, chiles, cumin — and shockingly tender meat make this simple dish spectacular. The goat curry is another standout, with a texture that pulls off the bones with only the slightest prodding.
MABEL SUEN
Samosas are filled with mildly spiced potatoes, peas, chick peas and dried fruits.
Himalayan Yeti serves a variety of Indian and Nepalese breads, including a pillow-soft onion and herb-stuffed kulcha, as well as a potato-laden aloo paratha, which could have used a bit more filling. Both breads were ideal accompaniments to Prasai's chicken soup, a delicate bowl of chicken, broth and herbs that is the Nepalese version of a grandmother's remedy. I can imagine a young Prasai holding onto his mother's apron strings as she stirred a pot of this soup — his cooking is so soulful you can taste her inspiration in everything he does.
But the refinement and sheer mastery in both Indian and Nepalese cooking here transcend what can come out of any home kitchen. It's simply luxurious, even if the address might leave you believing otherwise.