If you go to Dados Café's website and click on the "Greek Cuisine" tab, you won't find much more than a photo of a Greek salad and a sentence that lists a few menu items. It's not at all informative, but it doesn't need to be. All you really need to do to learn about Greek food is head to the Southampton storefront and order the dolmades.
You've probably already had dolmades, the small, often tasteless rolls of rice-filled grape leaves. They can be an afterthought at any number of Mediterranean restaurants: pulled from a jar and plopped on a Greek salad next to some cucumbers and olives.
At Dados, though, this old family recipe deserves main-course billing. The size of a small fist and overfilled with ground beef, herbs and rice, the hand-crafted dolmades here are smothered with your choice of either a creamy lemon sauce that plays off the grape leaves' tartness or a meaty, oregano-spiked tomato sauce that tastes as if it has been simmering for hours in your yia yia's kitchen. Who needs words on a webpage when you have such a beautiful representation of Greek food right there on your plate?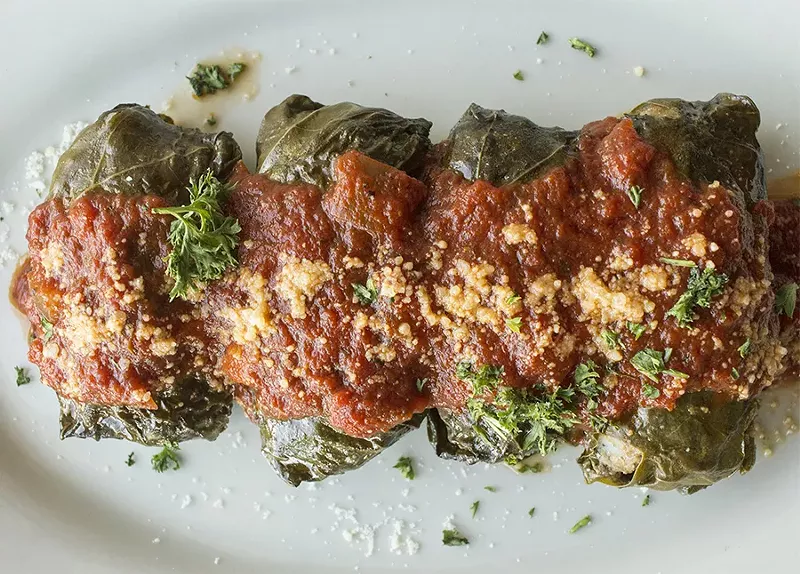 PHOTO BY MABEL SUEN
The dolmades at Dados: hand-crafted and the size of a fist.
Dados Café has only been around since last November, but owner Gus Botonis and head chef Nick Avouris have had plenty of time to perfect their dolmades. The cousins, who grew up on the picturesque Greek island of Zakynthos, have roughly 30 years of hospitality experience between them. They'd often talked about opening a place together, but their lives took them in different directions — Botonis in and out of the restaurant and real estate business; Avouris to different restaurants in various cities. Finally, they found the right building at the right time and were able to realize their dream.
As much as the dolmades might lead you to believe otherwise, Dados is not a strictly Greek restaurant. Instead, the menu combines Greek and American classics, similar in theory to a Jersey diner but without the grease and patrons in cheetah prints.
For a place that slings pastistio, patty melts and chicken parmesan, the aesthetic is quite tasteful. The deceptively large space is divided into three separate dining areas, the first of which is tiled in gray and white with Mediterranean-blue accents. The open kitchen sits just beyond a carryout counter, and a few high-top tables dot the room. To the right are two additional mauve-painted dining rooms decorated with photos of both St. Louis and the Greek islands. It has the bland good looks of an upscale hotel lobby.
PHOTO BY MABEL SUEN
The interior of Dados Cafe resembles an upscale hotel lobby.
The photos foreshadow the mix of Greek and American food found on the menu. The spanakopita appetizer is exactly what you want in a spinach pie: delicate, flaky crust; hunks of molten feta cheese; and a spinach and herb filling perfumed with pine nuts. Greek meatballs are an equally worthy first course. Coated in breadcrumbs, their crispy exterior yields to moist, oregano-flecked meat that pairs perfectly with zesty marinara sauce.
Saganaki presents as triangles of gooey breaded cheese, simply fried without the brandy-fueled flambé and shouts of "opa!" so often associated with the dish (at least stateside). I didn't miss the spectacle but was glad to have a lemon wedge to squeeze over such a rich and mildly funky kasseri cheese.
While we reveled in the delights from the Greek side of the menu, our server arrived with an order of chicken wings that shows Dados' prowess with American bar food. The plump drummies and wings come with skin that's extra crisped, almost like breading. They're then coated in mild, vinegar-based hot sauce that is diluted with so much butter you won't need the accompanying blue cheese dressing.
But there were slight seasoning missteps on a few of the American-style main courses. The patty melt had all of the makings of a superior sandwich: balsamic caramelized onions, tangy Swiss cheese, perfectly griddled marble rye bread and a large, juicy ground beef patty. Unfortunately, the meat had so little seasoning I wondered if it had even been hit with salt and pepper. Similarly, the corned beef on the Reuben sandwich lacked the characteristic perfumed brine and fat that makes the sandwich pop. It's a shame — otherwise, the bread, kraut, Swiss and Thousand Island dressing combined for a gloriously oozy treat.
On the Greek side, Dados' gyro is respectable — not the best in town, but a worthy effort. The warm pita is so overfilled with slices of crisped gyro meat it's difficult to eat (a welcome problem). The greens, onions and tomato garnish are tossed in vinaigrette; when mixed with optional feta cheese, the result is a flavorful mixture that brightens the wrap.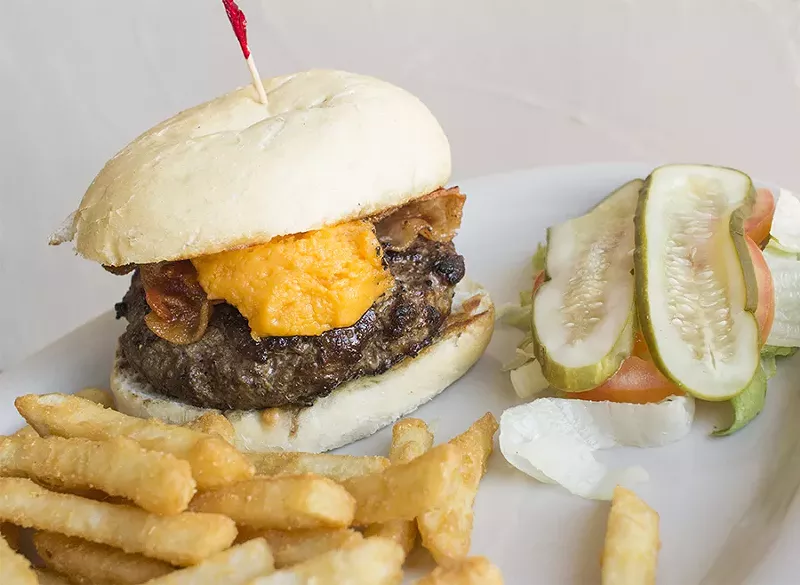 PHOTO BY MABEL SUEN
The burger and fries at Dados Cafe.
There is much to love about the moussaka, with its layers of seasoned ground beef and potatoes encased in a semi-hard béchamel sauce that puffs up like custard. The only problem is that the eggplant was so sparse, I'm still not sure it was actually there. Nonetheless, the flavor is superb.
Botonis and Avouris envisioned the restaurant as a hybrid of a family-friendly American diner and the traditional Greek tavern you'd find back in Zakynthos. They've hit that mark — the place is a 50/50 split.
But even though the American side is respectable, I found myself consistently more dazzled by the Greek side of the menu.
PHOTO BY MABEL SUEN
Dados is located in St. Louis' Southampton neighborhood.
Case in point: dessert. Dados serves a good carrot cake — moist, spiked with cinnamon and coated in rich cream cheese icing. However, no trip to a Greek restaurant is complete without an order of baklava, and Dados did not disappoint. Honeyed walnuts layered between crisp, butter phyllo dough doesn't break the mold, but why should it? Their traditional rendering is an ambrosial treat.
Botonis and Avouris should add a photo of this quintessential Greek dessert to their website as additional enticement. Then again, what would be the point? You'll be better served just heading to Dados Café and tasting the food for yourself. A picture may be worth a thousand words, but one bite is far better.