Let's go ahead and get this out of the way: Yes, Club Taco has eggplant Parmesan tacos and Thanksgiving dinner-themed tacos. And no, they are not tragic.
Seriously now. Though I don't blame you for questioning my judgment — or perhaps more accurately, my sobriety — at that pronouncement. Considering that the menu looks like it was inspired by a quarter-bag and a munchies run through a Ken-Taco-Hut, the two-month-old Kirkwood spot doesn't exactly instill confidence. Mashed potatoes in a taco? Bro, that's going a little too far.
But while that would be a fair assessment if Club Taco were trying to be a taqueria, here's the secret: Despite appearances — the name, the vehicles for serving food — Club Taco is, at its heart, a fast-casual American restaurant, with a little Miami-style bar action thrown in at night for good measure. If you go in expecting a Mexican spot, you'll be shocked at the bastardization. If you can look past the tortillas and focus on the fillings, though, you'll see that Club Taco has much more in common with a place like the Slider House than it does with the authentic taco shops on Cherokee Street.
Chef-owner Gerard LaRuffa admits as much. When he opened for business in June, he insisted that he wanted to be unrestricted from any particular genre. "I love Mexican food, but I didn't want to open a Mexican restaurant," he said. Instead, the concept was to use homemade tortillas as a theme to bind together a menu of disparate flavors — down-home Southern, Korean, Tex-Mex. In a sense, the menu is a reflection of LaRuffa's time traversing the country as a corporate trainer for Canyon Café, as well as his tenure at Villa Farotto and Drunken Fish. From each place, he gained expertise in a particular type of cuisine. The taco, he figured, was a way to bring them all together.
The theme works because the fillings work. "El Mexicano," for instance, is anchored by rich, mildly spiced housemade chorizo, cheddar and tomato-studded scrambled eggs and tater tots — a Tex-Mex breakfast casserole in a flour tortilla. The "Bacon and Egg" version subs in succulent pork belly for the chorizo, transforming the south-of-the-border dish into something that would be at home on tables south of the Mason-Dixon.
It's not just the breakfast tacos where LaRuffa proves his prowess with Southern flavors. The "Deep South" is a wonderful fried chicken dinner in a corn tortilla, complete with crisp, peppery fried bird, creamy mashed potatoes and sweet corn relish. Tangy pepper sauce cuts through the richness.
Club Taco's "BLTA" makes me question the supremacy of classic white toast as the BLT bread of choice. Here, LaRuffa uses a corn tortilla as the base for fork-tender pork belly, thick-sliced, peak-of-the-summer tomatoes and lettuce. Herbed crema is a bright stand-in for mayo, but the true star is the avocado, lightly coated in panko and deep-fried just to the point of softening. This is the best dish on the menu.
LaRuffa's lengthy tenure with Villa Farotto (his wife's family owned the now-shuttered restaurant) is evident in the "Sicilian Kiss," a taco inspired by eggplant Parmesan. Hunks of fried eggplant are paired with plump, whole roasted tomatoes that pop when bitten. A few fried garlic chips, some mozzarella and fresh basil complete a dish that's so gooey, the only way to eat it without a mess is that tortilla wrapping. I came away almost convinced it was always meant to be served this way.
Though Club Taco is decidedly not a Mexican restaurant, LaRuffa hits the mark on the more traditional taqueria offerings. Don't let the name "Lake of the Ozarks" fool you — this dish is a quintessential fish taco. Battered cod, accented with cumin-infused crema, toasted pepitas, lime, cilantro and crisp, vinegar-y slaw, is a pleasant mix of flavors. The "Traditional Bisteca," however, featured flank steak that's tough and chewy. I preferred the spicy braised chicken on the "Traditional Tinga." The piquant, juicy meat is so enjoyable I appreciated that it was allowed to take center stage with only a minimalist cilantro and lime garnish.
There are no chips and salsa on offer (something LaRuffa admits has drawn consternation from those expecting a more traditional taqueria), and don't expect the usual rice and beans for sides. Instead, Club Taco offers a Mexican-American riff on poutine. These "Club Tots" are smothered in melted cheddar, green chiles and chipotle crema. The obligatory egg is there, though it was overcooked and unnecessary.
"Borracho" or "drunk" beans are simmered in stout beer, though a generous amount of cumin and chili gives them some serious heat. The highlight of the sides, though, is the roasted street corn casserole, a mélange of perfectly cooked summer corn and queso fresca. There's just enough lime crema to give it zest and richness, but it's not as overwhelmingly creamy as street corn can sometimes be. A touch of cayenne adds smoke and heat to this addictive dish.
Give me an order of corn and a "BLTA" and I'd say this place has a lot going for it. And considering its prime location in the heart of downtown Kirkwood, I'm inclined to think this could be a surprising success. The restaurant boasts a massive patio, a beachy cool vibe and an outdoor walk-up bar that gives off the feel of a South Beach snack shack.
But though LaRuffa and company have the food and aesthetics worked out (aside from the fact that the Kirkwood restaurant is — ahem — painted in rival Webster Groves colors), I'd be remiss if I didn't discuss Club Taco's logistical challenges. This is, for all intents and purposes, a fast-casual restaurant: You order at the counter, get a numbered table flag, help yourself to drinks at the soda fountain, seat yourself and wait for your food to arrive. However, Club Taco also offers table service — sort of.
When we sat down, a "cocktail server" arrived, announcing his intent to take our alcoholic beverage order. He couldn't bring us soft drinks, though. And he further explained that while we should order our food at the counter, if we wanted a second helping, he could put that in for us. Bizarre, yes, but things could have been even more confusing: He explained that they'd recently decided to supply tables with water pitchers. Until that point, the servers had been so busy fetching individual glasses of water from the soda fountain, it was all they could do to keep up.
"I know it seems complicated," he admitted," but it's really not." The fact that he had to sell us on that — and explain the same thing to every last table on a packed patio — made it seem, well, complicated.
Clearly, LaRuffa is trying to push Club Taco's bar program further than a fast-casual place will allow. And his extensive list of fruity, quaffable cocktails is indeed tailor-made for enjoying with a "West County Housewife" on the restaurant's large patio patio (hey now, it's the name of one of the steak tacos on the menu). Sipping a gin-based "Cucumber Mint Crush" and a "Hibiscus Pleasure Martini" were the only things that made outdoor dining in the midst of the recent heat wave bearable.
To be fair, our food and drinks arrived without a hiccup, but something seemed off. When your not-server has to tell you what he's capable and incapable of doing, it muddies the waters and makes for a confusing setup. If LaRuffa wants to make the place a cocktail bar with tacos, perhaps the fast-casual, counter-service model isn't the right fit.
What's odd, though, is that meatloaf and mashed potatoes in a tortilla is. Even to this skeptic.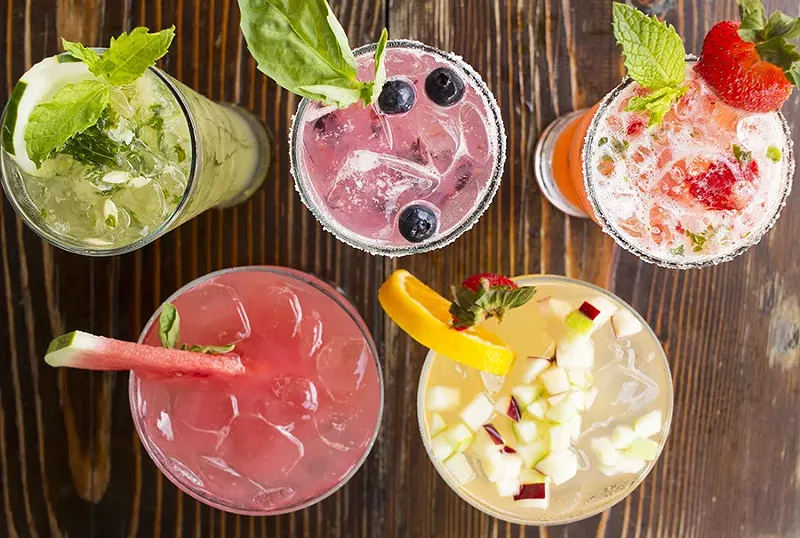 PHOTO BY MABEL SUEN
Club Taco cocktails are fruit-forward and highly quaffable.
Turn the page for more photos of Club Taco.