It's hard to say which was more intoxicating: The scent of rosemary that perfumed the air, teasing a dish still two courses away, or Patrick Swayze's aching voice emanating from Privado's sound system, a longing coo to Jennifer Grey's "Baby."
Music plays an integral role in the dining experience at Privado, chef Mike Randolph's tasting-menu-only, weekends-only experiment on the Loop. It sets a mood, cues the chefs to different points in service and even sometimes winks to diners lucky enough to be in on the joke. And boy, did I want to be in on that joke, though even two weeks later, I'm still trying to tease out what squab has to do with Baby and Johnny Castle. The playful chef was telling us something, right?
Sitting there in the moment, though, it all seemed to make sense. Leg and thigh pieces of the succulent game bird lay in a pool of truffle jus, fortified with liver. Lines of grill char seared the delicate skin, but inside, the meat was the color of vibrant pink rose petals, so tender it all but melted on the tongue, mingling with the bird's skin and fat to form a luxurious texture. It was a dirty dance indeed, but one that speaks to a beautiful love story. Nobody puts this squab in a corner.
If Randolph's other concepts — Pùblico, Half & Half, and the now-shuttered Randolfi's and the Good Pie – are his public-facing merengue classes, meant to entertain and pay the bills, Privado is his after-hours, private dance party, done for the sheer pleasure. "La La Land" is what he once called it, aptly. The restaurant business is, after all, a business, and no matter how much a kitchen is a vehicle for a chef's creativity, other day-to-day considerations influence its operation. You have to keep the lights on.
MABEL SUEN
An open kitchen allows guests to see the chef at work.
Privado is the restaurant you'd open if you didn't have to worry about such things. Part test kitchen, part dinner party, the twelve-course-plus tasting menu is a very expensive peek into the mind of a chef, unfiltered. But while service is impeccable and the food expertly plated, it's not stuffy. It's not just that Randolph is playing rock and silly '80s pop; it's that the music gets loud. The conversations of giddy revelers get louder. Stretching more than three hours, the experience is as much a theatrical production as a meal. You're transported, you're whipsawed, you're stuffed to the gills. And you love every damn minute of it.
This is not the first time Randolph has attempted such an ambitious concept. It seems like a lifetime ago, but in 2012 Randolph attempted a similar dining experience in Little Country Gentleman, an evenings-only tasting-menu restaurant within his popular breakfast and lunch spot, Half & Half. In some ways Little Country Gentleman was ahead of its time; in others it was ahead of his. Now 37, Randolph will be the first to tell you that he has since matured both personally and professionally, an evolution that has led him to this moment.
But Privado is more than that. It's also the result of Randolph finally coming to terms with what fine dining means to him. It was a journey that began at Peninsula Grill in South Carolina, got flipped on its head at Moto in Chicago and was tabled when he arrived in St. Louis and opened the Good Pie. Still, even as Randolph opened more casual concepts, he never let go of wanting to explore that side of service. Throughout his many restaurants, he's played with where he fits on the spectrum of classical to experimental cooking, the spaces between pomp and circumstance and irreverence.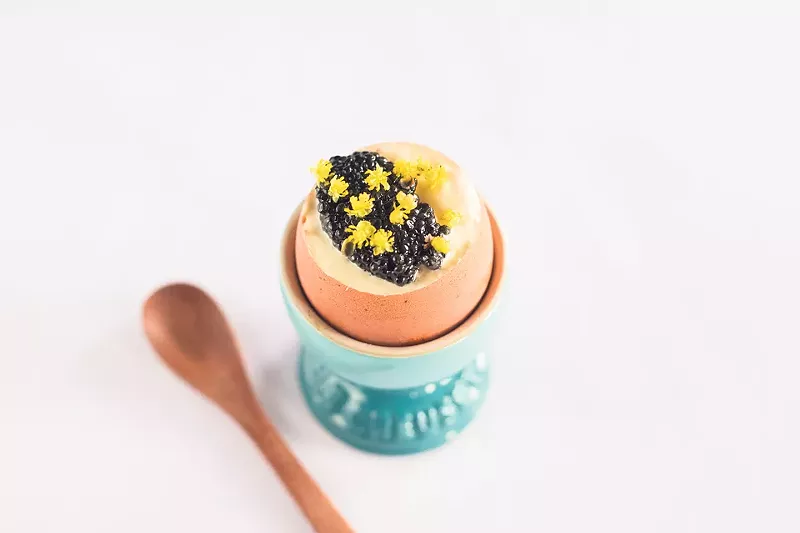 MABEL SUEN
Egg with shitake, calamansi and osetra.
In fact, if there's one way of describing him as a chef, "explorer" covers it. He does so in total solitude on the days Privado is open for service, beginning his day by unlocking the doors, putting on Miles Davis and pulling a shot of espresso as he digs into prep for the evening's service. It's just him and the watchful eye of the Bruce Springsteen poster-sized photo that hangs prominently in his kitchen until his cooks begin trickling in hours later, and guests a few hours after that.
When it first opened, Privado felt like an after-hours, invite-only event. When you walked into the space, chairs were stacked atop tables in the front dining area, making it feel like you were sneaking into a closed restaurant. Now Privado has converted that front space into an actual dining room for à la carte customers (even La La Land has to pay the bills). The tasting menu takes place in the back of the restaurant, directly in front of the kitchen, like a chef's table.
Service for the sixteen diners fortunate enough to secure a reservation for the tasting menu experience begins with a cocktail and an invitation to the kitchen. Immediately, any pretense of reverence is thrown out the window when Randolph hands you what looks like an ice cream cone — a nod to his first industry gig as a soda jerk. This cone, however, is no frosty confection. Inside is luxurious duck liver mousse that fills the mouth with silk, along with the crunch of a frozen custard waffle cone, only deeply savory.
After returning to the table, that whimsy is replaced with pure decadence when a hollowed-out eggshell filled with earthy shiitake custard and calamansi sabayon arrives at the table. Yes, it's custard on custard, a pairing that would be overly rich were it not for the zing of the tart citrus that infuses the sabayon. A generous sprinkle of Osetra caviar serves the dual purpose of breaking up the richness with brine, demonstrating that Randolph can do over-the-top luxury as well as irreverence.
MABEL SUEN
Cobia is served two ways, including with fermented green curry and nuoc cham.
He moves with ease between those styles on one course after another. A buckwheat sourdough blini topped with thick yogurt is a delightful vehicle for pea-sized smoked trout roe — a case study in the difference between the fish eggs on the prior dish and those on the current one. After that, a lobster roe tart infused with saffron is paired with burnt bread rouille, a sauce that is deeply nutty and slightly bitter, bringing out the shellfish's subtle sweetness.
In a subsequent course, cobia belly is served as kinilaw, a Filipino preparation something like ceviche. It's paired with fresh coconut panna cotta. After that, a cobia filet atop fermented green curry is topped with nuoc cham, a sweet and vinegary condiment that looks over its shoulder at the kinilaw. Both are fresh, vibrant dishes that break from the richness of all that has come so far.
But much more is to come. Following the aforementioned squab, a slice of lamb loin cooked in its own fat is enlivened by blackberry and mint. As it's being served, Foreigner's lead singer is begging to know what love is. If he tasted this lamb, he'd have his answer.
A perfectly cooked piece of prime strip steak follows, classically paired with king oyster and black trumpet mushrooms atop a pan jus, a gift of straightforward heft to anyone who has ever complained about leaving hungry after a tasting menu. And then comes the "Twinkie" — a version filled with foie gras mousse that takes the whimsy of the duck liver ice cream cone amuse bouche and turns it into uproarious laughter. By the time the last plate, a dark chocolate soufflé with nutty porcini sauce, hits the table, you don't know whether to laugh, cry or applaud. Drunk on wine, Genesis and impeccable food, all of the above seems apropos.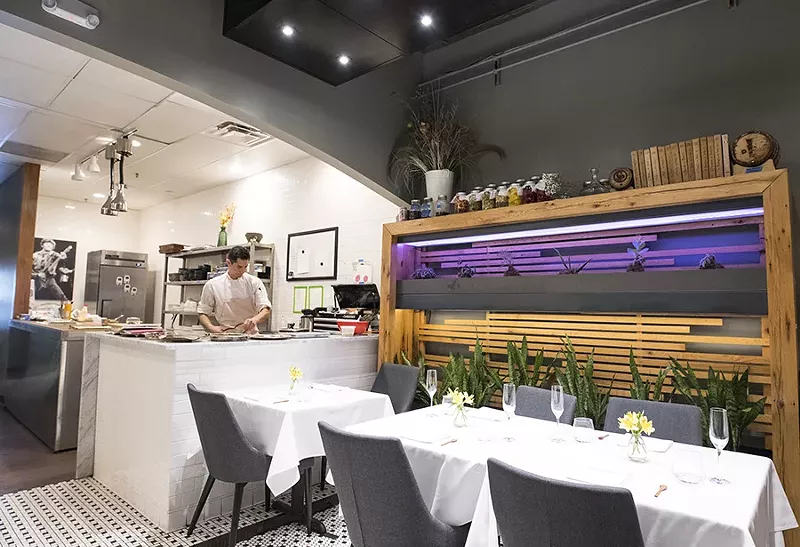 MABEL SUEN
Privado is open weekends-only in the former home of Randolfi's.
La La Land comes at a price, and you have to pay in advance. Upon reserving your spot, you'll be charged for everything, including the twenty percent service fee. Dinner, an alcoholic beverage pairing, tax and gratuity will run close to $300, making this a privileged experience in every sense of the word. If you choose to go the non-alcoholic pairing route, the cost of drinks goes down a bit ($30 instead of $85) but not the enjoyment. What Privado is doing with mocktails sets the standard for beverage service.
I've been asked many times if the price tag is worth it. It's a hard question to answer. Yes, having the catbird seat at one of our city's most exciting chef's tables is thrilling. Could you get just as much enjoyment for the same price flying to Chicago, checking into an Airbnb and eating a double cheeseburger from Au Cheval? Probably. It's impossible to quantify what an experience means to someone. But if you have the means and the desire, you will likely not be disappointed.
And even if you don't have the means, Privado can still afford you a wonderful experience. Though the main draw is the tasting menu, you also have the option of ordering off an à la carte menu in the restaurant's bar and front dining area. If you knew nothing of the multi-course reverie going on in the back of the restaurant, you would never think you were missing out. Here, it's as if Randolfi's never closed; Privado's bar menu is made up of the Italian-inflected entrees that made its predecessor so beloved. Pasta with ramps and plump clams tasted like springtime, while beef braciole over flawless, creamy tomato risotto made me long for the days I could walk in off the street on a Wednesday and be served the area's best Italian food.
But that longing only lasted a minute, quickly fading to thoughts of the thrilling dance that comes through fine dining, Mike Randolph style — an experience that is much more than a meal. It could be, instead, the time of your life.