Page 6 of 6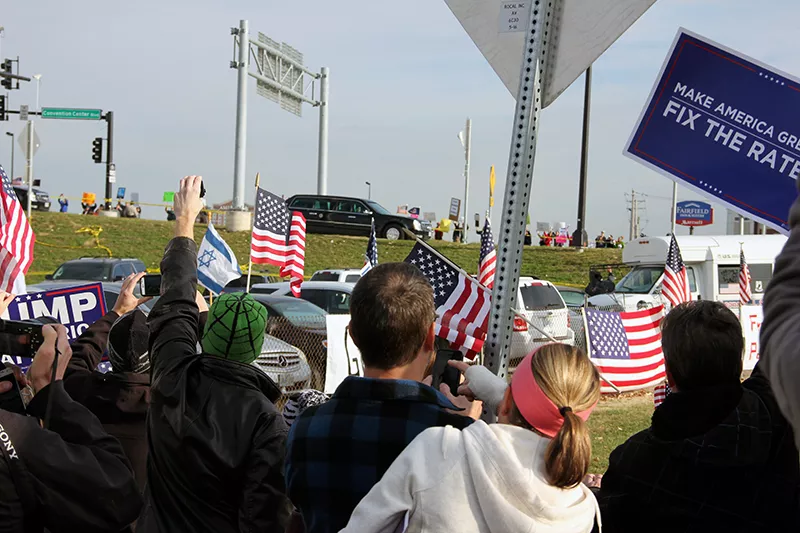 DANNY WICENTOWSKI
President Trump's motorcade leaves St. Charles following his rally there in November.
"THIS GUY?"
It's after 3 p.m. on November 29, and Trump is driving away from his St. Charles rally touting the GOP tax plan. Just Moms STL co-founder Chapman is still at the event center, sitting in her car, suppressing her hunger long enough to call everyone on her list with the day's big news.
"We were able to get President Trump one of our West Lake Landfill books," she says, breathless.
Chapman got to St. Charles by 11:30 a.m. to claim a seat close to the stage. She wore an unmissably bright pink top and curled her chin-length brown hair. Through sheer luck, she managed to get in the third row, close enough to shake Trump's hand if he'd have reached in her direction, which he didn't.
But U.S. Representative Ann Wagner (R-St. Louis County) did.
Wagner, one of the politicians who helped Chapman get into the Trump event, knew by sight what she wanted: to give Trump the Moms' self-published book about the landfill, which they've pressed upon everyone up to and including former President Bill Clinton and then-Vice President Joe Biden.
"She said, 'Is this your book for him? I'm in the motorcade next to him, I'm giving it to him right now,'" Chapman remembers. She handed Wagner the book and then whipped out her phone to take a picture as the congresswoman raced after the president. "If she truly gave it to him — and it sure as hell looked like it, she was running after him with it — then we have literally just gone up as high as we can go. We've exhausted everything with our government."
Chapman, who often uses chess metaphors to explain her efforts, says: "I guess we're at check now."
Delivering the book is a victory five years in the making. Even if Trump never glances at it, all of the elected officials riding in the motorcade and Air Force One with him know what it says, thanks to the Moms. "Ann Wagner, Roy Blunt, Eric Greitens, Josh Hawley," Chapman lists. "They're sitting there within inches of the man. All they have to do is lean over and say, 'Hey, we need you to do this one thing. Here is your chance to champion for the ordinary people.'"
Now Chapman isn't sure what to do next. She needs to eat (she's craving a donut), but she's also anxious to get home to her husband, who cancelled his medical treatment and took off work early so she could attend.
During the rally, she started getting calls from concerned neighbors about a compost fire at a Republic Services-owned landfill in Maryland Heights. "You can see it for miles, it's dropping ash on people's cars," she says. The fire wasn't at West Lake Landfill, but the news left Chapman panicked about being stuck on the other side of a river from her family. "Oh, God," she thought during the rally, "please don't let today be the day for this. What if I did all this for nothing?"
She also needs to call Nickel to figure out how to explain the day's developments to their Facebook group followers, many of whom are not fans of this president.
"This is the best chance that we have ever had to get anything accomplished at this site," Chapman says. "And thinking that makes me angry, because of all the people to be a champion for this issue, is it going to be this guy?"
NO GOOD DEED
No one agrees on the worst-case scenario for the West Lake Landfill problem, although there are many apocalyptic contenders. (Here's the one that keeps me up at night: An earthquake liquefies the sand-and-dirt foundation beneath the landfill, sending radioactive flow into the adjacent garbage fire and sparking a wave of evacuees, while crippling surrounding hospitals and fire departments.)
Everyone agrees on one of two best-case scenarios:
The EPA decides to completely remove all contamination and, using its authority from the law establishing the Superfund program, requires Republic Services and two other responsible parties — Chicago-based Exelon Corporation and the U.S. Department of Energy — to pay for it. Then they do so, using the stores of money they've already set aside specifically for this purpose (yes, these funds exist) and instead of filing obstructionist lawsuits that delay action for years (remember, this is a best-case scenario). The waste is safely transported, probably by the Army Corps of Engineers, and contained. The fire burns itself out.
Or:
The fire self-extinguishes or otherwise stays away from the radioactive waste. A cap prevents re-exposure or contamination and allays resident fears about public health risk.
Both scenarios are equally improbable, but Trump's election creates an unexpected, yet undeniable, opportunity to accomplish the former. The president's mission to dismantle the political establishment as well as his preference for tangible results over incremental change and global cooperation have opened a door to full excavation, starting with the unlikely confirmation of an environmental originalist as EPA administrator.
On December 7, Administrator Pruitt testified to a House committee that he'll release a plan for West Lake Landfill next month.
"We should be able to announce a decision in the month of January," Pruitt says. "There are proposals that I'm looking at this month to make a decision on West Lake. It's been a long time coming, specifically 27 years. It's a very important issue to the people of St. Louis. For those of you who don't know on the committee, 8,000 tons of uranium commingled with 38,000 tons of solid waste dispersed over a very large geographical area buried about 80 feet deep, and it's taken the agency 27 years to make a decision on whether to excavate or cap the site. That's unacceptable, and the decision is coming in the month of January."
The next day, the EPA released Pruitt's official list of "Superfund Sites Targeted for Immediate Intense Action." West Lake Landfill is one of 21 sites, one of only two in Region 7. "We want the list to be the administrator's special emphasis list," not a ranking, Kelly told me the week before its release. "He wants to get moving. The list will be fluid."
On the same day Trump rallied in St. Charles, in fact, the EPA announced a $22.6 million cleanup plan for East Chicago: excavate 61,000 cubic yards of lead-contaminated soil from a landfill, contain arsenic-contaminated groundwater, ensure safety during digging and get financing from the site owner. The East Chicago plan sounds a lot like what residents want for West Lake, only our local problem has more than twice as many cubic yards of radioactive waste.
Optimistic that the EPA could announce a similar (but much more expensive) remedy here, activists have cautiously paused their quest to petition Congress to transfer responsibility for the site to the Army Corps of Engineers.
"I sure don't advocate business as usual," wrote John Paul Woodley Jr., a lobbyist and former assistant secretary of the Army for Civil Works under President George W. Bush, in a May op-ed in the Hill. "But the EPA has new leadership, and Administrator Scott Pruitt has gone on record as saying that Superfund sites in general, and the West Lake Landfill in particular, are a top priority and will receive his personal attention. I would hold him to that and give the EPA one more chance to succeed."
The optimism is bipartisan.
"Donald Trump has an opportunity to do a better job than establishment Democrats in office now" on West Lake, says state Senator Maria Chappelle-Nadal (D-University City), raising her eyebrows as though in shock at her own words.
Chappelle-Nadal tells me she "would think of Trump as a totally different person" if his administration got started on excavating West Lake. It's a surprising admission; the progressive politician is so vocally against the president, the Missouri Senate formally reprimanded her in September for posting on Facebook that she hoped he would be assassinated. "He has his personality, I have my personality. But if he dedicated the time, money and resources to cleaning up that landfill, I would think of him differently."
Alex Cohen, co-founder of the Earth Defense Coalition, isn't legally allowed at West Lake anymore after he and nine fellow activists chained themselves to the landfill entrance to demand responsibility be transferred to the Army Corps. Even he admits things are different post-2016: "We're like, 'Do we really feel hopeful under Trump?'" he asks.
Cohen still thinks Trump's election will have devastating environmental consequences; he predicts Pruitt's hyper-focus on Superfund combined with federal budget cuts will create additional toxic sites, no matter what happens to West Lake.
"We are all part of this toxic, polluted family," Cohen says. "They better not use our site as an excuse to get away with polluting thousands of other communities."
Gina McCarthy, Pruitt's predecessor in the EPA, agrees the new administration's focus is prohibitively narrow.
"It is just ridiculous to think that you can ignore the most significant threats to public health today while chasing Superfund sites that have been around for twenty years," she told USA Today in November. "You don't make those choices. You do both."
From St. Louis, especially north county, McCarthy's response to her successor sounds patronizingly glib. Pemberton, the Spanish Village resident whose youngest daughter was born with dinosaur teeth, would offer West Lake Landfill — not global climate change — as her family's most significant health threat. The landfill has been a Superfund site for 27 years; the contamination inside is the world's oldest (and Mallinckrodt's worst) nuclear weapons waste and will increase in radioactivity by a factor of 35 over the next 1,000 years.
And the Obama appointee certainly didn't "do both" when she was in office. "Gina McCarthy blew us off," Nickel says. "She was strictly focused on climate change and wanted nothing to do with anything else."
And McCarthy wasn't the first to ignore the situation.
"Trump wouldn't be wrong to point out that this should have been handled decades ago," Chapman tells me.
Republic Services, which owns both West Lake and Bridgeton landfills, agrees. "It's taken too long," company spokesman Knocke told the Washington Post in June. "We certainly welcome the priority the new administrator is placing on the site."
That doesn't mean there is consensus on what to do. No matter what the EPA decides in January, someone won't like it, Kelly acknowledges to me. "All I can tell you is, no good deed goes unpunished."
A decision to excavate West Lake Landfill — before the garbage fire becomes a "garbage fire," that is — would put the U.S. government on its own collision course with the legal team at Republic Services, whose largest single shareholder is Microsoft billionaire Bill Gates, the only tech leader who's been able to meet President "Let's Make a Deal" Trump face to face without inciting public outrage. (The coincidence makes Nelly's seventeen-year-old lyric, "Bill Gates, Donald Trump/Let me in, now," feel downright prophetic.)
Republic Services already expects to pay $400 million to monitor and contain the fire, according to Bloomberg, and it's paid out almost $6.9 million in a class action lawsuit from residents. It's not hard to understand why the company would rather help pay for a $50 million cap than a $400 million excavation. But it has the money ready for either in case the government decides to sue, which Pruitt has threatened to do.
"Listen," Pruitt told the Washington Post in June, "these [responsible companies] across the country are going to be held accountable. They're going to get these areas cleaned up, or they are going to be sued by this agency."
Republic Services can file legal appeals of its own if the government chooses excavation. Lawsuits would likely stall action for years, especially since there are no studies to prove definitively how far contamination has spread since the toxic material was dumped in 1973.
Conversely, if the EPA chooses a cap instead of excavation, the people have no standing to appeal. Residents fear a cap will end up costing even more in the long run; if something goes wrong underground and engineers have to dig up the cap and the waste to fix it, that would be the most expensive remedy of all.
"It's a courage issue," Chapman says. "This has nothing to do with the science anymore, it's the courage to make the call to piss off these corporations."
Remembering the man who'd just stood mere feet away from her, Chapman says of President Trump: "Maybe this guy really is the guy to do it."
When I pitch that idea to Freivogel, now retired after a long and venerated career in journalism, she laughs freely. I'm used to it. Everyone I interview for this story betrays an incongruous chuckle at some point. No one trusts hope in Trump's America.
Freivogel, who worked in the Post-Dispatch's D.C. bureau for years, says it's foolish to make plans on any politician's promises.
"The whole reason that they dug it up from Latty Avenue was because they were supposed to make a permanent cleanup," Freivogel reminds me, "and what happened is it got dumped somewhere else.
"And here we are debating it 40 years later."
Editor's note: This story has been updated to correct the name of the doctor mentioned by Kirbi Pemberton during her EPA hearing testimony. Dr. Faisal Khan is the director of the St. Louis County Department of Public Health.