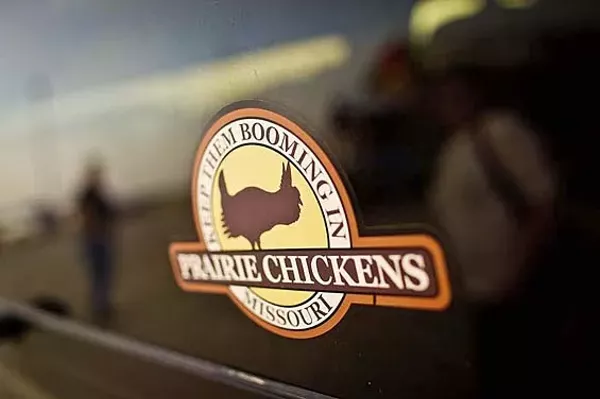 Every spring the Missouri Department of Conservation's Prairie Chicken Recovery Initiative sends a group out to the Kansas flint hills to rustle a flock of chickens to bring back to Wah'Kon-Tah Prairie, outside El Dorado Springs.
The night before the first recovery expedition, seventeen volunteers from the Department of Conservation meet for dinner at Logan's Roadhouse in Salina, Kansas.
They're fond of the place, their leader Max Alleger explains, because they can eat as much unhealthy food as they want and throw peanut shells on the floor.
The next day, the men leave their hotel in Salina at five a.m., headed for five different sites. The interstate leads to two-lane blacktop, which leads to a dirt road, which leads to the open prairie.
Yesterday afternoon, they set up a chicken-wire maze on the prairie chicken mating ground, called a booming ground or a lek, to guide the birds into box traps.
This morning, they check to make sure the traps are set.
In the dark, they set up duck blinds to make sure they can watch the prairie chickens without being noticed.
Alleger keeps his camera ready.
The prairie chickens usually show up about twenty minutes before dawn. Alleger watches for them through his field glasses.
The first prairie cock arrives!
Two cocks face off, preparing to spar.
The prairie chicken is an uncommonly charismatic little bird.
During mating season, orange sacs appear on the cocks' throats and above their eyes. Air in these sacs creates the distinctive "booming" sound the cocks use to attract hens.
Competition for hens can be fierce. (Though, as it turns out, none show up on the booming ground this particular morning.)
A captured prairie chicken is only slightly less majestic.
The birds will kick and fight and hiss until they're released back into the wild.
Alleger prepares to tag a captured cock, held by Dennis Browning.
He photographs another cock, this one held by John Murphy.
Murphy struggles to hang onto his chicken while Ryan Jones gets a tag ready.
Alleger is happiest on the prairie.
It's a deceptively complex ecosystem.
John Murphy waits for a second flock of prairie chickens to alight on the booming ground.
But they don't show. By mid-morning, the men decide to pack up their gear and head on out.
Prairie chickens need lots of wide open space in which to roam. There's not as much of that in Missouri as the Department of Conservation would like. Alleger hopes to enlist private landowners to provide prairie chicken habitats.
"I'm a prairie-o-phile," Alleger confesses.
After a morning of rustling prairie chickens, the man meet up for a big, greasy breakfast at a truck stop in Salina.
Today, it's too warm to transport prairie chickens back to Missouri -- the ventilation in the back of a pickup truck is not the greatest and prairie chickens don't like the heat -- but by the end of the week, the Department of Conservation will have captured 26 cocks. Two weeks later, they'll return with 52 hens.