First the good news: After decades of rumors and ill-fated efforts, Pee-wee Herman has made his long-awaited return to the big screen with his first feature since 1988. (Okay, it's only Netflix — you might watch it on a telephone screen half the size of a bubble gum wrapper.) Now, the even-better news: If you were concerned that Pee-wee's Big Holiday was going to be a watered-down rehash of Pee-wee's Big Adventure, a compromised piece of fan-fiction (a la the recent Star Wars film) rather than the return to form his fans deserve, put this review down and charge up that gum-wrapper-phone. Although clearly trying to capture the manic invention of Tim Burton's 1985 film, Pee-wee/Paul Reubens isn't interested in repeating himself. Big Holiday may be another road movie, but he's headed in a different direction.
When I mentioned the new film to a few people, a few of them (including some who had never seen the previous films) seemed to think that Pee-wee was a children's entertainer, the '80s equivalent of Barney or Dora the Explorer, but Reubens' character has always been more complex than that. Originally created (for adult audiences) as a nostalgic throwback to kids-TV personalities of the 1950s such as Pinky Lee, a middle-aged vaudevillian who acted like a child, Reubens made a seamless transfer to Saturday morning TV, but he was never just for kids. Young audiences may have liked the animated dinosaurs, but older viewers were hypnotized by the New Wave graphics, the barely hidden homoerotic jokes that kept sneaking in and the general weirdness of it all. It was a fantasy land with no boundaries, the twisted reverie of an overgrown man-child who — like everyone else born since 1950 — had watched way too much television.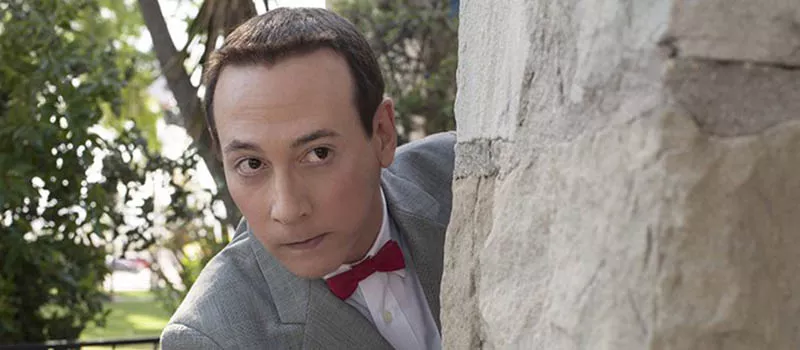 (c)2016 Netflix
Paul Reubens
In Pee-wee's Big Adventure, much of the humor came from the idea that Pee-wee was a pipsqueak pretending to be a hero, a perpetual pre-adolescent whose ideas of masculinity and maturity were filtered by a distorted television lens. Thirty years later and Reubens, now older than Pinky Lee ever was when he did the man-child act, hasn't changed much (the new film has been digitally retouched to make Pee-wee look ageless). It turns out that the real world got weird while Pee-wee stayed the same.
In Big Holiday, Pee-wee leaves the hometown border he's never crossed before, has a run-in with a trio of female bank robbers who clearly escaped from the set of a Russ Meyer film (think Faster, Pussycat! Kill! Kill!), wanders into the live-action equivalent of an old farmer's daughter joke (you still think this sounds like a children's film?), and much more, all in his efforts to get to New York City in time for actor Joe Manganiello's birthday.
(c)2016 Netflix
Paul Reubens and Joe Manganiello, having a big holiday
Director John Lee effortlessly revs up the Rube Goldberg pace, and the screenplay, by Reubens and Paul Rust, is relentlessly funny. From enormous set-pieces (the first ten minutes showing Pee-wee's daily routine to get to work) to genuinely odd dramatic twists (I won't give away the New York-based climax) to almost delicate throwaway gags (there's an amazingly subtle joke based on Brenton Wood's 1967 hit "The Oogum Boogum Song" — is that esoteric enough for you?), Pee-wee's Big Holiday is an unqualified delight, the Pee-wee comeback we've all been waiting for.