This year's An Under Cover Weekend was a departure for Mike Tomko's eleven-year-old concert series. The program moved from its longtime home at the Firebird to the still-sparkling-new Delmar Hall, but it was a few more subtle changes that made the first night a welcome anomaly. Historically populated by dude-heavy rock bands paying tribute to dude-heavy rock bands, this year's first AUCW show featured all women-led acts paying tribute to female singers from across the musical spectrum — Stevie Nicks, Chaka Khan, Madonna, Dolly Parton and Janet Jackson, the latter of whom briefly but powerfully channeled by the young R&B singer Paige Alyssa.

Alyssa's set was no mere karaoke set — her crack three-piece band hammered out Janet's muscular, synthetic soul, and a pair of backing dancers flanked the headset-wearing singer, who stepped in time and sang on point. Her set touched on big hits and fan favorites (including a powerful "Rhythm Nation" and searing "Black Cat"), and after she left the stage, Alyssa and members of her team collapsed into each other in a cathartic group hug. It was an image that gave a good suggestion of how important the artist, and that set, was to Paige Alyssa.
A few weeks later, Alyssa, 24, explains the feelings that were rushing through her at the end of her performance. "When I finally got off stage, I had rehearsed so much and I felt that I did justice to it, and I was able to present the product that I wanted," she says. "It was a really emotional performance, and if I get emotional after a performance that means I think I did really well."
While the Jackson set was a highlight, Alyssa is even more devoted to her career as a singer, songwriter and producer. She has released a few EPs since 2014, and her most recent release, Worth It, features four versions of the title track (including a cappella, remixed and instrumental cuts). "Worth It" channels some of the '80s-era pop and R&B displayed in her Janet Jackson set, using the familiar, banging palette of 808 drums and swoopy synths that defined hits by Whitney Houston and Jody Watley. It's a heavy hit of throwback R&B, but Alyssa's able and expressive performance keeps the heart and soul of the message at the forefront.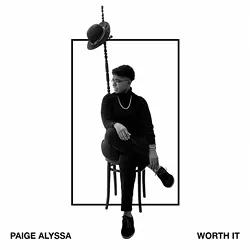 "Out of all the music I've released so far, 'Worth It' is the true Paige Alyssa sound," she says. "It pulls from '80s pop, '90s pop, the New Jack Swing elements are in there as well." But in composing the tune she took cues from another early '90s obsession — her Sega Genesis video game console.
"I'm a huge fan of Sonic the Hedgehog — those soundtracks had a really huge influence on me. The chord progression in the main part of the song was inspired by a level in Sonic 1," she says. "I always wanted to pull from the vintage music that I like, as well as video games and my gospel background. I kind of poured all of that into this track."
Her gospel background was aided through her mother's role as a music minister in their Baptist congregation. "I've been singing in church as long as I can remember; I started playing drums in church when I was nine," she says. "Music has been a part of my life, whether through the church with my mom or through me playing some type of instrument."
With that early tutelage in her back pocket, Alyssa enrolled in music courses at Webster University — though even then, she was aiming for her own brand of pop-music success. "I always say that I got my degree in jazz so I could apply it to popular contemporary music. None of the records I've come out with sound like standards or jazz — it's all pop stuff."
After college, she began recording her own compositions in earnest. And on last year's Songs For Myself, she decided to be open about her sexuality.
"For my first record, when I was talking about love interests I used gender-neutral pronouns," she says. "That was a decision I made because I wasn't ready to sing about other women or non-cis folks because I was still affiliated with my church pretty heavily. After that, though, I broke off my relationship with the church because it was just time for me to be honest with my music.
"At the end of the day, if they can't accept all of me, they probably shouldn't be listening to my music," she adds.
Alyssa still credits her time in the church for much of her early development — "I wouldn't be the person or the musician I am without it," she says. But "Worth It" continues her evolution as an artist able to use established musical forms to tell of-the-moment truths. She says that the themes of the song rest on "perseverance, come what may — loving yourself regardless of what someone might say, because the love that you have is gonna be worth it."