Page 3 of 5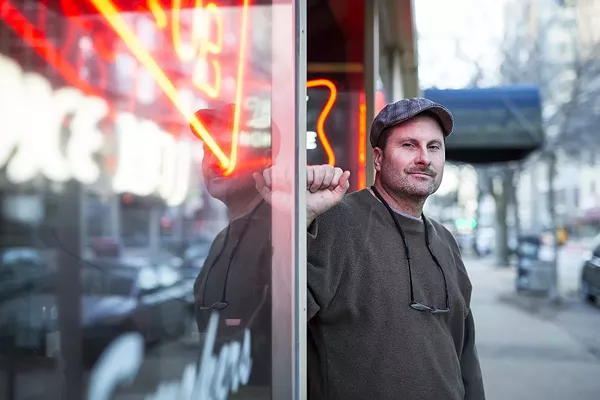 Eric Frazier
Like many of his clients, owner Tom Bergman is himself a former cop.
In the 1940s and 1950s, the 34 Club was a destination bar. A glitzy hotspot not far from the hustle and bustle of Gaslight Square — and a bar beloved by the city's power brokers to boot. Union bosses, police captains and aldermen all came to strike deals and indulge in the nightlife. Celebrities would stay at the Chase Park Plaza Hotel and hop over to the bar for a drink. Among the names thrown around, you hear Carol Channing, Joey Bishop, Dean Martin, Miles Davis. No one who experienced those evenings is still alive to comment, but the stories keep getting repeated anyway. And when the legend becomes fact, you'd be a fool not to print the legend.
Primarily a cop hangout for several decades after that, the 34 Club started expanding its clientele after Tom Bergman took ownership in 2003. A former cop himself, Bergman isn't quick to start talking but once he gets warmed up, he takes great pleasure in recalling the bar's glorious past. He punctuates his anecdotes with "you can't make this stuff up" and "it is what it is." His laugh starts hoarse, like he's gasping for oxygen, before transforming into a barrelhouse roar. You can tell he has laughed a lot in here.
"We knew with the way things were going, they were probably going to take a wrecking ball to this thing," he admits. "With all the new developments, though, my real concern is that you gotta keep the West End a little weird — this was always the cutting-edge neighborhood for years!"
Of the bar, he says, "You kind of become a family, albeit a dysfunctional family."
Bergman updated some of the flooring and lighting, but admits that he did little to enhance the bar's appearance. "When I first bought it, I tried to wash off all the nicotine from the walls and it was just coming down in a river, you know. I just figured it was its own varnish-shellac on there, maybe we better leave it," he laughs.
The lighting may have improved, but the shadows that lurk never seem to dissipate, even in the light of day.
But that's the thing. This was always a dark bar, he says. "It wasn't very inviting from the street. I think a lot of women would be wary of coming in here, but that was kind of the allure; this was a place that people always came to hide." One unique feature is that the bar is accessible through the back door in the alley, which led to many a secret rendezvous. "I had an inspector here and he said, 'Yeah, I used to come in here and drink in the '60s. I was married, but I'd come here and meet my girlfriend.' He said the great thing about this bar was that one could come in the front door and one could come in the back door and no one would see you go into the place together. That's what's so neat about this place."
But the crowd isn't always adulterers and ne'er-do-wells. The true allure of the 34 Club is in its egalitarian nature — a complete deconstruction of class walls.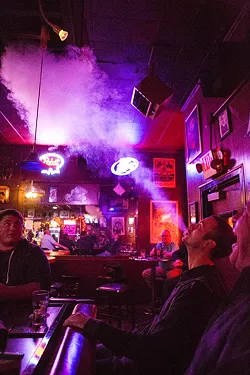 Mike Mullen, far right, shares a laugh with patrons J.T. Kolesa and Alex McClure.
"The one thing I've noticed since I've bought this place, we started getting younger people here, and I think that, for a lot of them, it was kind of an eye opener — their notion of a bar was a TGI Fridays," he says. "You come in a place like this and somebody actually talks to you, engages you, and you could really see how people were freaked out about that. But people come in here now and embrace it. You could be sitting next to a millionaire from Lindell and a nurse that just got off work and then you got a homeless person in the corner, you got an architect who's a drag queen on the weekends. It's neat, you know? I think it takes the comfort zone away. But that's just a good neighborhood tavern. It is what it is."
Mike Mullen stands behind the bar, wiping down the counter and restocking the cooler with bottles of Busch, his gray hair cropped short and thin. He's only been managing 34 Club for five years, but has been a long-time staple in the neighborhood, having run his own restaurant on Sarah Street called Southern Belle, where the Block now resides. His laugh is distinctive, like it's being dragged across gravel, but that doesn't stop him from releasing it often.
On the subject of maintaining the Central West End's signature high-low culture, Mullen backs up Bergman fervently. "You walk into some of these new places in the West End and you're just like, 'What the fuck is this, Valley of the Dolls?' They're all a bunch of plastic-looking people, everyone looks the fucking same. Then you walk in here and you see everything. This is like walking into the bar at Star Wars after going into Sub Zero," he laughs.
The location is one reasons for the diverse clientele, Bergman posits — the bar is just one block from Barnes-Jewish Hospital, where life and death hang in the balance every day. "I remember I had a lady come in and order a double-vodka, and she just downed it," he recalls. "And I asked her, 'Bad day?' and she said, 'One of the worst days of my life.' And then she paid her tab and left. I mean, you never know in this place.
"Being so close to the hospital, we've had people coming in here who had relatives dying or in treatments, and this was one of the places where people could just come and drink and smoke and get away." he adds. "So you start to know those people, and some of them keep in touch with us. We have students who have graduated, lawyers, writers, just everybody. It is what it is, you know, let's face it. Not too many bars are like this anymore."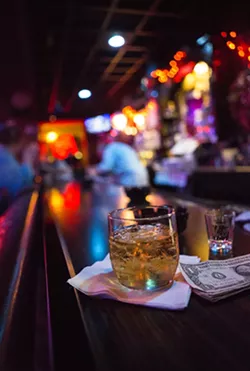 Eric Frazier
Though it's a beloved bar by any measure, you've got to have thick skin to drink at the 34 Club.
The Koman Group is not the only developer changing the core character of the Central West End. In 2014, Mills Properties purchased the 25 block of Euclid, just north of the 34 Club, where a Whole Foods, a parking garage and expensive condos are currently under construction. (Heading farther north on Euclid, Straub's Market has already finished renovations in a quest to stay competitive.) And though both companies have extensive real estate portfolios, Mills Properties received an estimated $10 million in tax increment financing, better known as a TIF, while Koman Group acquired an estimated $6 million.
TIFs are a controversial way for taxpayers to subsidize development. In essence, the city agrees to hand over future tax revenues to developers in exchange for their work "improving" a property. Though originally designed to entice construction in "blighted" areas, across the country, TIFs are being used in upscale neighborhoods like the Central West End — and developers often threaten to pull out of an area if they can't get such subsidies.
A critic of such deals in general, the Show-Me Institute has questioned the Koman Group's Central West End TIF in particular. "TIF is almost certainly unjustified in the case of the Koman Group's proposal," Joseph Miller writes on the institute's website. "The areas in question are not blighted in any way."
In fact, the subsidized projects are pushing out longstanding businesses.
Shortly after the Koman Group announced its purchase in August, Bergman was given orders to clear out by the end of the year, with no offer to stay as part of the new development.
The block has also been home to Tip Top Cleaners for 30 years and a hair salon. The salon has already shuttered its doors; the dry cleaner, too, is slated to close at year's end.
Despite being forced out with no discussion, Tip Top owner Bob Mach says he was initially upset, but not with the Koman Group. He cites that old chestnut, "Business is business." Neither does Bergman blame the developers.
Kris Kleindienst, co-owner of Left Bank Books, the neighborhood's independent book store, is a little more on the fence. "It's a failure of imagination," she says. "I wish there could be some creativity — could 34 Club stay as part of the new development, for example. That sort of thing tends to not happen, and it's unfortunate when local businesses that have been here a long time and made the neighborhood what it is are so easily disposable."
She adds, "I just wish there was a more cohesive vision for local businesses because they are better for the economy, they do create jobs, and they make a neighborhood more interesting. Personally, I don't want to live in a shopping mall."